Hershey, Pennsylvania Activities: Chocolate Attractions, Things to Do, Tours and More
Popular Activities
Hersheypark
One of the main attractions in the city, Hersheypark provides you and your family tons of fun and excitement at this amazing theme park. There is something for all ages including roller coasters, family rides, shows, a water park, and dessert shops to taste some of the tastiest chocolate treats there are! The park was originally used as a playground for Hershey employees and their families; the park then opened to the public shortly after in 1906 with live entertainment and a baseball game. The first ride added was in 1908, a carousel which from there, the park has expanded throughout the years and is the best place to visit while on your getaway.
Giant Center
This multi-purpose arena holds everything from concerts, shows, plays, and is also home to the Hershey Bears hockey team that plays in the American Hockey League. The arena seats upwards of 10,500 people and 12,500 for concerts and shows. Many famous singers, musicians, and television programs have played at the theater including, Cher, American Idol, WWE Raw, Carrie Underwood, and so many more. While in town, check to see who could be performing for an eventful evening on your vacation.
Hershey's Chocolate World
Enjoy everything there is about this delicious candy at this entertainment complex. This world has a variety of attractions to enjoy including a tour/ride of a chocolate factory and includes a sweet treat at the end of seeing the process. You can also create your very own candy bar with a line of ingredients and design the package to be your very own special candy. The park also has a 4D theater, a trolley to take you around the area with live commentary of historical locations, and a 30-minute theatrical show. After you enjoy all of these fun activities at Hershey's Chocolate World, head to the gift shop for souvenirs, candies, and so much more.
Arts & Museums
AACA Museum
Also known as the Antique Automobile Club of America, the museum holds many vehicles from past eras to show how far the automobile industry has come, and to display many rare and unique vehicles from years ago. Not only are there classic cars, there are also buses, motorcycles, horse carriages, and more. Many of the vehicles are permanent to the museum, but there are some that show up for a limited time so you may catch a certain vehicle at the right time while touring the museum. Also available for kids to enjoy is the Kissmobile, a cruiser that's in the shape of three 12-foot Hershey's Kisses!
The Hershey Story Museum
Devoted to the story of the brand and creator, the Hershey Story Museum will take you on a journey through the history of his life and his chocolate creation. The museum includes interactive displays and amazing exhibits to explore and help the kids learn about the history in hands-on activities such as the Chocolate Lab where you can learn about many of the ingredients in the chocolate and what makes the process turn into something so sweet. You will also get to see machinery used in the original factory, head out on a scavenger hunt through the museum for kids, taste many unique chocolatey treats, and learn about the founder's many entrepreneur failures before hitting the success with his candy.
Susquehanna Art Museum
Located just a short drive away in Harrisburg PA, the Susquehanna Art Museum helps to provide education, creativity, and expression through art for the area. Here, you can see many limited exhibitions of local artists work as well as permanent pieces that provide you with an understanding of the local artistic culture.
Experience Nature
ZooAmerica

Fort Hunter Park

Wildwood Park
Restaurant
The Mill

The Hershey Pantry

Devon Seafood & Steak

Phillip Arthur's Cafe
Hershey Most Popular Activities
Enjoy the scents of chocolate through intense roller coaster rides, explore Hershey-themed attractions like the Kiss tower, and indulge in some of the finest chocolates at an all-inclusive amusement park perfect for the whole family.
Sep 25
N/A
Sep 26
N/A
Sep 27
N/A
Sep 28
N/A
Oct 02
N/A
Oct 03
N/A
Oct 04
N/A
Oct 05
N/A
Oct 09
N/A
Oct 10
N/A
Oct 11
N/A
>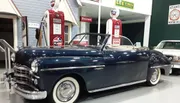 Explore tons of great automobiles from many different eras at the AACA Museum. This beautiful museum has something for all ages to enjoy making for a great time with the whole family in Hershey, PA!