Hershey, PA Attractions
Don't spend one moment bored in Hershey, PA, with a plethora of things to do, attraction options, and places to see. You can find rides, shopping, and delicious candy in Hersheypark and other fun adventures.
Attractions abound at Hersheypark, the ultimate theme park experience in Hershey, Pennsylvania. With over 70 rides and attractions, it has something for everyone, from thrilling roller coasters, water rides, and kiddie rides to live entertainment and fun games. Don't miss a chance to meet your favorite Hershey's characters and indulge in sweet treats throughout the park, including the immersive chocolate-themed Hershey's Chocolate World attraction. A visit to Hersheypark promises a day of adventure, excitement, and deliciousness for the whole family!
Oct 02
N/A
Oct 03
N/A
Oct 04
N/A
Oct 05
N/A
Oct 09
N/A
Oct 10
N/A
Oct 11
N/A
Oct 12
N/A
Oct 16
N/A
Oct 17
N/A
Oct 18
N/A
>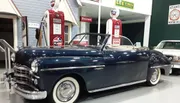 Attractions are abound in Hershey, PA, but the AACA Museum is a must-visit for car enthusiasts. This impressive museum showcases a variety of vintage automobiles spanning several decades. From striking muscle cars to elegant classics, visitors are sure to be dazzled by the stunning displays. The knowledgeable staff provides insight into the unique history of each vehicle, making for an educational and entertaining experience. Don't miss out on a chance to see some of the most iconic vehicles in American history. From the antique bus used in the movie Forrest Gump to its array of traveling exhibitions and permanent exhibits, this museum is certain to delight and impress all who visit.