These thrill rides are guaranteed to make you green in the face.
I'm welcoming theme park season with open arms, ready to embrace all those magnificent stomach-turning corkscrews, exhilarating speeds, and face-distorting vertical drops.
Although I've never been one to puke on a roller coaster, I've heard horrific stories from people who have — and from those who had the unfortunate fate of sitting behind them. For those of us who like to test our limits and see just how much we can take, there are plenty of thrilling roller coasters in America, just waiting for the challenge.
So as we kickstart theme park season, we dare you to get on one of these vomit comets and make it off without losing your lunch first. Think you can do it? Before you get overly confident, take a look at what you're up against. Most of these rides are too thrilling for the kiddos, but there are still plenty of fun roller coaster options around the country! Try the Gatlinburg mountain coaster or other exciting ventures at one of these great theme parks.
Do you consider yourself a bit of a thrill-seeking adrenaline addict? If so, give a few of these vomit-inducing roller coasters a try. They are some of the tallest, scariest, and wildest rides in the world, so if you are looking for a challenge, this is it!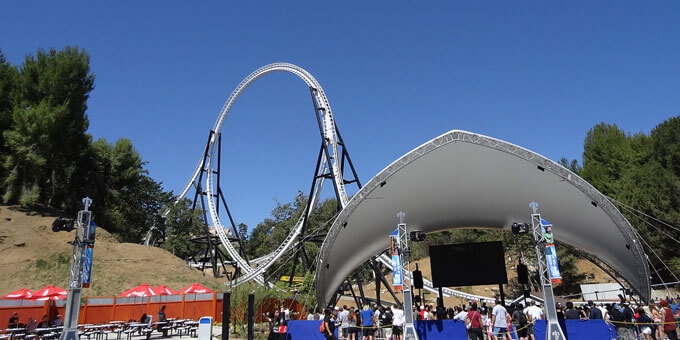 1. Full Throttle — Six Flags Magic Mountain, Valencia, CA
This coaster's claim to fame is its gut-wrenching 160-foot loop in the sky. Once you're strapped in on the Full Throttle, don't expect any time to prepare yourself for the massive hang time in that loop. You'll be launched off at 70 mph in just a matter of seconds. Things get even crazier halfway through the ride as you come to a stop inside the tunnel just long enough to make you wonder if something went wrong. But the joke's on you. Suddenly, you're catapulted backward, and climbing up the massive loop once more. But this time instead of riding on the inside of the loop's tracks, you're scaling the outside. Think you can handle it?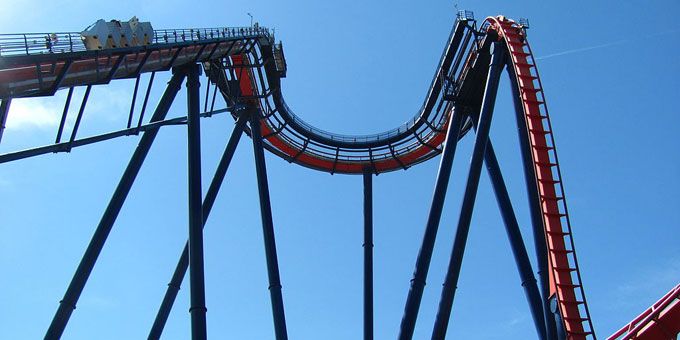 The relentless SheiKra will have you teetering on the edge of a 200-foot drop, waiting with terrifying anticipation. The agonizing seconds drag on until you're abruptly dropped and sent hurtling down the steep 90-degree descent at an alarming rate of 70 mph. With minimal time to recover, another steep plunge awaits you just up the tracks. SheiKra makes you feel as though you've blasted off and left your stomach behind, so just make sure that stomach isn't full of burgers and soda before you ride.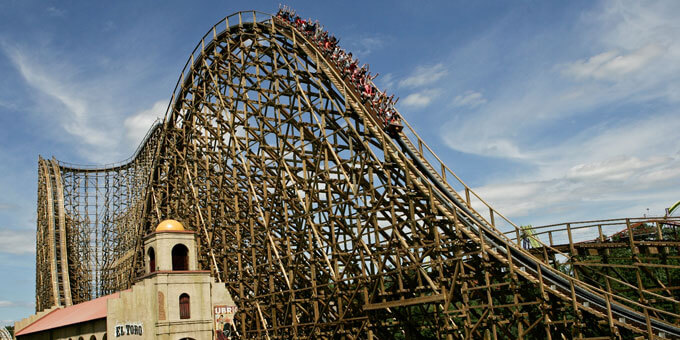 3. El Toro — Six Flags Great Adventure, Jackson, NJ
Just like its name suggests, this coaster is as ferocious and out-of-control as an angry bull. For a wooden coaster, it's not your typical bumpy wooden ride. It's actually a little smoother. But the jarring twists and hills paired with a mega 176-foot drop at the beginning will have your heart racing in no time. There's just one important thing to remember about El Toro: no one has ever tamed this bull.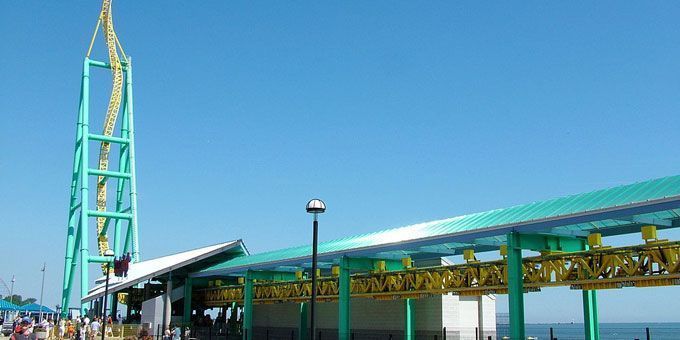 4. Wicked Twister — Sandusky, OH
The Wicked Twister isn't your average thrill ride; it's a double-twisting impulse coaster. In non-roller coaster speak, that means it's scary as crap. Prepare to be propelled up and back down the gigantic 450-degree spirals at each end of the track as you travel at an unforgiving 72 mph. You'll be launched to the top of the tracks and then twisted in a nauseating spiral, hundreds of feet in the air. We dare you to try and catch your breath before you're cut loose and subjected to a dizzying free fall, all the way back down to the ground.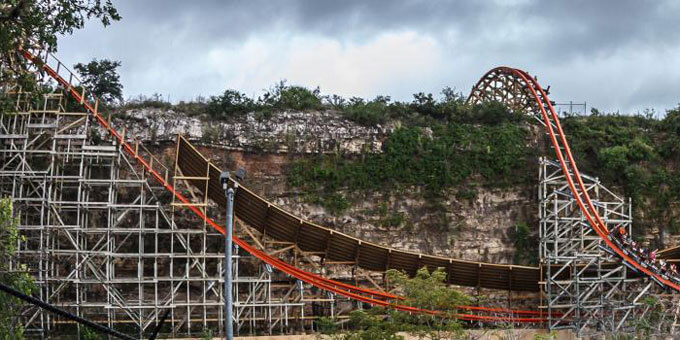 If you can make it through the Iron Rattler's inverted barrel roll without vomiting, more power to you. A mind-blowing 171-foot drop gets this coaster started and the 81 degree vantage point is enough to make your heart crawl into your throat. (And maybe leftovers too.) You'll be propelled along at 70 mph through four different overbanked turns in which the tracks are tilted more than 90 degrees, and those G forces are more than enough to make your palms sweaty and your head heavy. With a wooden support system and a steel track, the Iron Rattler is a one-of-a-kind thriller.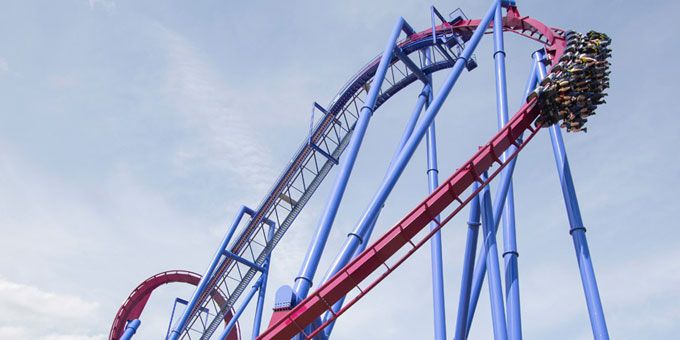 6. Banshee — King's Island, Mason, OH
Seven gut-wrenching, upside-down inversions are just the tip of the iceberg. The Banshee is an inverted coaster; so instead of riding on top of the tracks, you hang below them. Disorienting flips and a twisted 150-foot descent make it difficult to determine which way is up and which way is down, and you'll spend a bewildering minute and a half trying to figure out where you are. You'll be thrown for a loop from start to finish as the Banshee carelessly drags you on a memorable and quite possibly, sickening ride.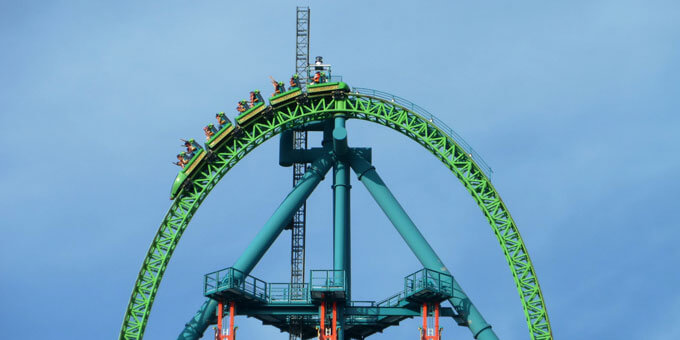 7. Kingda Ka — Six Flags Great Adventure, Jackson, NJ
Although it takes less than a minute to ride the Kingda Ka, they don't call it the King for nothing. Both whiplash and a puke fest should be considered highly probable when it comes to this 456-foot-high monster. You'll be launched from a complete stop to a blazing 128 mph in less 3.5 seconds as the momentum pushes you up the 90-degree U-shaped track. But you haven't made it out just yet; you still have to come back down. Lucky for you, a twisting, 48-story descent awaits you on the opposite side. Now you see why they call it the King.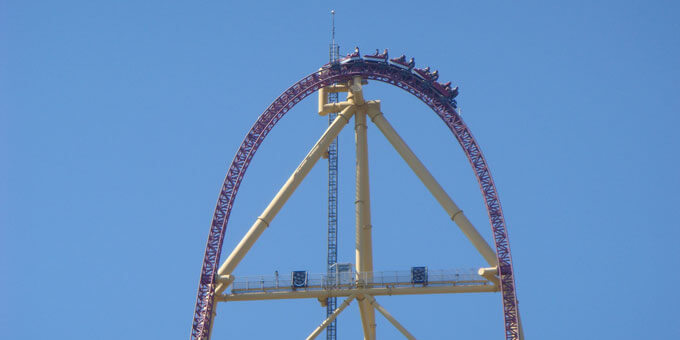 8. Top Thrill Dragster — Cedar Point[1], Sandusky, OH
The Top Thrill Dragster is 17 terrifying seconds of speed, height, and thrills, with a 420-foot drop just daring you to conjure up your courage and try it out. Definitely save lunch until after this one, because you'll probably be seeing it again if you don't. The Dragster will send you flying at 120 mph over a mountain and straight back down to the ground for a one-of-a-kind thrill. Plus, what better way to disfigure your cheeks than with a faster-than-lightning nosedive back to Earth.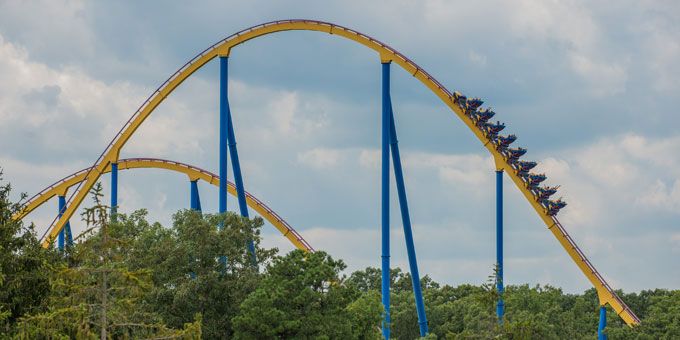 9. Nitro — Six Flags Great Adventure, Jackson, NJ
The best coasters usually start off with some kind of heart-stopping feature and the Nitro does not disappoint. As soon as you're strapped into this out-of-control thrill ride, you'll head to the top of the 233-foot mountain where a phenomenal drop will leave you too stunned to even scream. Without bulky shoulder restraints attached to the coaster's seats, the intense feeling of weightlessness is overwhelming. A 540-degree spiral, two horizontal loops, and a U-turn that just might wrench your stomach right from your body are all waiting for you on this one.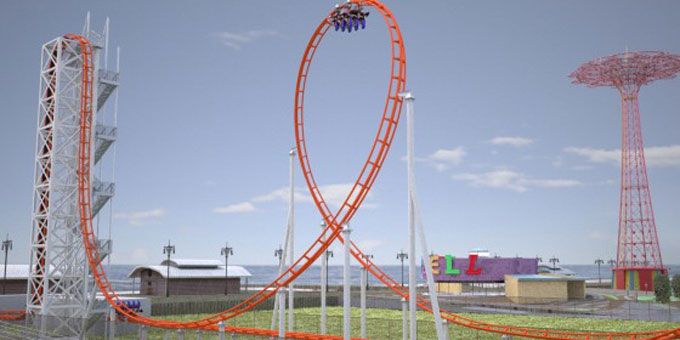 10. Thunderbolt — Luna Park in Coney Island[2], Brooklyn, NY
You'll have to mentally prepare yourself for the Thunderbolt's inevitable 100-foot vertical loop. But first thing's first: surviving the 90-degree vertical drop. If you can make it that far without hurling, this coaster will propel you around the track at 55 mph for an unforgettable ride. Fly over steep hills, twist upside down inside the rapid corkscrews, and hold on tight as you rocket through the electrifying coaster track.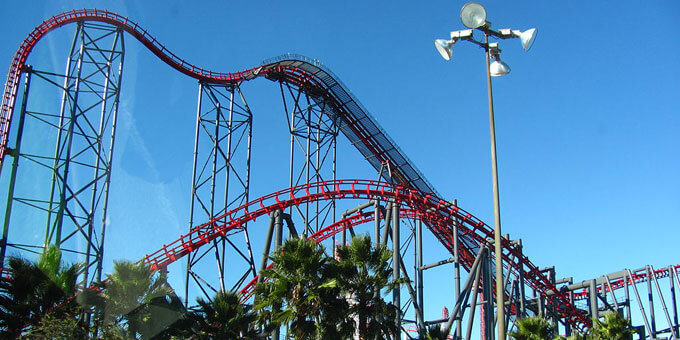 11. X2 — Six Flags Magic Mountain, Los Angeles, CA
Take your body and mind for a disorienting spin around the tracks on the popular X2. This state-of-the-art coaster comes complete with sensory extras like music, light shows and sound effects and well as 360-degree rotating seats to create an unparalleled experience. Let gravity take its course as you head 200 feet up into the sky and plummet right back down, spinning around in your seat the entire time. The face-down drops are enough to make you feel like you're free falling at a gut-wrenching 76 mph, and you'll be hard pressed to even walk straight after getting off this ride.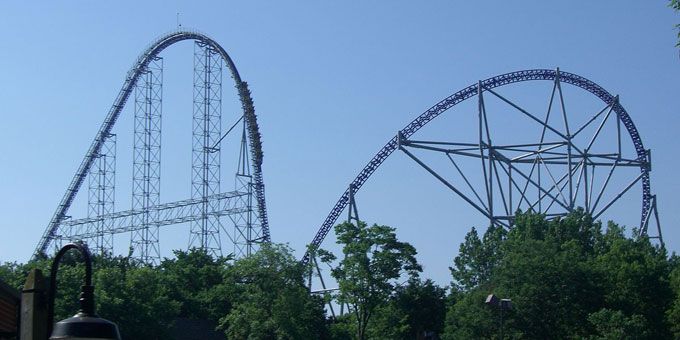 12. Millenium Force — Cedar Point[3], Sandusky, OH
At 93 mph, Millenium Force is one of the fastest coasters out there. The first record-breaking giga coaster (coasters that feature a height of drop of 300-399 feet), Millenium Force is well known as a colossal thrill ride. There's nothing you can really do to prepare for the 300-foot drop at the beginning of this ride besides questioning every decision you've ever made in life; so just embrace it. The 80-degree drop makes for an amazing view and the kind of descent that sucks the breath right out of your lungs. But it's definitely not over there. Zero gravity hills, lightning-fast tunnel dives, and stunning turns at angles way beyond 90 degrees all combine to create an experience that is almost indescribable.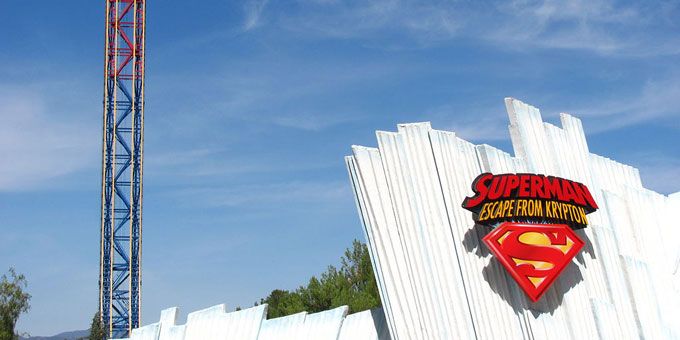 13. Superman: Escape from Krypton — Six Flags Magic Mountain, Valencia, CA
This simple, yet terrifying coaster is one of those that you ride over and over again until you're green in the face. The Superman coaster jumps right into the action with a heart-stopping launch backwards at zero to 100 mph in just seven seconds. You won't be able to see it, but you'll race all the way up more than 1,300 feet of tracks to the top of a 415-foot tower and briefly hover over the park in weightless anticipation. Seconds later, you'll find yourself in the midst of a terrifying 92-mph nosedive straight down to the ground.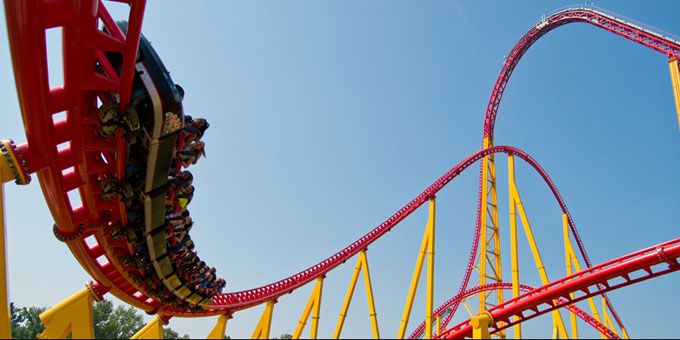 14. Intimidator 305 — Kings Dominion, Doswell, VA
The fastest and tallest roller coaster on the East Coast, it's easy to see where this one gets its name. You'll barrel through Intimidator 305's jarring twists and turns at 90 mph after a massive 300-foot drop leaves you completely breathless. This very well may be the most terrifying three minutes of your life and will leave you with an adrenaline rush unlike any other.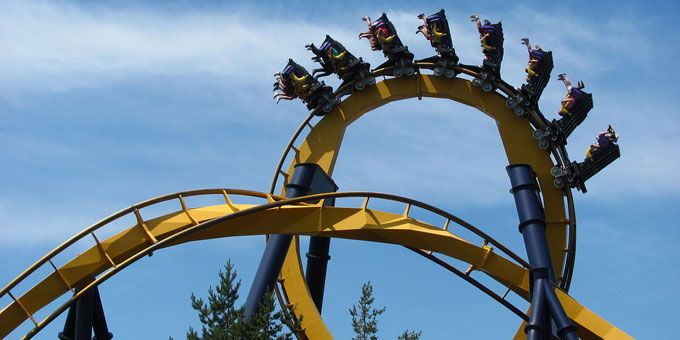 The new Batman coaster is set to open this summer but we want to give you a preview of this terrifying coaster, which will be the first of its kind. If a 120-foot fall, two more-than-90-degree drops and six upside-down flips isn't enough, try adding a magnetic system that ensures you'll experience several head-over-heels flips while soaring through the sky. This brand new, four-dimensional coaster is meant to make you feel like you're flying (and quite possibly dying), and the anticipation for its opening continues to build.
Were you brave enough to get on any of these roller coasters in the past? Are there any great ones we missed? Please let us know in the comments below!