Tampa Bay, FL Sightseeing Tours & Cruises
See the beautiful area of Tampa Bay with any number of our great tampa tours and sightseeing activities listed below. When staying in the area, soak in the beauty and discover its natural splendor with these tours in Tampa that get you up close and personal to all of Tampa Bay's treasures. Any one of these Tampa excursions is sure to delight! Just a few of the selections include dolphin Read More
Tampa Bay Area Sightseeing Tours & Cruises
Sightseeing Tours & Cruises offers the Starlite Majesty Sightseeing Cruise, an unforgettable experience along the Tampa Bay waters. Step aboard the luxurious yacht, where you take in the stunning views. Enjoy live music and entertainment throughout the cruise, and raise a toast to the picturesque skyline. This is the perfect activity for a special occasion, a romantic date, or a memorable excursion with friends and family.
Oct 02
N/A
Oct 09
N/A
Oct 16
N/A
>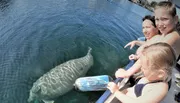 Sightseeing Tours & Cruises' Scenic Cruise on Crystal River is a must-try for nature lovers. Hop aboard a pontoon boat and explore the thriving ecosystem around this beautiful river, which is home to manatees, dolphins, and a variety of birds. You'll also see quaint coastal towns and impressive waterfront mansions while learning about the history of the region from the knowledgeable tour guide. Don't forget your camera; you'll want to capture the stunning scenery of Florida's Gulf Coast.
Sightseeing Tours & Cruises offers the ultimate beach experience with their Private Tours of the Tampa Bay Beaches Via Luxury MiniVan. This luxurious tour takes visitors on a scenic drive along the breathtaking sandy shores of Treasure Island, St. Pete Beach, and Clearwater Beach. The comfortable minivan provides a relaxing way to see some of Florida's most iconic beaches, and the private tour allows for a personalized experience with an expert guide to show you the best spots for a swim or a photo op.
Sightseeing Tours & Cruises in Tampa Bay, Florida is a must-do activity for travelers seeking an unforgettable experience. The 90-minute narrated cruise allows guests to explore the stunning waterways and learn about the unique history and wildlife of the area. With comfortable seating and knowledgeable guides, visitors can sit back and relax while taking in the breathtaking sights of Tampa Bay's thriving ecosystem. Don't miss out on this exciting opportunity to discover the beauty of the Sunshine State.
Sightseeing Tours & Cruises offer a unique experience to view the stunning skyline of Tampa Bay. Their 2-hour private sunset cruise is perfect for couples or small groups looking for a more intimate setting. The scenic bay waters provide a breathtaking backdrop as the sun sets, casting a picturesque golden glow over the city. The private charter includes a captain and fuel, as well as the option to bring food and drinks aboard. With comfortable seating and a personalized tour, the private sunset cruise is a must-do activity for any Tampa Bay visit.
Sightseeing Tours and Cruises in Tampa Bay is an excellent way to see Florida's natural beauty with a knowledgeable guide. The tour highlights major attractions such as the Davis Islands, Hillsborough Bay, and Bayshore Drive. You will get to explore the channels and waterways while watching for wildlife such as dolphins, herons, and egrets. The tour guide provides you with fascinating facts about Tampa Bay's ecology and history, making this a must-do activity for nature lovers or anyone visiting the area.
Sightseeing Tours & Cruises offer a memorable experience with their Sunset Dolphin Tour in Tampa Bay. This incredible, two-hour trip is guided by marine biologists who provide exclusive insights into the habits and behavior of dolphins. As the sun sets, guests can enjoy the stunning views of Tampa Bay as playful dolphins leap out of the water, making for an unforgettable spectacle. This is the perfect opportunity to relax with loved ones while enjoying the beauty of Florida's Gulf Coast.
<
Oct 02
N/A
Oct 03
N/A
Oct 04
N/A
Oct 09
N/A
Oct 10
N/A
Oct 11
N/A
Oct 16
N/A
Oct 17
N/A
Oct 18
N/A
>
Sightseeing Tours & Cruises offer a splendid Barrier Island Beach Day on the Gulf of Mexico. The journey begins by setting off from downtown St. Petersburg in the morning and making your way to the coast. Upon arrival, enjoy a tranquil boat ride followed by a relaxing stroll on the pristine beach. Sunbathe, swim, or search for seashells before some leisurely time spent exploring the vast wildlife reserve. Savor a picnic-style lunch and then return to shore with remarkable memories.
Sightseeing Tours & Cruises offer an exclusive private sunset cruise in St. Petersburg. On this two-hour journey, visitors can sail around the beautiful Tampa Bay while enjoying a stunning view of the sunset. The boat is equipped with amenities such as a bathroom, air conditioning, and comfortable seating. This experience offers an intimate setting for couples or small groups with a captain to ensure a personalized experience. Guests can also bring drinks and food on board to complete the trip.
Sightseeing Tours & Cruises' Private Sunset Cruise on Yacht is an exceptional way to view the beauty of Tampa Bay Area, Florida. This 2-hour cruise on a luxury yacht provides stunning views of the city skyline, the ocean and the sun setting over the Gulf of Mexico. With a knowledgeable captain and professional crew, guests can sit back and relax while enjoying their favorite beverages and hors d'oeuvres. The intimate setting of the yacht makes it perfect for couples looking for a romantic evening or groups celebrating a special occasion.