Tampa Bay, FL Dolphin Tours

While visiting Tampa Bay, you can't leave without truly experiencing the beauty of the dolphins located offshore. See these beautiful creatures in their natural habitat as you cruise along beside them on one of these dolphin tours Clearwater offers. Bring the whole family on vacation to take part in this wonderful dolphin tour opportunity!
Tampa Bay Area Dolphin Tours
Dolphin Tours' Sunset Dolphin Tour is the perfect way to experience the beauty of Tampa Bay while getting the chance to see some of the area's most majestic creatures up close. Led by knowledgeable guides, this two-hour cruise takes visitors out onto the water just in time to catch a breathtaking sunset over the Gulf of Mexico. Along the way, guests will encounter playful dolphins swimming and diving in their natural habitat, creating a truly unforgettable experience.
Jun 12
N/A
Jun 13
N/A
Jun 14
N/A
Jun 19
N/A
Jun 20
N/A
Jun 21
N/A
Jun 26
N/A
Jun 27
N/A
>
Dolphin Tours in Tampa Bay is an amazing experience, perfect for those who love wildlife and adventure. Take a ride on a high-speed boat that will race and jump over the waves while searching for a family of friendly dolphins. As soon as you find these playful creatures, watch them as they swim en masse, leap into the air gymnastically or even chase after the boat. With the guidance of local experts, this unforgettable tour is a perfect way to create memories that will last a lifetime.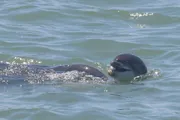 Dolphin Tours in St. Pete Beach is an exciting activity for animal lovers and those seeking unique experiences. Board a comfortable boat and embark on a guided tour of St. Pete Beach's beautiful waters where you will have an opportunity to see dolphins in their natural habitat. Get ready to be amazed as the playful creatures jump, swim and interact with the boat. This family-friendly adventure is perfect for creating memories and learning about marine life.
Jun 12
N/A
Jun 13
N/A
Jun 14
N/A
Jun 19
N/A
Jun 20
N/A
Jun 21
N/A
Jun 26
N/A
Jun 27
N/A
>
This is going to be a wonderful and exciting dolphin tour cruise in the Tampa Bay area as you get to go out onto the water and look for dolphins. It will be a lovely time for you and it is the perfect thing to bring your kids for as they will love the opportunity to see some of the most beautiful and amazing creatures in the world and they will be able to see them in their natural habitat swimming around and having a great time. This tour lasts about two hours and it will be two hours of fun and excitement as you get to marvel at all the dolphins swimming around and be able to really enjoy yourself and have a great time.