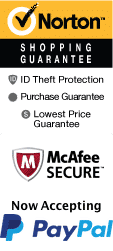 YOUR PEACE OF MIND IS OUR TOP PRIORITY
Should you need to cancel at any time, you have up to 48 hours from your vacation start date to do so for a 100% future travel credit.
Savannah Travel Information
This historic city is often pictured as the epitome of Southern charm and hospitality. The city's architecture and history lend themselves to this reputation. It is noted for its St. Patrick's Day celebration, the second largest in the United States, behind Boston. The downtown area is the largest National Historic Landmark District in the United States and features tons of amazing activities with lots of lodging available nearby. Book a vacation package to this great city today!
City Weather and Climate:
Average daily temperature: 65°F
Average annual rainfall: 50'
City Safety Phone # and Major Hospitals:
Police/Fire/Ambulance: 911
Candler General Hospital (5353 Reynolds St., 912-692-6637)
Memorial Medical Center (4700 Waters Ave., 912-350-8390)
City Top Tourism Draws and Seasons:
Historic District
Victorian District
Riverfront
City Market
Bonaventure Cemetery (made famous in the movie, 'Midnight in the Garden of Good and Evil'
History Museum
Savannah Riverboat Cruises
Ships of the Sea Maritime Museum
First African Baptist Church
Ralph Mark Gilbert Civil Rights Museum
Ft. Pulaski National Monument
Oktoberfest
Seafood Festival
City Major Shopping Areas:
Riverfront
City Market
Oglethorpe Mall
Festival Factory Stores
Paris Flea Market
City Major Dining Areas:
Southside
Islands
Historic District
Westside
Eastside & Thunderbolt
City Famous Landmarks & Historic Places:
Historic District
Victorian District
Ft. Pulaski National Monument
Owens-Thomas House
Beaux-Arts style Edmund Molyneux Mansion
Spencer Woodbridge House
Gothic Revival Greene House
Beach Institute
King-Tisdell Cottage
Andrew Low House
Davenport House Museum
Green-Meldrim Home
Juliette Gordon Low's Birthplace
Owen-Thomas House and Museum
Telfair Mansion and Art Museum
Interesting Facts about City:
It was used for shooting many feature films including the following:
2000: The Gift
1999: The Legend of Bagger Vance
1998: Forces of Nature, The General's Daughter
1997: The Gingerbread Man, Midnight in the Garden of Good and Evil, Kiss of Fire
1996: Wild America
1995: Something to Talk About
1994: Now and Then
1993: Forrest Gump, Camilla
1990: Goldenboy, Love Crimes
1989: The Rose and the Jackal, Flight of the Intruder, Glory
1988: The Return of Swamp Thing, The Judas Project
1987: My Father, My Son
1969: War Stories
1986: Pals
1983: Solomon Northup Odyssey
1981: All My Children, Tales of Ordinary Madness
1980: The Slayer, White Death, Scared to Death, When the Circus Came to Town, Fear, East of Eden, Mother Seton
1979: Gold Bug, The Ordeal of Dr. Mudd, Orphan Train, Hopscotch
1978: The Double McGuffin
1977: The Lincoln Conspiracy
1976: Roots (mini-series)
1975: Gator