Segway of Savannah

234 Martin Luther King Jr Blvd Savannah , GA 31401
1-800-987-9852
Description
Segway of Savannah Photos (12)
Customer Photos (1)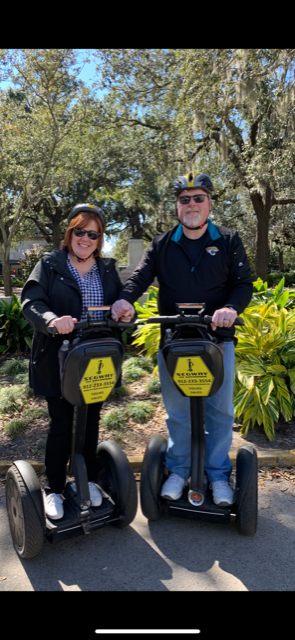 Take to the streets of Savannah, GA in one of the most interesting ways - on a segway! A segway ride is perfect for families, though riders must be at least 16 years old to operate the vehicle. Not only does it allow guests to get some of the best views in the city, but it allows for a unique experience. If you are looking to explore the luscious gardens and intricate architecture of the Garden City while feeling the fresh Southern air in your hair, this cruise is the one for you.
Training is provided, so whether you have ridden a segway before or are a beginning rider, you can ensure that you'll be safe on the vehicle. Helmets are also given to guests to wear. No experience is required, though, so you're bound to have a great time regardless of your skill level.
There are several 'glide' options available, so you can fit in a ride on any vacation. Regardless of which tour you will embark upon, guests will meet at 234 Martin Luther King Jr Blvd. Just a few of the things you may see on one of the tours include the many historical squares in the city, one of the cemeteries, and many of the colorful gardens.
Guests should prepare accordingly, wear comfortable shoes, and dress for the weather. Riders must also weigh in between 100 to 260 lbs to be within safety regulations for segway riding.
Check out the many different options available and see the side of Savannah that you want to see! Adding a segway tour onto your next Georgia vacation is sure to be a great choice.
Options:
60 Minute Historical Squares Tour
Available Now until 12/31/2019 View Detailed Schedule
On this hour-long tour, guests will be taken to the stunning 22 squares that call Savannah home. Here, you'll learn many different stories about the history in the city and learn about the architecture and culture that makes Savannah unique.
90 Minute Historical Squares Tour
Available 4/1/2019 until 12/31/2019 View Detailed Schedule
For an extended trip through Savannah's fabulous squares, embark upon the 90 minute Historical Squares Tour. As well as seeing some of the best squares in the city, guests will be able to get a unique experience as they learn about the culture and architecture of this Savannah hotspot.
Bonaventure Cemetery Tour
Available 4/1/2019 until 12/31/2019 View Detailed Schedule
Savannah is home to vast history, especially regarding the elegant cemeteries that house its past residents. The Bonaventure Cemetery Tour lasts approximately 90 minutes and includes a visit to the Bonaventure Cemetery on the Wilmington River.
Colonial Park Cemetery Segway & Walking Tour
Available 4/1/2019 until 12/31/2019 View Detailed Schedule
For a great adventure in Savannah, embark upon the Colonial Park Cemetery Segway & Walking Tour. The tour lasts approximately 90 minutes including the 30 minutes guests will spend walking. The tour encompasses the beauty of Colonial Park and gives guests information on its role in the Civil War.
MOST POPULAR THINGS TO DO
IN SAVANNAH GEORGIA
Book Now!