Savannah Experience: Savannah Sightseeing Tour of the Historic and Victorian Districts

Savannah Experience Tour , 250 Martin Luther King Jr. Blvd Savannah , GA 31401
1-800-987-9852
Description
Savannah Experience: Savannah Sightseeing Tour of the Historic and Victorian Districts Photos (12)
With the Savannah Historical Experience Tour you'll gain a comprehensive view of both the city scape and history of Savannah as you explore the many districts that comprise the charming city.
With this tour, you will be able to discover the haunting tales of the forgotten neighborhoods rarely experienced on a Savannah tour. Explore via luxury mini-bus the Landmark Historic District, Victorian District, Thomas Square Historic District, Beach Institute area, and Victory Drive for a complete look at Savannah's past and presence. Discover 275 years of history on this three-hour tour, along with an up-close look at the unique setting of the South. From River Street to the City Market, the city will come alive as you explore its beauty and history first-hand.
Detailed Tour Itinerary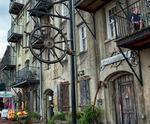 Drive By
Drive By
Landmark Historic District
During the tour, you will explore the Historic District of Savannah, a large urban district that corresponds to the city limits of Savannah prior to the Civil War. This beautiful area was declared a National Historic Landmark District in 1966 and is one of the largest districts of its kind in the U.S. Here, you can see stunning 18th- and 19th-century architecture and green spaces, as well as famous residences like the birthplace of Juliette Gordon Low, the Sorrel-Weed House, and many more. Also enjoy sights of historic museums, churches, and restaurants.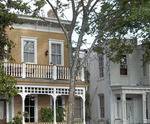 Drive By
Drive By
Victorian District
As one of the many historic areas in Savannah, the Victorian District gives you a peak into Victorian-era architecture from the comfortable seat on your mini-bus. See the beautiful Forsyth Park, as well as many bakeries, historic houses and museums, and businesses.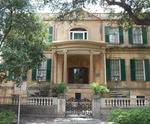 Drive By
Drive By
Thomas Square Historic District
Not far from the Victorian District, your mini-bus will take you to the Thomas Square Historic District, a much larger district that includes many Victorian-era homes and was first settled in the late 19th century. This popular tourist area has many historic businesses, restaurants, and churches, making the sights from your mini-bus a spectacular view.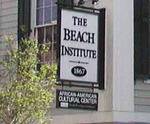 Drive By
Drive By
Beach Institute African-American Cultural Center
Originally built in 1867, the Beach Institute was originally established for the education of newly freed slaves. Now, the Institute serves as an African-American Cultural Center and offers a full schedule of programs and exhibits which feature arts and crafts with an African-American influence. In the area, you will also learn about the many beautiful parks, churches, and historic buildings near the Beach Institute.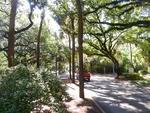 Drive By
Drive along beautiful Victory Drive, world-famous for its long line of palm trees and the beautiful architecture lining the street. Take a look at the World War I Memorial located in Daffin Park, built to commemorate the heroic soldiers who died during that war between 1914 and 1918. There are approximately 360 palm trees along this 19.2-mile stretch of road.
Stops may change due to traffic, weather, maintenance, etc.
Experience the enthralling, and sometimes a bit frightening, history of Savannah on this all-encompassing tour.
Reviews
4.5 | 12 reviews
Dianne Bonito
Brunswick, Georgia
✓
Verified Traveler
"The tour was excellent."
The tour was excellent. We took the entire trip first to see where we wanted to get off at the suggestion of the company and that was perfect. Two tour guides were excellent and each had their own script so we learned new information on the areas that we went to twice. We highly recommend it!
Katherine Rankin
Las Vegas, Nevada
✓
Verified Traveler
We learned a lot about savannah and saw a lot of the city.
Jeff Minor
GA
✓
Verified Traveler
Very interesting history and legends presented during the time of the tour. Knowledgable and friendly guides leading the tour.
Debbie Duncan
Orange Park, FL
✓
Verified Traveler
Wonderful job!! Very good team
MOST POPULAR THINGS TO DO
IN SAVANNAH GEORGIA
Book Now!