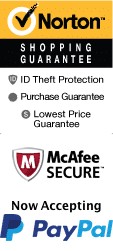 Myrtle Beach National Wax Museum in Myrtle Beach, SC
1000 North Ocean Boulevard Myrtle Beach, SC 29582
The Myrtle Beach National Wax Museum is a great place to take the family for some educational and intriguing good times.
Inside you will find hand-crafted animated wax sculptures that can sometimes be chilling and thrilling. The National Wax Museum has taken everyone into consideration and has sculpted figurines from every genre including actors and historical icons. Your children will be amazed at what a little bit of creativity and patience can do!
The figures in the Myrtle Beach National Wax Museum range from the Garden of Eden and The Last Supper to a battlefield scape from the Revolutionary War. Elvis has not yet left the building, he's just moved to Myrtle Beach! There are also scenes from the first space flight and a haunted graveyard. No matter what your children love, they will adore the entertainment at the National Wax Museum.