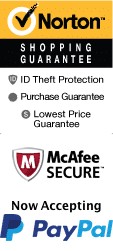 IMAX Discovery Theater in Myrtle Beach
1195 Celebrity Circle Myrtle Beach, SC 29577
Once located at Celebrity Circle in Myrtle Beach, the IMAX Discovery Theater offered visitors the legendary 3-D experience in the plush environs of a 400-seat theater.
The theater's eclectic inventory of over 200 films ranged from deep-sea encounters to the pre-historic world of dinosaurs. The theater's tiered seating arrangement ensured that all audience members always have the best possible view of the screen, regardless of your seat location.
The mammoth 60 foot-tall screen utilized cutting-edge 3D GT projection technology to bring the on-screen representations to life. What's more, the Dolby Digital Surround Sound system made for dramatic, crystal-clear acoustics, while the polarized glasses ensured that the quality of your vision was nothing short of superb.
The theater has now closed down, but it was located off of Celebrity Circle, less than half a mile from Ripley's Believe It or Not Museum, Ripley's Aquarium and the Hard Rock Cafe - Myrtle Beach, SC. The Sheraton Myrtle Beach Convention Center Hotel was located just a mile away, as well.