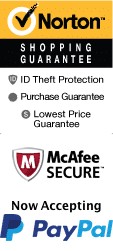 Mackinac Island State Park on Mackinac Island, MI
7029 Huron Rd Mackinac Island, MI 49757
The following tours go by Mackinac Island State Park:
1/1/2000 - 1/1/2000
Take off on a relaxing horse-drawn carriage tour for the perfect start to your vacation as you explore the many sights including popular landmarks such as Arch Rock and the Avenue of Flags.
Taking up nearly eighty percent of Mackinac Island, Mackinac Island State Park offers a wealth of natural and historical sights that are sure to inform and entertain the entire family.
Roughly 1,800 acres makes up the Mackinac Island State Park, ranging from woodlands to shoreline, residential areas to park settings. Famous natural sights such as Arch Rock, quaint Victorian cottages, historic cemeteries and a wealth of biking/hiking trails cover the park's landscape and offer a truly varied experience for those that take time to explore the island in depth.
The park's figure head is the Mackinac Island State Park Visitor's Center. The Visitor's Center is conveniently located adjacent to Marquette Park, and offers a wealth of exhibits and information on Mackinac Island to help accent your journey through the state park. The actual park is open year-round, with the Visitor's Center being open during the summer season only.
Reviews

Mrs. H.
Flint
✓
Verified Traveler
I have spent countless hours fundraising and sweet-talking wealhy donors in order to give between 25-35 4th grade students from inner-city flint, the opportunity to see the beautiful state around them. Many have never been beyond the city limits of flint, so given this chance to broaden their horizons makes it uniquely special each and every year the dedicated chaperones and i do this. Thia allows me and many other teachers i work with an opportunity to go beyond the textbook to educate and offer real-life experiences to our students, each may, we head towards mackinaw city. We visit old mill state park, the fort in town and then go over the bridge to the soo for a dinner cruise. We come back to the city and bunk down for the night. Then the next morning, we head towards mackinac island. We take the carriage tour, eat lunch at the fort, and then browse the rest of the afternoon. By the end of the day, we head back to the mainland and go on home. What an amazing trip this is for our students! Thank you for being so accommodating and informative. My students never stop talking about the sights and sounds and the smells of the island! Thank you.