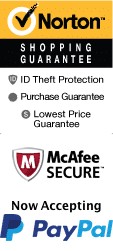 Hersheypark
100 W. Hersheypark Drive Hershey, PA 17033
1-800-987-9852
Chat Now
Hersheypark theme park in Hershey, Pennsylvania has been the prime destination for family fun in the area since 1907. With over 70 rides in this chocolate land of wonder, the park is designed for all ages to have a day full of excitement and thrills during your next vacation! With mega coasters to enjoy for thrill seekers such as Comet, Fahrenheit, Wildcat, and so much more! The little ones in your party can also get in on the fun with rides aimed with them in mind such as Bizzy Bees, Helicopters, Sandcastle Cove, Mini Scrambler, and the Pony Parade. Or enjoy tons of great fun together as family with some of the family rides such as the Ferris Wheel and Frontier Flyers. If the heat feels like you're about to melt in the chocolate world of Hersheypark, there are plenty of water rides to enjoy for wet and wild time so make sure to bring your bathing suit to enjoy these great water rides!
While visiting Hersheypark, rides aren't the only thing at the park to explore during your time here. There are also tons of live shows at the park to enjoy from tap dance shows to singing performances for the whole family. Many of the shows are scheduled but some also stroll through the park for you and your family to see during your time in between rides. There are also tons of Hershey characters walking around the park to take pictures with and greet you. You can also enjoy fun annual events such as the Trick or Treat Trail and Hersheypark in the Dark where they'll be able to ride some of the park's favorites after dark!
When hunger sets in, there are dining options both indoors and outdoors and feature full meals as well as delicious chocolatey treats. And don't forget some chocolate-themed gifts and souvenirs available at the Hershey-themed gift shop that is located on-site to remember your wonderful time here at Hersheypark on your next Pennsylvania vacation!
Hersheypark Shows:
TAP: The Show - A high-energy tap dance show with lots of musical variety and vocal talent.
The Milkmen - This quartet takes you back by way of fun jukebox hits.
Crystal Sneakers - A 'high school musical' performance where there's a ton of singing and dancing at the talent show.
Wild Country - From today's country tunes to the western songs of the past, this is a kicking' cowboy time.
Frontier Frenzy - Modern country rock and bluegrass come together in this display of musical talent.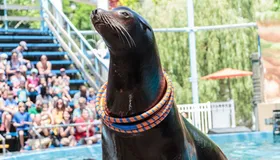 Hersheypark Coasters:
Fahrenheit - A super thrilling roller coaster with the max speed of 58mph and a 97-degree drop!
Cocoa Cruiser - A mild steel coaster perfect for first time thrill seekers.
Comet - A classic style wooden roller coaster that reaches speeds up to 50 mph! The comet coaster is best ridden at night when over 6,500 lights provide a beautiful and fun experience!
Great Bear - Reach speeds of 60mph and hang upside down at 90ft before launching into an exciting adventure through loops, corkscrews, drops, and a zero-gravity roll.
Wildcat - The classic wooden coaster sending its riders over bumps, hills, and turns at speeds up to 48mph.
Laff Trakk - This is the first spinning, glowing, indoor roller coaster in the United States. A fun house styled colorful ride reaching speeds up 40mph.
Sidewinder - A boomerang style coaster taking you upside down a total of 6 times at 47mph.
Skyrush - Experience the highest drop in the park from 200ft in the air before flying down at a max speed of 75mph. Whiz through high speed turns and 5 zero-gravity airtime hills.
Sooper dooper Looper - First looping coaster to hit the East Coast reaching speeds up to 45mph. This steel roller coaster is for aggressive thrill seekers and will take you zipping through dips, drops, and bunny hills.
Trailblazer - The second oldest coaster in the park with a moderate thrill experience and a helix that you will circle 4 times.
Wild Mouse - Experience mind bending illusions as this roller coaster reaches 28mph around intense drops, turns and corners.
Lightning Racer - A wooden racing/dueling roller coaster, the first of its kind in the US.
Storm Runner - Get launched 0 - 72 mph in just two seconds, shoot 18 stories up and take a drop, fly through a 135 foot cobra loop, and more on this roller coaster.
Hersheypark Water Rides:
East Coast Waterworks - The East Coast Waterworks features a tipping bucket with over 10,000 gallons, 7 slides, and 600 fun interactive water splashing toys!
Breakers Edge Water Coaster - Accelerate up to 20 feet per second on a raft and splash through hills, drops, tunnels, and 'Flying Saucer' turns.
Bayside Pier - Splash area great for smaller kids with small rolling waves, tipping cones, and fountains.
Coal Cracker - Get splashed on through canals and small hills and end the ride with a big ol' plunge!
Coastline Plunge: Hydro/Riptide/Pipeline/Surge - Ride down a 1 or 2 person tube into dark tunnels and curves and end with a plop into the pool.
Coastline Plunge: Vortex/Whirlwind - Two people ride down in a tube experiencing corkscrew turns and vertical banks before splashing into the exit pool.
Intercoastal Waterway - More than 1,300ft of relaxation in a slowly winding lazy river with waters and bridges.
Sandcastle Cove - Children will love this area full of kiddie sized water slides, a pool, water cannons, and spraying jets.
The Shore - A wave pool perfect for the whole family.
Tidal Force - Journey 100ft up and dive downhill at speeds of 50mph.
Whitecap Racer - A mat racing slide with first ever double looping tunnels.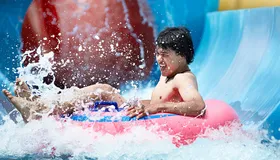 Hersheypark Kid Rides:
Dinosaur-Go-Round: A low speed and gentle ride on a friendly dinosaur moving around a volcano.
Convoy - A sweet cargo-themed ride for the little kiddos.
Dizzy Drums - A spinning tea cup like ride suited for younger children full of small twirls and spins.
Frog Hopper - Lifts riders slowly into the air and hops back down gently.
Granny Bugs - Ride in a bug circling around a small and slow track.
Space Age - Watch your kiddo cruise around in a spaceship.
Helicopters - Soar through the air at low speeds and pull back on the bar to fly even higher!
Mini Scrambler/Himalaya - The perfect ride for those tiny thrill seekers slowly taking riders in all kinds of different directions.
Minty Bees - Buzz around in a circle and through the air on this cute ride.
Mini Pirate - Aboard a pirate ship swinging back and forth leaving rivers with a weightless feeling.
Livery Stables - Carrousel ride for all to enjoy.
Swing Thing - See the smile on your child's face as they fly through the air at low speed. Wave to them as they go by!
Hersheypark Family Rides
:
Balloon Flite - Hop in a hot air balloon and circle around at a moderate speed.
Reese's Cupfusion - Travel through the darkness in a rotating car and a laser gun as you compete in the challenge.
Hershey Triple Tower - Choose a tower and get pulled up into the air before flying down, and then back up, and down again on this thrilling ride!
Wave Swinger - Feel rushing wind in your hair and face on this moderate thrill ride as you glide through the air and get some awesome views of the park.
Ferris Wheel - A sweet ride for the entire family.
The Howler - Twist around and in and out of circles. Want to go faster? Spin your cart as fast as you can!
Frontier Flyers - Fly in the air at a moderate speed and decide just how you'll fly with the front fin that's moveable.
Scrambler - Get scrambled like an egg and whiz around at high speeds in different directions creating laughter for everyone!
Starship America - Speed around in a circle on a spaceship all while moving up and back down again.
Tea Cups - A longtime favorite ride. Spin leisurely or try to spin as quickly as you can!
The Claw - A ride for the true thrill seekers reaching 64ft into the air all while swaying back and forth and spinning around.
Tilt-A-Whirl - A classic family ride featuring a series of twirls over small hills.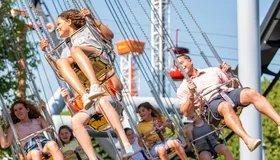 Hersheypark Dessert Shops:
Simply Chocolate - Chocolate Fondue, French Silk Pie, Peanut Butter Pie, Cupcakes, Cheesecakes, Sundaes, Milkshakes
Rita's Italian Ice - This classic and ice cold treat will help you cool down with tons of amazing flavors!
Turkey Hill Ice Cream Parlor - Hershey's Kisses and Reese's Peanut Butter Cup Frozen Yogurt, Sundaes with your favorite Hershey's Candy
Dippin' Dots Sundae Shop - Sundaes featuring Dippin' Dots and Hershey's candy
Spring Creek Smokehouse - S'mores Cobbler, a non-traditional take on the classic flavor of S'mores
Don't miss out on the family fun at Hersheypark on your Pennsylvania getaway!
Options:
Hersheypark
Available 12/7/2023 until 1/1/2024 View Detailed Schedule
Enjoy single-day admission to Hersheypark's greatest rides and more with this ticket option.
Reviews

Kylee Specht
Lewistown, PA
✓
Verified Traveler
"amazing time Hershey Park!"
It was a beautiful day to spend it in hersheypark!!! Beautiful weather, it was pretty busy but we still had a blast! Thanks for the amazing time hershey park!
Tip: Ride the rides you want early!! Get there early!! Some rides had a 45 minute wait.

Jason Bochenek
Washington, NJ
✓
Verified Traveler
" great place for the whole family"
Great place for the whole family. Not just for kids. We had tons of fun.

Deborah Leech
Charleroi, PA
✓
Verified Traveler
"Great water park, coasters and zoo!"
Great water park, coasters and zoo!

Customer

✓
Verified Traveler
What a blast! We had so much on this adventure and cannot wait to return back.
Frequently Asked Questions for Hersheypark:
Approximately how long could a customer plan to spend at Hersheypark?

Most guests spend the day at the park.

What amenities are available?

There are multiple gift shops and restaurants available to enjoy.

Are wheelchairs and strollers available?

Yes, wheelchairs, strollers, and electric convenience vehicles are available to rent.

Is Hersheypark handicap accessible?

Yes, it is handicap accessible.

Is photography & video recording allowed?

Both photography & video recording is allowed.

For what ages is Hersheypark appropriate?

This is great for all ages.

Is parking available at Hersheypark?

Yes, there is a daily parking fee of $15 with tram service running every 15 minutes for your convenience.
Book Now!