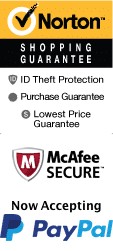 Eureka Springs Tram Tours
137 West Van Buren Street Eureka Springs, Arkansas 72632

Eureka Springs Tram Tours is no longer available.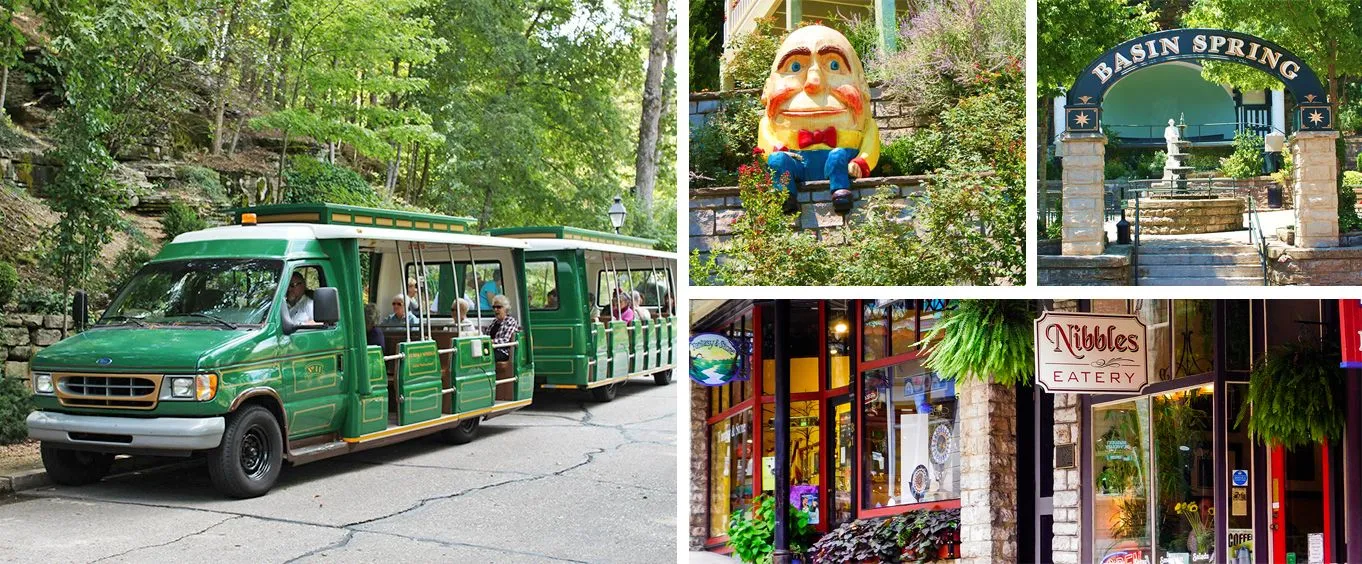 The Eureka Springs Tram Tour is the best trolley tour to experience this beautiful city. Whether you are planning to take this tour on your first time to the area or you've been a hundred times, you will learn something new and see some beautiful places. The tour takes you past hundreds of Victorian homes with breathtaking architectural design, through the historic downtown Eureka Springs, and past some of the most beautiful natural landscapes that you can find in Arkansas!
In total, the tour lasts approximately 90 minutes so you can easily fit this into any schedule. While on the tram, a knowledgeable guide will be telling you the history of the city and pointing out specific sites along the way. All of the guides are either natives of Eureka Springs or have lived in the area for most of their lives. Therefore, these people know their stuff! They'll tell you about legends, ghost stories, and share some of their own experiences growing up in the area. You will also be able to get out and explore at two places during the tour. The tram stops at both the Crescent Hotel and Grotto Spring.
The 1886 Crescent Hotel and Spa
This hotel has some of the richest history that you will encounter in this region of the United States. The Crescent Hotel opened its doors on May 20, 1886 and was America's most luxurious resort at the time. It was huge, had comfortable rooms with brand new amenities, and amazing unbeatable service. It's hard to imagine, but it cost $249,000 to build at that time. This success was short-lived and fell quickly and was shut down. In 1908, it was opened again as the Crescent College and Conservatory for Young Women but was shut down in 1924. Shortly after, it was opened again as a junior college in 1930, closed after four years, and then opened again as a hotel for summer use.
The real, dark history begins after 1937. This is the year that Norman Baker buys the hotel and turns it into a hospital and health resort. Baker was a millionaire and thought that he had the cure to many ailments even though he had zero medical training. His 'career' began in Iowa where he scammed his way into wealth, 'curing' people along the way. He branded himself as a doctor who figured out the cure for cancer and this attracted many people to this Arkansas hospital. He told people one of the secrets was the area's natural spring water (which is how the city got its start in the first place - both places were founded on the water) and they believed that he would help them. Of course, he didn't. Many people died in this hotel due to the lack of real treatment and some of those people still wander the halls to this day. After Baker's arrest, the building was shut down once again and saw a few new owners. The hotel saw a hint of luck when the current owner(s) bought the hotel for 1.3 million. It saw a six-year renovation and it was put on the National Register of Historic Places. Today, it is a hotel and spa that welcomes people from around the country!
Grotto Spring
This spring is one of over 60 springs that are located within the town's city limits. It is believed that the waters of these springs could heal people of any ailment. This specific spring has been well-known since the late 1800s and has been popular ever since. There are stairs that go down into the cave-like tunnel which the spring is in. It's a beautiful and unique area, unlike anything you'll see anywhere else!
With so many things to do in the area, you'll have a wonderful vacation. Book your vacation package for Eureka Springs, Arkansas today!
Reviews

Linda Fultz
Fort Wayne, Indiana
✓
Verified Traveler
The tour was great i especially appreciated the sound system. I was at the end of the third car and i could hear perfectly.I recently got hearing aids and sometimes have trouble understanding. The tour guide was wonderful and gave very interesting facts.
Tip: Be sure and purchase a trolly ticket to use when your tram tour is finished.

Janice Morton
Chelsea, OK
✓
Verified Traveler
"Vacations made easy handled all of the arrangements and we were very happy."
Every thing we ordered was fantastic. The tour and the full day at the passion play. Vacations made easy handled all of the arrangements and we were very happy. Call them for your reservations.
Tip: Wear walking shoes for the holy land tour at the passion play.

Jeff Hoss
Manhattan, Kansas
✓
Verified Traveler
Wonderful trip. Loved everything we did one of our best vacations.

brian walters
Paola, KS
✓
Verified Traveler
"Would recommend the tram tour for all."
We had a good time learning facts about eureka and mr garrison did an awesome job. Would recommend the tram tour for all. Will do it again
Tip: Would recommend to get there early.
Frequently Asked Questions for Eureka Springs Tram Tours:
Is there any walking involved?

The amount of walking will depend on how much exploring you do at the two stops.

Approximately how long does the Eureka Springs Tram Tours last?

It lasts approximately 90 minutes.

For what ages is the tour appropriate?

It is appropriate for all ages.

What type of dress & footwear are recommended?

Wear comfortable clothes and walking shoes.

Where does the Eureka Springs Tram Tours depart from?

The tours depart from the Park and Ride / Visitors Center located at 137 West Van Buren Street (Highway 62 west)

Is photography / video recording allowed on the Eureka Springs Tram Tours?

Of course! Don't forget your camera.

Is the Eureka Springs Tram Tours handicap accessible?

Yes.

What is included in the admission price?

The price includes the tour and the two stops!