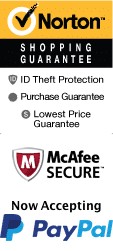 Wisconsin Dells Jet Boat Adventure
107 Broadway Wisconsin Dells, WI 53965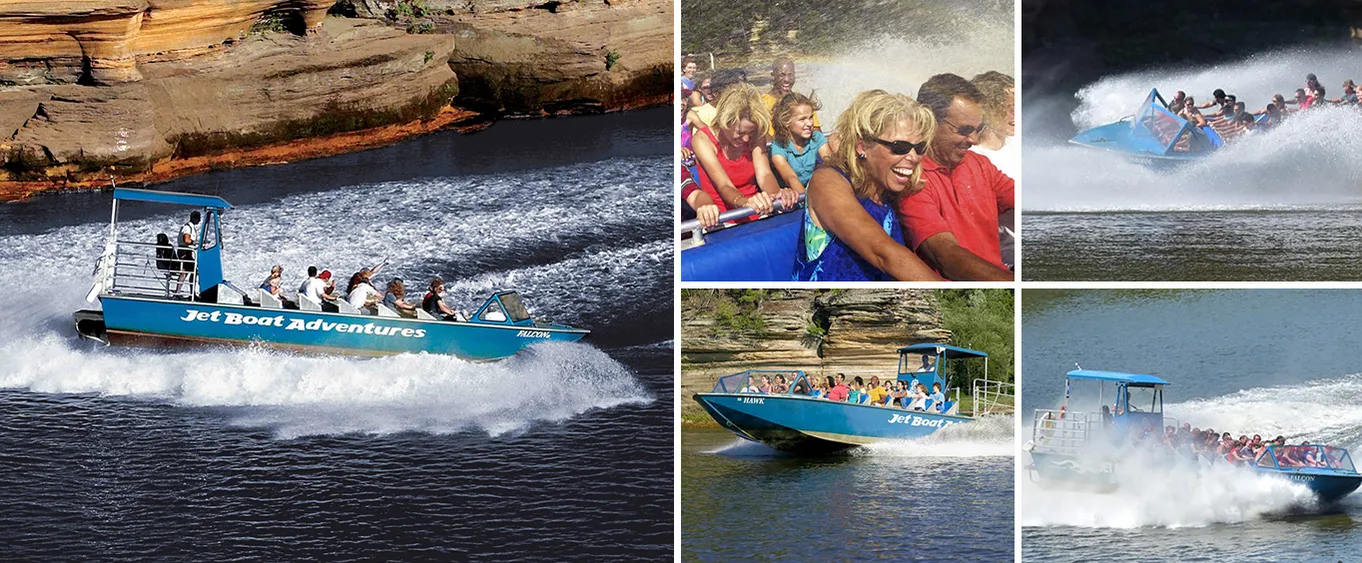 The Wisconsin Dells Jet Boat Adventure is an excellent speedboat to add some spice to your vacation in the Dells! This activity is great for the and features the perfect combination of beautiful natural scenery and a thrilling ride. The 50-minute adventure is the ultimate high-speed experience and are the only Jet Boat Tours Wisconsin Dells that take you through both the Upper and Lower Dells of the Wisconsin River.
With unbeatable views of the Dells, plentiful wildlife, and speeds up to 40mph, this ride is everything you could ask for! You'll ride on a boat that is 38 ft long and built for speed, stability, and most importantly, safety. All of the boats are equipped with high water and fire alarms, fire extinguishers, radios for communication, buoys, and plenty of life jackets. The passenger capacity is 58 riders. All of the pilots on the team have had at least twelve months of river piloting experience and know these waters very well. They have been through safety courses and are trained in the most difficult of experiences, making these Jet Boat Wisconsin Dells safe and fun.
Your pilot will narrate during your trip down the Wisconsin River, pointing out areas of top interest and regaling you with stories and history of the area. You'll pass numerous areas rich in history and your guide will touch on them all, giving you a look at history, geology, folklore, and much more. You will definitely get wet on this water roller coaster, so be sure to wear appropriate clothing. There are few better ways to enjoy the stunning beauty and rich history of the
Wisconsin Dells
than with a blazing jet boat tour through the area. Add these awesome Jet Boats in Wisconsin Dells to your next trip!
Reviews

Nicole Tallman
Richfield, MN
✓
Verified Traveler
The driver of the jet boat was so much more than that... He was also very entertaining! He mentioned that he grew up in the dells which makes sense as to why he was so knowledgeable of the area. He made jokes the entire time and had everyone on the boat laughing. I had been on a jet boat ride before in another state but it wasn't nearly as entertaining as this one. Highly recommend!

Ashley
Springfield
✓
Verified Traveler
"I had the funnest time ever!"
I had the funnest time ever!

Jessica
Springfield Mo
✓
Verified Traveler
"..everybody should Do this at least Once in life."
So everybody should do this at least once in life. Its so great!!

Kristen Carter
Houston, Missouri
✓
Verified Traveler
"The kids are begging us to go again!"
We had such a great time on the jet boat adventure last year. The kids are begging us to go again!
Frequently Asked Questions for Wisconsin Dells Jet Boat Adventure:
What type of clothing is appropriate?

Wear clothes that you can get wet.

What age is Wisconsin Dells Jet Boat Adventure appropriate for?

Children 3 and under are not permitted.

Is parking available for Wisconsin Dells Jet Boat Adventure?

Free parking is available.

Is photography & video recording allowed?

You may bring a waterproof camera.