Test Your Knowledge of the Old West at These Historic Attractions
From the exciting gunfights between daring outlaws and the courageous lawmen who fought them to the card sharks and pioneers that made the West great; the stories and histories of the Old West still capture the imaginations of all who hear them. It was a time of lawlessness and perseverance, of incredible heartbreak and amazing opportunities for thousands of families. While that time might be long gone, the tales of those who lived are still lingering on in various attractions and locations. Whether you're a huge Wild West buff or simply interested in learning about America's most wild years, these 20 attractions just have to be seen to be believed.
Photo courtesy of Jessica Spengler / (CC BY 2.0) cropped, vibrancy
OK Corral
Tombstone, AZ
The OK Corral will always be remembered for one of the most famous gunfights in the West. On October 26, 1881, Wyatt Earp and the Clantons fought for dominance ending in several tragic deaths and lifelong injuries. Today, three gun fights take place every day which mimic the original gun fight as closely as possible. History buffs can take a buggy ride of the entire town where history comes to life or check out the many other attractions in the area.
By Daniel Ramirez from Honolulu, USA [CC BY 2.0], via Wikimedia Commons cropped
San Xavier Mission Church
Tucson, AZ
The Moorish-inspired white structure is the oldest Catholic Church in the United States, which is still active after 300 years. The awe-inspiring building is erected in the middle of San Xavier Indian Reservation Area 10 miles outside of Tucson, Arizona. Appropriately named, "White Dove in the Desert", the building is mainly crafted in limestone. Overall, the site is visited by more than 200,000 visitors every year.
Photo courtesy of GothEric / (CC BY-SA 2.0) cropped
Boothill Graveyard
Tombstone, AZ
Also known as Tombstone Graveyard, the Boothill Graveyard is one of the most famous resting places for many who died during the Old Wild West. From regular citizens to outlaws, many of the people who made Tombstone the city it is today are buried in the cemetery. The graveyard has a few who died at the famous OK Corral as well as many other residents.
Photo courtesy of Amy Huffaker / (CC BY-NC 2.0) cropped, color correction, vibrancy
The Birdcage Theatre
Tombstone, AZ
This old saloon is buzzing with history as numerous gun fights took place inside the building. In its heyday, the Birdcage Theatre was one of the most popular places in the Old West where gambling, prostitution and drinking were allowed. The bullet holes on walls are stark reminder of its dirty history. Six recently renovated underground rooms offer a more fascinating experience for those who don't mind confrontations with the ghosts that supposedly roam the premises.
Photo courtesy of silky / Shutterstock cropped
Old Trail Town
Cody, WY
Old Trail Town, located in Cody, WY, has been meticulously restored to resemble the town during its heyday between 1880 and 1900. Named after the legendary showman, William F. "Buffalo Bill" Cody, this town boasts thousands of Old West artifacts and the grave of mountain man John Johnson, on whom the popular movie "Jeremiah Johnson" was based. This site is an absolute must-see when journeying through the Old West.
Photo courtesy of mlhradio / (CC BY-NC 2.0) cropped
Tombstone Courthouse State Historic Park
Tombstone, AZ
This historic park is designed to educate visitors on the history of Tombstone, one of the most famous Wild West towns. The main attraction is the courthouse which was built in 1882 and houses one of the finest collections of historical artifacts from the Old West. Visitors can even see a recreated gallows much like the kind often used to hang criminals in the Old West.
Photo courtesy of bigweasel / (CC BY-NC-SA 2.0) cropped, vibrancy
Buckhorn Exchange
Denver, CO
While Denver is full of excellent restaurants, few can compare with delicacies and history served at Buckhorn Exchange. Located just 5 miles outside Denver, the restaurant is the holder of liquor license No. 1 in Colorado and originally opened in 1893, serving cattlemen, gamblers, miners, railroad workers and even more famous figures like Chief Red Cloud and Theodore Roosevelt. The restaurant serves some of the finest steaks and game in the state and features plenty of museum-quality memorabilia from its nearly two centuries of operation.
Photo courtesy of Ed Schipul / (CC BY-SA 2.0) cropped
Buckhorn Saloon and Museum
San Antonio, TX
This museum is home to one of the most fascinating collections of the American wilderness. The first owner collected items in exchange for beer and food but the collection has since grown to include a 1,056 pound black marlin and pre-historic Irish elk. The original saloon is also the place where Mexican Revolution was planned. In addition to the saloon, there is a museum, a shooting gallery, gift shops, a Texas Ranger gallery and a cafe. While in the area, you should also try to catch out a show at the Majestic Theatre, less than a half mile away.
Photo courtesy of Mike Fisher / (CC BY 2.0) cropped
The National Cowgirl Museum and Hall of Fame
Fort Worth, TX
While everyone thinks about cowboys in the Wild West, they weren't the only ones roaming the prairie. The National Cowgirl Museum provides a historical perspective on the achievements of the most daring cowgirls in the nation. Originally nothing more than a small room in the basement, the museum has continuously grown since 1975. It now takes up an entire 33,000 square foot building and is filled with more than 4,000 artifacts as well as the stories and histories of the sometimes overlooked American cowgirls. If you get hungry while in the area, check out the Kimbell Art Museum which is only a short distance away features tons of artwork and is really unique place to eat, which locals love.
Photo courtesy of Mike Barlow / (CC BY 2.0) cropped
Marshall Gold Discovery State Historic Park
Coloma, CA
These 500 acres are home to a replica of the historic Wooden Mill that sparked the Gold Rush in California and completely altered the history of Wild West. Visitors can visit many restored structures to learn about the history and try their luck digging for gold. The park also offers great outdoor opportunities for hiking and adventure.
Photo courtesy of Rojer / (CC BY 2.0) cropped
Old Sacramento Historic Landmark
Sacramento, CA
Located on the eastern bank of Sacramento River, Old Sacramento is an important from a historical and architectural standpoint. Here, the history of Gold Rush is preserved as many original buildings from that time are still intact. Visitors can take rides in period carriages and wagons which will take them around multiple iconic landmarks in the area to learn more about the history of the area in the Wild West. There are numerous museums, tours and attractions all focused on the Old West.
By Liveon001 ©Travis Witt (Own work) [CC BY-SA 3.0 or GFDL], via Wikimedia Commons cropped
Mission Concepción
San Antonio, TX
The church is located in the center of San Antonio, but the building and its grounds transport visitors into a bygone era. Mission Concepción is the oldest unrestored stone church in the United States. The original building from 1755 featured colorful designs and frescoes, some of which can still be seen inside the church.
Photo courtesy of sporst / (CC BY 2.0) cropped
Billy the Kid's Grave
Fort Sumner, NM
This small grave in Fort Sumner continues to draw crowds interested in paying their respects to Billy the Kid, one of the most famous outlaws in American history. The nearby museum is dedicated to showcase original equipment used by Billy the Kid and provides historical narratives of how he fearlessly roamed the Old West until a county sheriff brought him down at the age of 21.
By Richie Diesterheft from Chicago, IL, USA (Main Street Deadwood, SD) [CC BY 2.0], via Wikimedia Commons cropped
Deadwood, SD
There are few Wild West buffs who haven't heard of Deadwood, SD, and this town remains one of the true wonders of Old Wild West. It was once home to Wild Bill Hickok and Calamity Jane, famous gunfighters and gamblers of the West. Several gambling halls in the town keep Deadwood alive and there is plenty for visitors to do including touring several historical buildings which have been restored to their original western splendor.
Photo courtesy of Tracy / (CC BY 2.0) cropped
Calico Ghost Town
Calico, CA
Calico, located in the middle of Mojave Desert, is one of the most well-preserved ghost towns in the United States. Restored in 1950 to its former glory, this mining town is designed to look similar to what the site might have been during its heyday in 1880. Visitors can take guided tours of the town including a mine tour aboard Calico & Odessa Railroad. Then once you've worked up an appetite be sure to stop by Peggy Sue's diner, a local favorite restaurant with a fun 50's theme.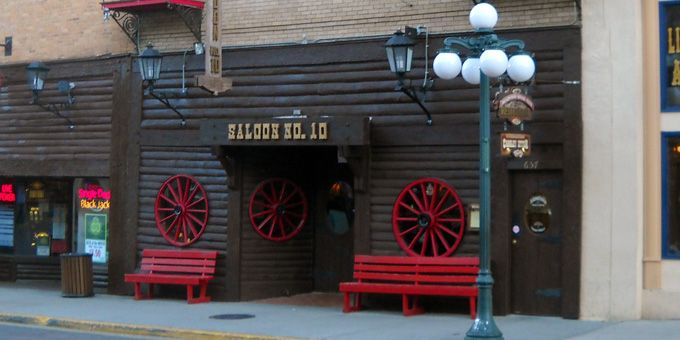 Photo courtesy of Matt / (CC BY-NC-SA 2.0) cropped, color correction
Saloon No. 10 in Deadwood, SD
Deadwood, SD
Saloon No. 10 is easily the most famous eatery in Deadwood. The original building gained its fame from being the place where Wild Bill Hickok was killed. Interestingly, the Saloon has been in continuous operation since that day. Experience a slice of the Wild West with the tasty meals and Western cowboy style menu, cooked to perfection every day. You can even see a recreation of Wild Bill's death and try your hand at a game of authentic "Deadwood style" gaming.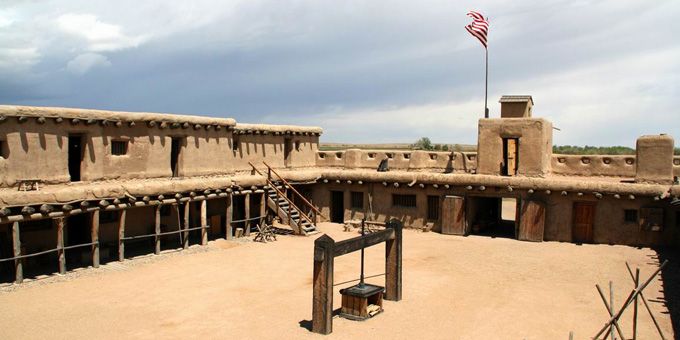 Photo courtesy of Jessica Lamirand / (CC BY-NC-SA 2.0) cropped
Bent's Fort National Historic Site
La Junta, CO
This converted adobe historic site is one of the best places for families to take their kids to learn about the Old West. The building was erected during the pioneering days to designate a safe place for traders, travelers and trappers to conduct deals with native Indian tribes in a peaceful environment. Now, children can participate in a roleplay by selecting their favorite character and learning about how life in the Old West worked. The main event takes place in June when children can continue to learn history by taking part in activities spanning five days. If you can't make it in June, then Otero Museum, only a few minutes away, is also definitely worth a visit for more Old West experience and a fun Chuckwagon Dinner.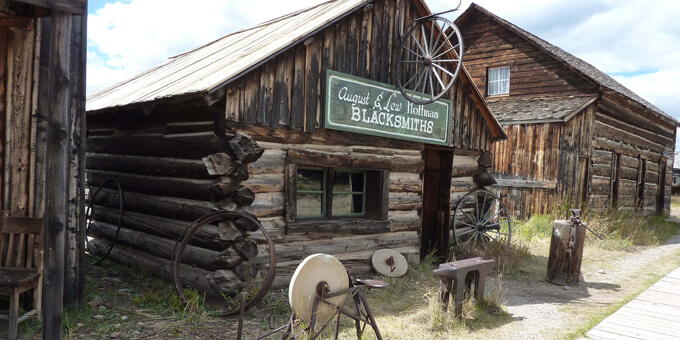 Photo courtesy of bigweasel / (CC BY-NC-SA 2.0) cropped
South Park City Museum
Fairplay, CO
Visitors can experience the history and economy of a gold mining town from 18th century by touring more than 30 structures at South Park City Museum which holds around 60,000 artifacts and has been added to the National Register of Historic Places. The Museum has been in continuous operation since 1959 when the original buildings were renovated. Visitors can see firsthand the economy, industry and profession of the era and learn more about the Gold Rush and the American West.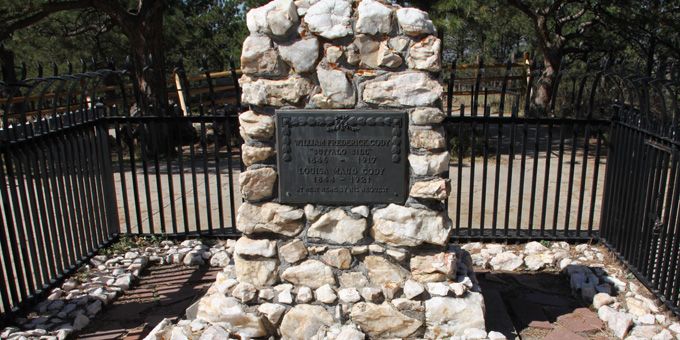 Photo courtesy of Terry Feuerborn / (CC BY-NC 2.0) cropped
Buffalo Bill Grave & Museum
Golden, CO
One of the most famous cowboys, hunters and showmen of the West, the grave site of the true American icon Buffalo Bill is located on Lookout Mountain near Denver. Buffalo Bill was a showmen, hunter, fighter and adventurer in 19th century America. His exploits offer an insight into the life in 19th century and how the White Man and Red Indians fared against each other.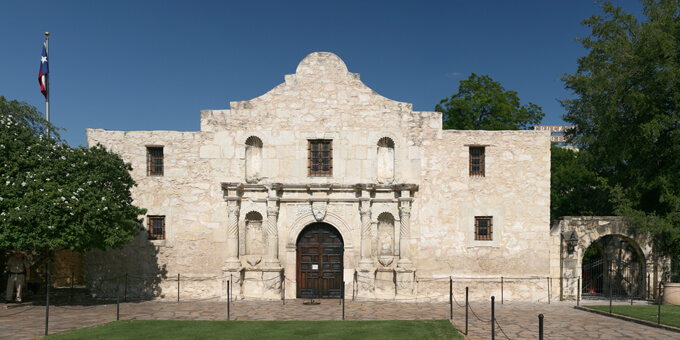 "Alamo pano" by Daniel Schwen - Own work. Licensed under CC BY-SA 4.0 via Commons. cropped
The Alamo
San Antonio TX
Last but not least, the Alamo is perhaps the most famous building in Texas. During the legendary battle with Mexican troops, heroic Texans stood their ground for almost 13 days against a vastly superior force. The building has been restored to its former glory, providing visitors a glimpse into the past. The site features a large amount of memorabilia from the battle as well. You can even quench your thirst at the Alamo Bier Garten nearby.
So, which of these famous sites do you want to visit? Do you have any Old Wild West locations on your list that we should add? Let us know in the comments, and share with all of your friends!
Follow Us on Social Media
Read More Articles