Visit these mazes for un-corn-trollable fun in Wis-corn-son!
When fall rolls around, so does harvest time, and that means corn maze fun! These top corn mazes in Wisconsin will keep visitors guessing, searching and ready for a cup of hot cocoa when they finally reach the finish line. Plan for a fun few hours at one of these great farms.
Autumn brings awesome fun, and with it comes sprawling corn mazes! Conquer these labyrinth-like mazes to enjoy some fall festivities with your entire family.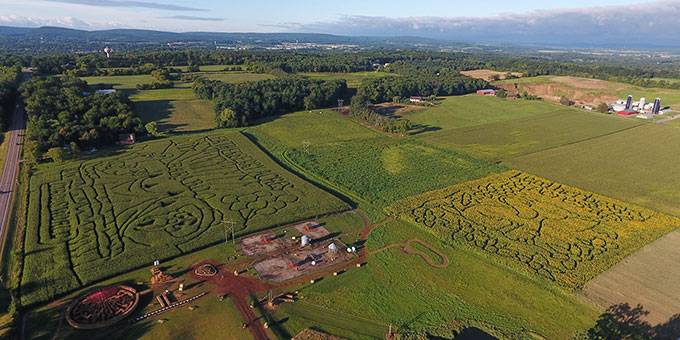 Leatherberry Acres Corn Maze
The unique sunflower maze – five acres of it! – heralds the end of summer, and at the beginning of fall the 12-acre corn maze takes over. Climb to the top of the bale pyramid to look over the maze and figure out your strategy, then start your journey! Remember that there are smaller, easier mazes just for the little ones, too. When you can't take another step through the corn, enjoy the barrel train, petting zoo, the giant slide, pumpkin patch and more. And finally, don't forget the pumpkin cannon!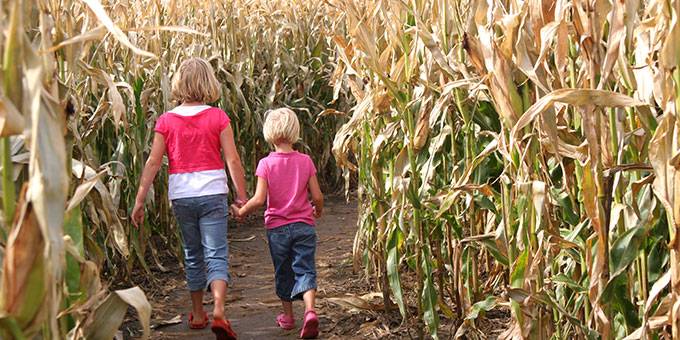 Hidden Trails Corn Maze
Highly anticipated every year, this corn maze in West Salem brings adults and kids alike for puzzling fun. A variety of mazes cover 12 acres of lush, green corn. And though there is a map to help you through, the whole idea is to get lost for a while. Got kids who just aren't up to the challenge yet? There are plenty of other options for them, such as the barrel train and weekend wagon rides.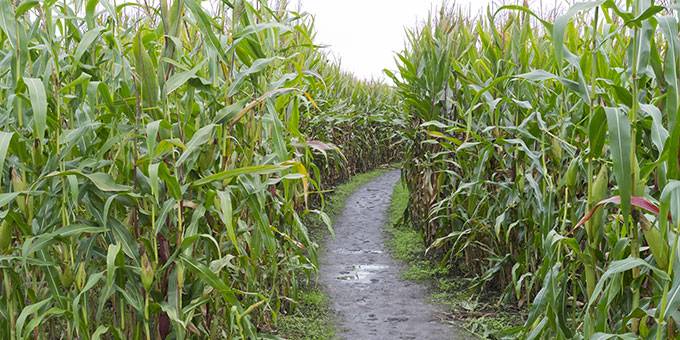 Schairer's Autumn Acres
With over two miles of trails spread out over nine acres of land, this "We Love America" corn maze offers 10 checkpoints – hit each one of them and get entered for a prize! Also, use your detective skills to play "Farm Treasure Hunt" along the way. For the younger kiddos, there is "Spookley the Square Pumpkin" maze and a Fairy Tale Trail with "Cinderella and the Glass Slipper". When you finally make your way out, stay awhile to enjoy the duck races, hay bale fort, human hamster wheel and petting zoo. There's even an apple launcher for the more adventurous! Stop in the barn for snacks and check out the apple corner where Erin's Orchard offers an entire line of apple products including fresh cider and apple pie! There is fantastic fall fun for everyone!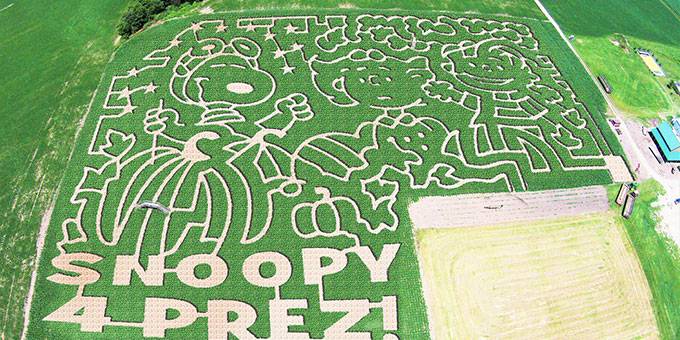 Schuster's Farm Corn Maze
Head to the ultimate spot for corny fun! This farm corn maze delights young and old alike with twisting trails that make it a real challenge. But there's a lot more waiting when you finally break free of the puzzle, including apple cannons, a haunted forest, pumpkin patches, bonfires and plenty of treats to enjoy while soaking up the atmosphere. In fact, there are over 20 attractions open during the weekdays and more than 30 available for the weekenders. This incredibly unique place is where to go for a huge variety of family fun.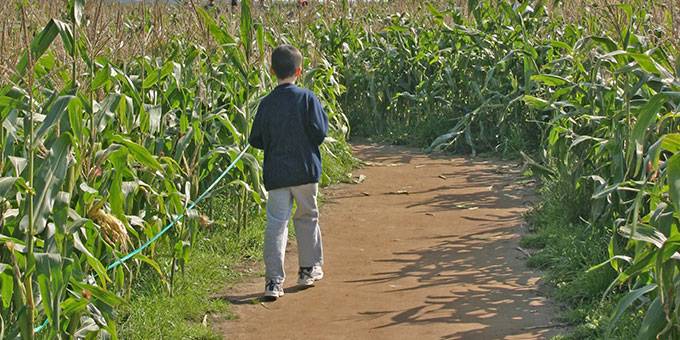 Vesperman Farms Corn Maze
For well over a decade, this corn maze has delighted those in Vesperman and the surrounding area. Work your way through the trails, and take a friend for maximum fun. When you finally emerge victorious from the enormous puzzle, take a ride down to the pumpkin patch, where you can choose the best pumpkin for your fall plans. And every hour on the hour, stop for a moment to enjoy the pumpkin launch – the farm will send pumpkins into the air via catapult and cannon!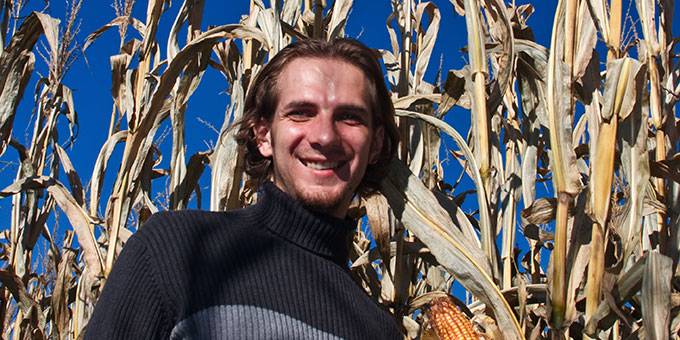 Govin's Farm Corn Maze
The 11-acre corn maze at Govin's Farm has been delighting visitors for many years, and each year there's a new theme: for 2017, that theme is the beauty of bees. Once in the maze, there are clues along the way to help you figure out how to find freedom, but if you get truly lost, the 'corn cops' will come help you out. Want to get really adventurous? Try the maze at night by the light of your flashlight! Once you solve the puzzle, congratulate yourself with pumpkin patches, shooting the pumpkin cannon and relaxing with a snack or two.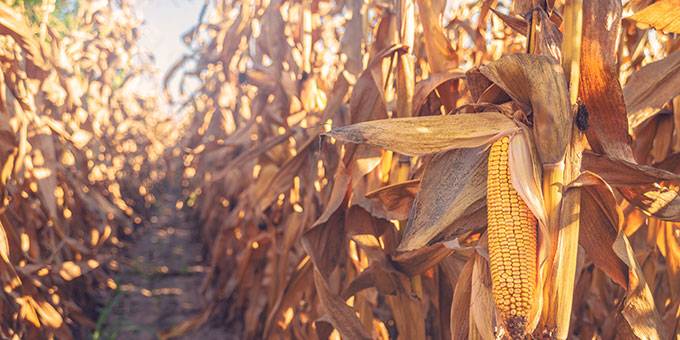 Polly's Pumpkin Patch[1]
Head to Polly's Pumpkin Patch in Chilton, WI for a variety of fall fun including a corn maze. As well as offering a fun labyrinth for all ages to explore, there are plenty of other activities. Pick a pumpkin from the famous pumpkin patch, embark upon a hayride, and celebrate the season with some family-friendly fun.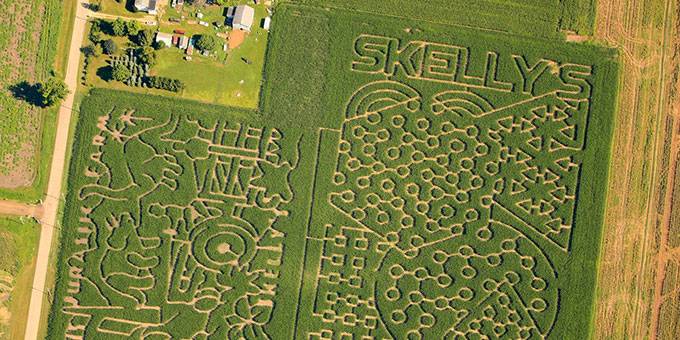 Skelly's Farm Market
In operation since 1998, this corn maze is one of the oldest in the country, and there's a reason people keep coming back for more! Make this one a family tradition on over 15 acres of puzzles. The Adventure Maze covers six acres, while the Impossible Maze covers nine, and admission is good for both. Enjoy the occasional spots in the maze where friendly scarecrows tell tales and delight the kids. For those who prefer some technology with their fun, this corn maze offers a wealth of activities that tie into your phone's GPS. When you get out, enjoy the various other activities to round out a fun day in the corn maze!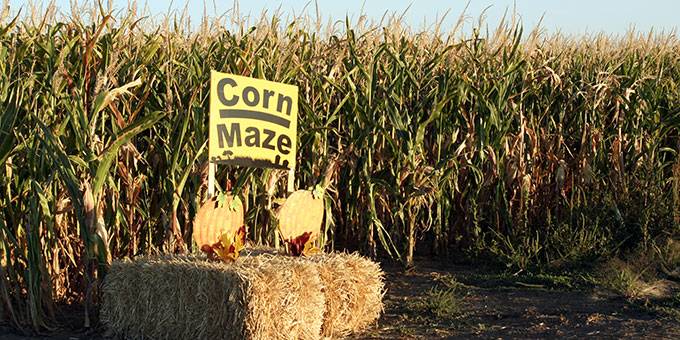 Creek Bed Country Farmacy
Known for the largest corn maze in the state, the Farmacy is all about family fun – "where family is the best medicine" is their motto! The corn maze stretches over 18 acres and 6 miles of twisting pathways, with a punch card trivia game to make it even more enjoyable. Use your smartphone to scan QR codes and see just how fast you are compared to others who have tackled the maze. Feeling even more adventurous? Visit the maze after dark, and don't forget your flashlight! When you finally make your way out, enjoy a vast array of activities, such as the hay rides, pumpkin patch and the "Back 40" play yard.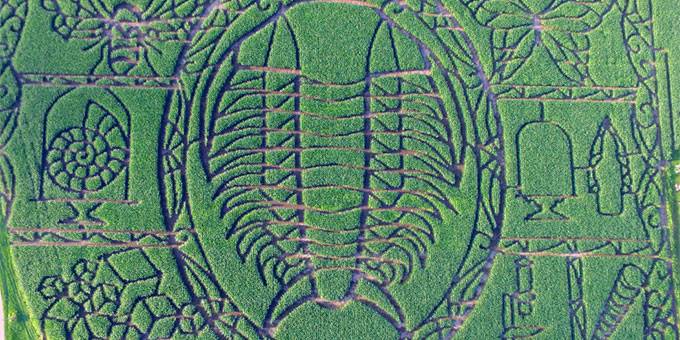 Treinen Farm Corn Maze
The corn maze at this farm is so famous that it even has a fancy name each year: for 2017, it's the "Trilobite Cabinet of Curiosities." Covering over 15 acres with more than 6 miles of twists and turns, this astounding corn maze is not for the faint of heart – but there are plenty of map options, as well as hidden places that the map doesn't detail. Take a long look from the observation tower first, to help you get your initial bearings, then hope to get out before the final harvest in November!
No matter where you live in Wisconsin, there is a corn maze within driving distance, and it's worth the time to get there! Have you ever gotten lost in a corn maze? Tell us about your adventure – we'd love to hear about it!