Grab a glass and relax at these fantastic wineries!
After a long day or even a long week at the office, there are few things more relaxing than sitting outside on a shaded terrace, enjoying a delicous glass of red wine as the sun sets over the picturesque Napa Valley. Or, even better, imagine having the chance to wander through the ancient cellars and established vineyards of some of the country's best wineries, sampling several different types of wines and learning about how they were made. Maybe you could even find some new favorites to take home to add to your wine rack.
If any of that sounds like absolute heaven to you, or if you consider yourself to be something of a wine connoisseur, then these 30 Napa Valley vineyards definitely should be on your list for a relaxing and enjoyable vacation.
For wine lovers, Napa Valley is synonymous with the best of the best. Explore these amazing vineyards to sample the finest California concoctions and satisfy your palate.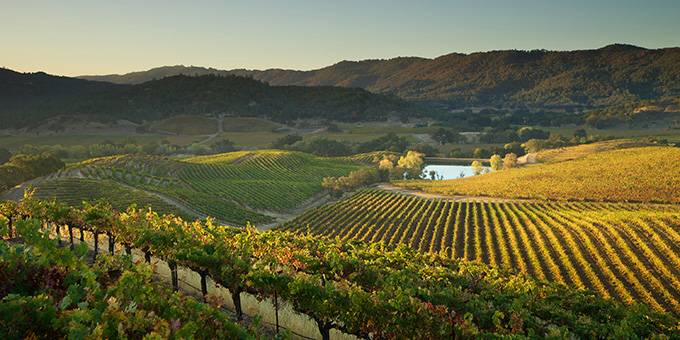 St. Supéry Estate Vineyards & Winery
8440 St Helena Hwy
Rutherford, CA 94573
St. Supéry Estate Vineyards & Winery[1] grows, produces, and bottles the wines all on estate property. None of the work is outsourced, and this exceptional care can be tasted in all of the exquisite blends. The winery is especially well-known for its Sauvignon Blanc, Cabernet Sauvignon and estate red and white blends. St. Supéry also has an art gallery on site so visitors can walk through and enjoy the art while sampling their wines. Once you've finished sampling the delicious fine wine, head over to The French Laundry[2], a popular local gourmet restaurant to try out the exciting tasting menu.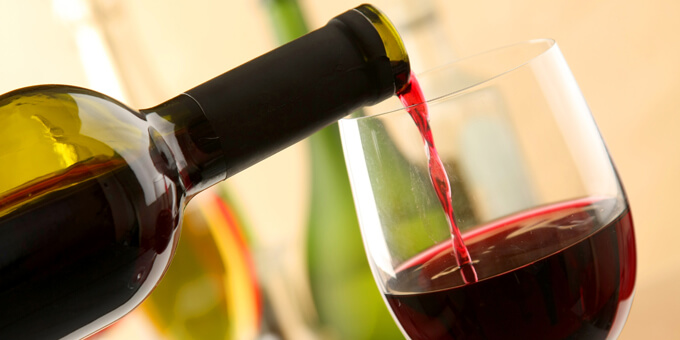 Reynolds Family Winery
3266 Silverado Trail
Napa, CA 94558
Reynolds Family Winery[3] has a compelling story of overcoming personal adversity to accomplish a lifelong dream. It has been in business for a few decades and has won countless awards. The winery continues to come out with new products and new lines of fine wine that are both enticing and exciting. Make sure to make a reservation to check out this winery, and sample one of the "Naughty" wines which are wickedly delicious. After tasting the products at Reynolds Family Winery, be sure to check out the Napa Valley Wine Train[4] which is only about ten minutes away and features a multiple course meal, more tasty wines, and a relaxing ride through the heart of Napa Valley.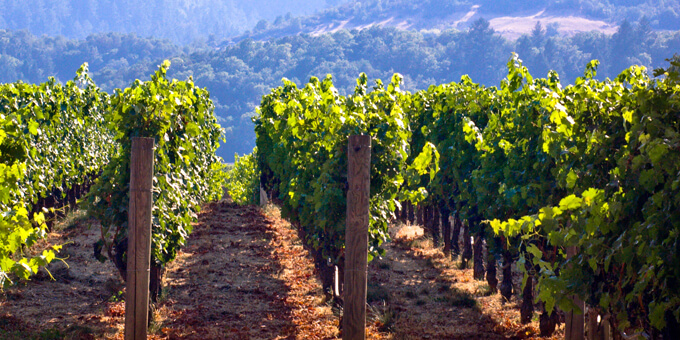 Robert Mondavi Winery
7801 St Helena Hwy
Oakville, CA 94562
Robert Mondavi Winery[5] takes great pride in the fact that all of its wines are rated a 92 or higher by several respected publications across the country. Established in 1966, the winery known for producing some of the finest Cabernet Sauvingnon wines, and the Fumé Blanc, Mondavi's signature wine. The winery also hosts various events, including internationally-renowned tastings and tours which can be booked in a number of languages. The winery recently celebrated its 50th anniversary in 2016.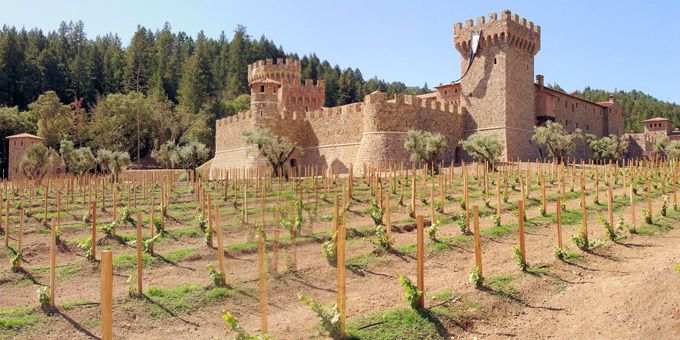 Castello di Amorosa Winery
4045 St Helena Hwy
Calistoga, CA 94515
Castello di Amorosa Winery[6] is a little off the beaten path and farther away than some other wineries in Napa Valley, but most would agree that it is well worth the drive. It is not often that you can have the chance to taste wine at a castle! Visitors come from all over for both the wine and the culture. Castello di Amorosa is open every day of the year except for Christmas. You can roam around with or without a guided tour. If you do join a guided tour, you'll get the chance to sample five different signature wines aimed at several different palates. The castle itself is a stunning 121,000 square feet and the tours are mostly conducted in the underground wine caves and cellars. This is definitely a one-of-a-kind experience!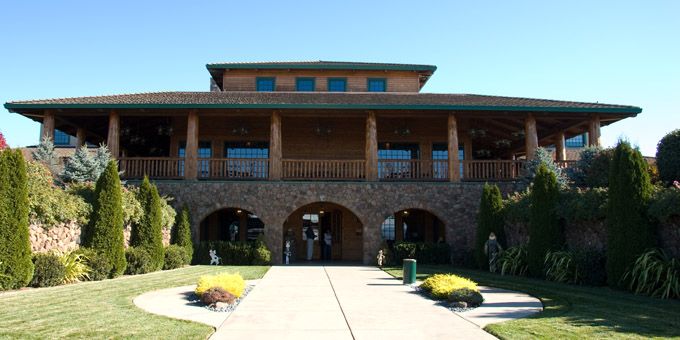 Jamieson Ranch Vineyards
1 Kirkland Ranch Rd
American Canyon, CA 94503
If you are looking for a place to relax or lounge around outside with a glass of wine, make sure to check out Jamieson Ranch Vineyards[7]. Its laid-back atmosphere is appealing to visitors looking to enjoy their experience in Napa Valley without all the hustle and bustle of crowds. The winery is open by appointment only, so check in ahead of time to make sure you can get a spot in their tasting room. Visitors can also take classes to learn all the rules and tricks for pairing the delicious Jameison Ranch Vineyards wines with even more delicious foods.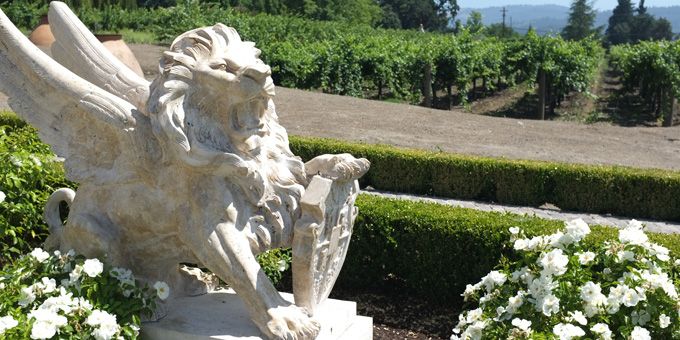 Del Dotto Vineyards
1055 Atlas Peak Rd
Napa, CA 94558
Del Dotto Vineyards[8] focuses on crafting unparalleled tastes by barrel aging its wines in caves. In 2015, the winery won a certificate of excellence from Trip Advisor and was named "most romantic destination of the year" from Cellar Pass! The 350 foot long wine caves of Del Dotto were hand-dug by Chinese workers in 1885, and aging wines are still housed in these historic caves today. Visitors can see the caves on the wine tasting experience tour as well as the vineyards themselves where eight different types of grapes are grown. Of course, samples of the different wines cultivated at the vineyards are also available.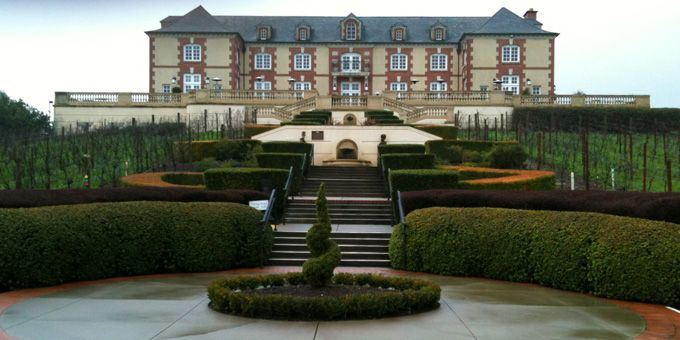 Domaine Carneros
1240 Duhig Rd
Napa, CA 94559
Domaine Carneros[9] is a chateau that caters to wine-lovers interested in simply enjoying a smooth glass of wine and beautiful scenery. Unlike other wineries that feature a bar setup, Domaine Carneros offers a table service, which allows customers worry-free tasting in a restaurant-like atmosphere. The winery offers both daily tastings and specialty tastings to appeal to all people. Domaine Carneros is best known for its méthode traditionelle sparkling wines and its Pinot Noir winemaking. The estate is situated on a hilltop and offers a fantastic view for those who want more than just a tasting experience.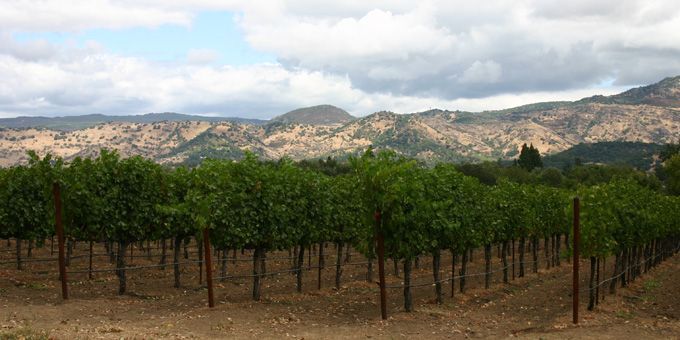 Domaine Chandon
1 California Dr
Yountville, CA 94599
While Domaine Chandon[10] is known for its sparkling white wines, it also offers a selection of red wines for all tastes. There are daily tours and tastings offered throughout the day, which you can enjoy in the tasting room or on the terrace which overlooks the vineyard. Visitors can also schedule a private tour and tasting for groups during the week. Domaine Chandon is a more relaxed environment than many other wineries, making it a memorable experience for any wine lover. Fans can also join the Club Chandon and receive exclusive savings and discounts on their favorite Domaine Chandon wines.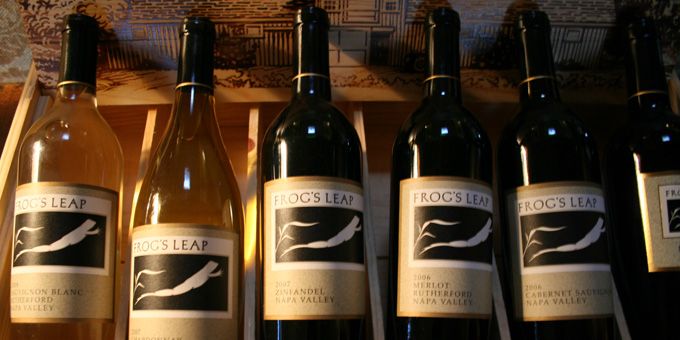 Frog's Leap Winery
8815 Conn Creek Rd
Rutherford, CA 94573
Frog's Leap Winery[11] is a favorite among visitors for its family-friendly focus. The owners of the winery take great care to produce healthy grapes for their wines and offers a different approach to growing than most vineyards. Frog's Leap tries to keep things as natural as possible with an organic vineyard. The history of the winery is comical, and the tour contains many humorous anecdotes that help this winery veer away from the stuffy formality of other locations. If you are looking for a fun day away in the vineyards, check out Frog's Leap Winery, but make sure to call ahead as visits are by appointment only.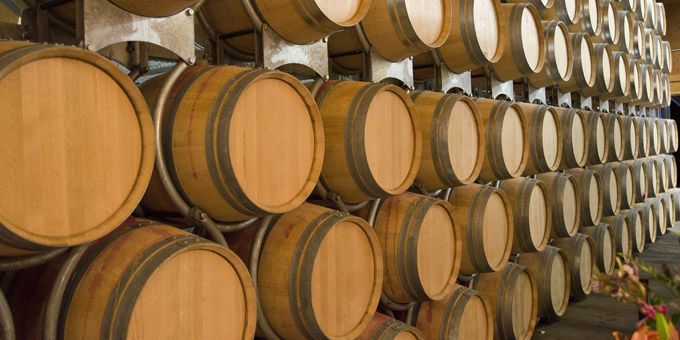 Grgich Hills Estate
1829 St Helena Hwy
Rutherford, CA 94573
Grgich Hills Estate[12] is a family-friendly winery with an open policy that encourages walk-in visitors. There are several different tasting options, including some which are paired with delectable cheeses. August through October, visitors can enjoy a "Grape Stomp" where guests can stomp on grapes just like traditional winemakers did to release the juices for wine making. You can get a t-shirt with your footprints on it and, of course, enjoy a wine tasting to conclude the stomp. Children are also welcome to participate in the Grape Stomp, and it's a family favorite in the area. The estate offers five different wines from produce grown on the property and several delicious tasting options.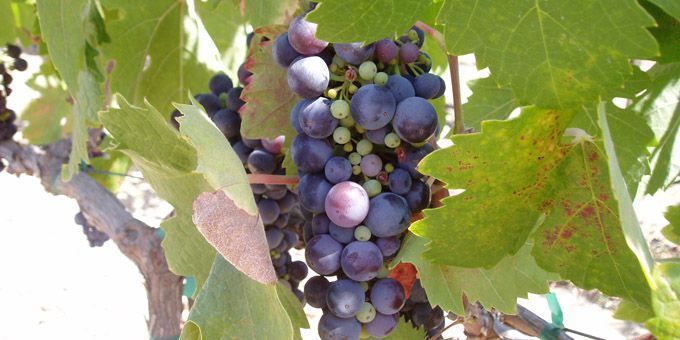 Hendry Winery
3104 Redwood Rd
Napa, CA 94558
Hendry Winery[13] was one of the first vineyards in Napa and is one of the top-rated wineries in the area, so it's no surprise it made our list. The winery prides itself on educating visitors about the different types of wines as they move through the tasting room, helping both new and experienced wine-drinkers have a better appreciation for the wines. It is important to note that the winery does not allow children and you must make a reservation. However, if you are planning for an adult getaway, be sure to stop by Hendry Winery for some delicious wines and a fun, educational experience that will help improve your palate.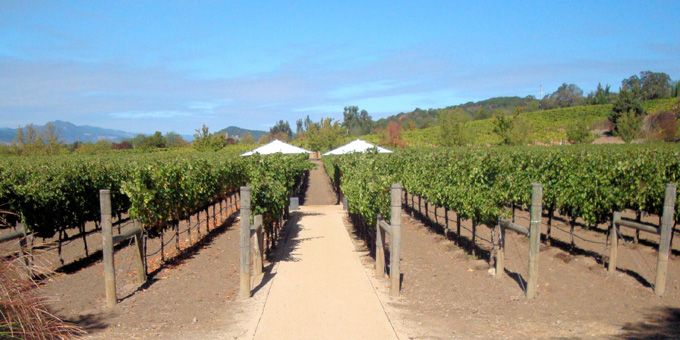 Darioush Winery
4240 Silverado Trail
Napa, CA 94558
Darioush Winery[14] was founded by a Persian family which employs the Bordeaux-style of winemaking. The family settled in Southern Napa Valley in 1997 and has continued to expand the winery and grounds since then. The Darioush family prides themselves on their hospitality and the warmth displayed throughout the well-kept grounds. The winery offers a variety of wine tasting experiences to take part in, including a beautiful luncheon tasting where guests can learn about the history of wine, enjoy some winery-exclusive drinks, and enjoy some food prepared in the kitchens on site as well. This is definitely not your typical winery experience.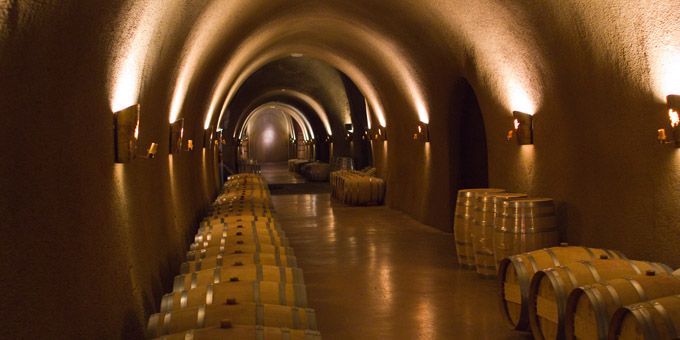 Jarvis Estate
2970 Monticello Rd
Napa, CA 94558
Have you ever wanted to drink wine in a cave? If you think that sounds exciting then you'll definitely want to check out a tour at the Jarvis Estate[15]. The path leading to the winery is a mountainous road that will make you feel like you're on an adventure. Knowledgeable and eager tour guides will take you through the winery, vineyard and the natural caves where the wine is aged. You'll be in awe of the natural beauty of these caves, which even contain a waterfall! There are several types of wines available for tasting and purchase as well, including the winery's lush Chardonnays.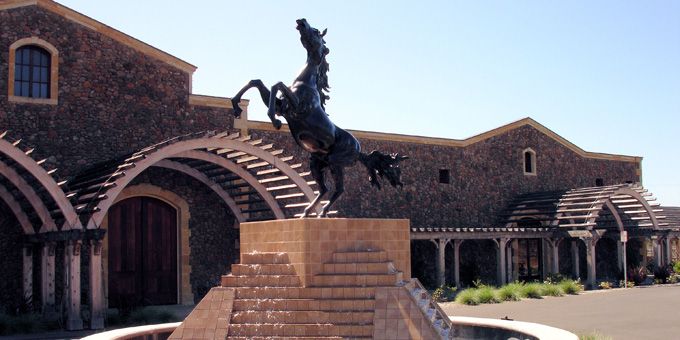 Black Stallion Estate Winery
4089 Silverado Trail
Napa, CA 94558
Black Stallion Estate Winery[16] boasts several signature Cabernets which are only available for purchase on the property and are very popular among visitors. This winery is one of the newer wineries in the area as it was only established in 2007, but the owners have been in the wine industry for many years. Black Stallion Estate Winery offers several tasting options including the chance to enjoy a glass of wine on the terrace overlooking the beautiful scenery. Whether you are new to wine or consider yourself an expert, there is something for you at Black Stallion Winery.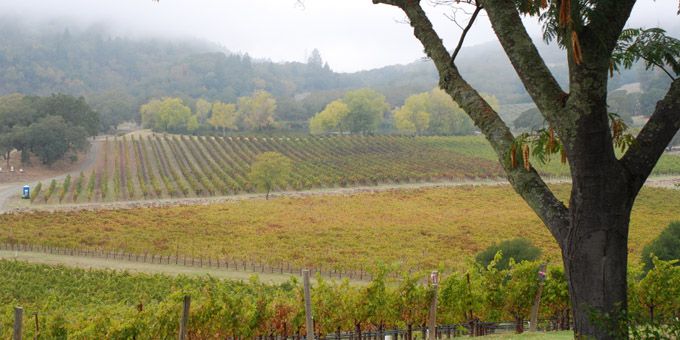 Joseph Phelps Vineyards
200 Taplin Rd
St Helena, CA 94574
Joseph Phelps Vineyards[17] was founded in 1973 and has become renowned for its signature Insignia wine, which is a Bordeaux-style blend which is considered to be one of the finest wines in the world. Of course, the winery also produces various other wines including some top-notch Chardonnay and Pinot Noir wines. With a prior reservation, guests can relax on the terrace overlooking the vineyards with family or friends and sample the current selection of wines available. The winery requests that all tasting guests be at least 21 years of age in order to provide the most relaxing and intimate experience possible. In addition to tastings, the winery hosts various events, both public and private, throughout the year.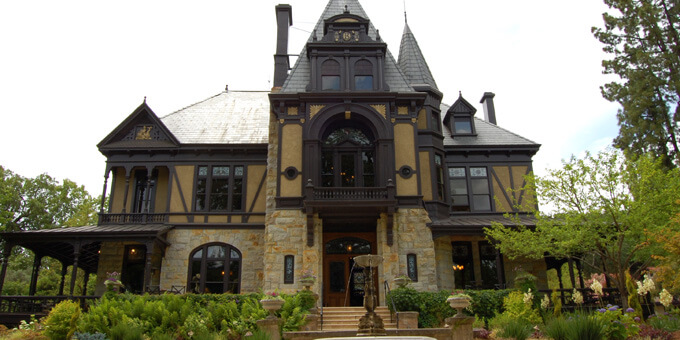 Beringer Vineyards
2000 Main St
St Helena, CA 94574
Beringer Vineyards[18] is among the oldest wineries in Napa Valley and is renowned as California's longest continually-operating winery. Beringer Vineyards offers delicious wine and cheese samples as well as historic grounds and beautiful scenery for a memorable experience. Guests can take the hour-long walking tour, which includes a tour of the property and wine and food pairing, or a thirty minute cave tour which includes Beringer's history and three wine samples. There is also an area for private parties if you are interested in hosting a larger group, and there are various tasting rooms and options available as well.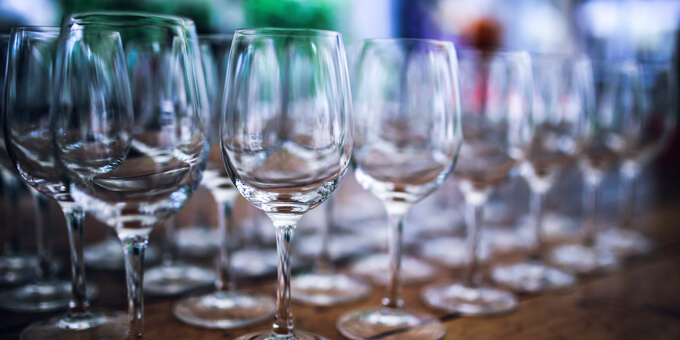 Mumm Napa
8445 Silverado Trail
Napa, CA 94558
Mumm Napa[19] specializes in sparkling wines and has been crafting the best since the late 1970s. Unlike many other wineries, Mmm Napa partners with more than fifty growers to craft its beverages using top-quality fruit from multiple farms for a one-of-a-kind taste that cannot be reproduced. The winery also offers a tour where visitors can learn about the sparkling winemaking process, which ends with a tasting. Other tasting offerings include a terrace tasting, where visitors can savor the wines and take in the view.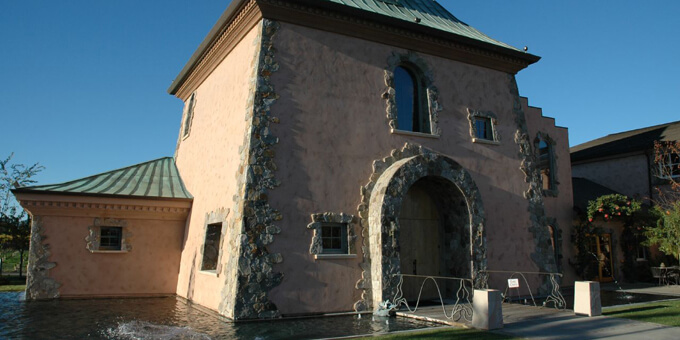 Peju Province Winery
8466 St Helena Hwy
Rutherford, CA 94573
If you are a lover of both art and wine, Peju Province Winery[20] is the place to visit as the winery features an art gallery showcasing new artists from all over the world. In each tasting, you are accompanied by an ambassador who not only describes all of the wines, but also the story and history of Peju Province Winery. No need to worry about reservations, as this winery happily accepts walk-ins for groups with less than seven people. In addition to wine tastings and tours, there are also kitchen experiences available where guests can learn about pairing Peju's excellent wines with food.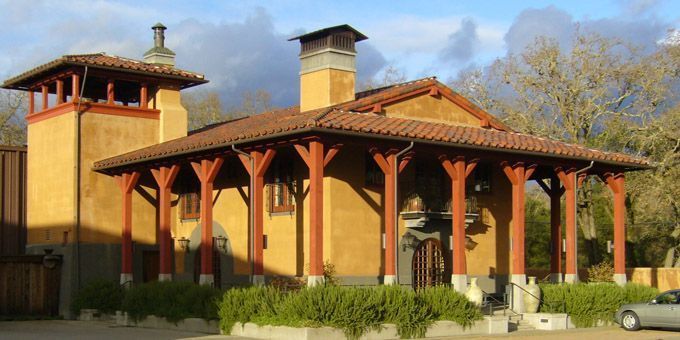 Luna Vineyards
2921 Silverado Trail
Napa, CA 94558
Located along the Silverado Trail, the Luna Vineyard[21] operates several different wine labels under one roof. The vineyard grows several different types of grapes using sustainable farming methods and handpicking techniques that many larger vineyards don't use. It has been gaining quite a bit of attention recently and is definitely a place worth visiting for the California wine lover. For tasting and tours, reservations are recommended especially during harvest season. The tasting room recently expanded its operating hours and is now open every day of the week.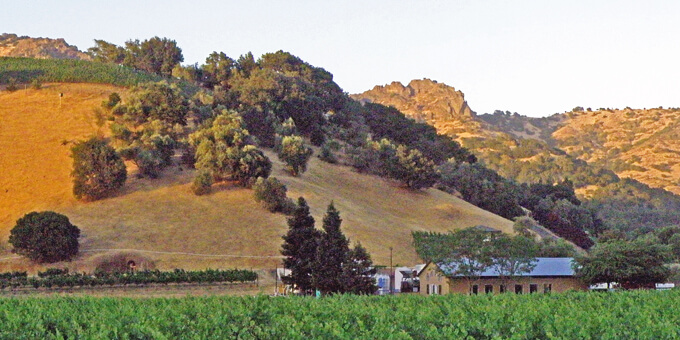 Pine Ridge Vineyards
5901 Silverado Trail
Napa, CA 94558
In addition to regular tastings where visitors can sample the fine wine, Pine Ridge Vineyards[22] features an exclusive wine and food pairing tasting as well as a fun and informative cave tour for the more dedicated fans. The vineyard began creating lush Bordeaux varietals in 1978 when the vineyard was established, and has continued to perfect its wines over the years. Pine Ridge goes to great lengths to produce the perfect wines, including harvesting their grapes by hand at night to preserve flavor.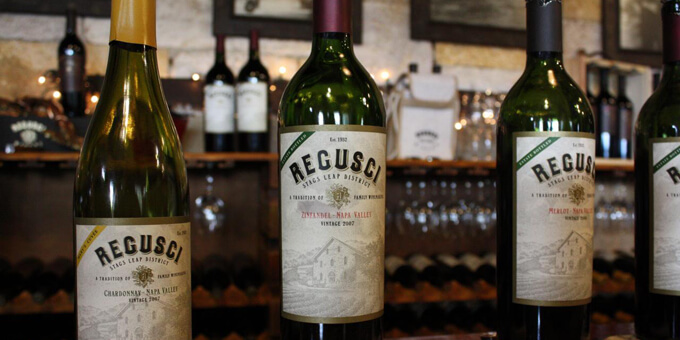 Regusci Winery
5584 Silverado Trail
Napa, CA 94558
The Regusci Winery[23] is one of the oldest family ranches still operating in Napa Valley. Originally a farm which produced corn, hay, walnuts, and animal products like dairy and meat, Regusci Winery's first grapes were planted in 1960. In 1996, the family decided to turn the farm into a full-fledged winery which boasts more than 160 acres of vineyards and breathtaking views. Visitors to the winery can taste some of the delectable wines, see the gardens which produce wonderful farm-to-table foods, and enjoy a bit of old-fashioned life alongside some of the finest wines in the area.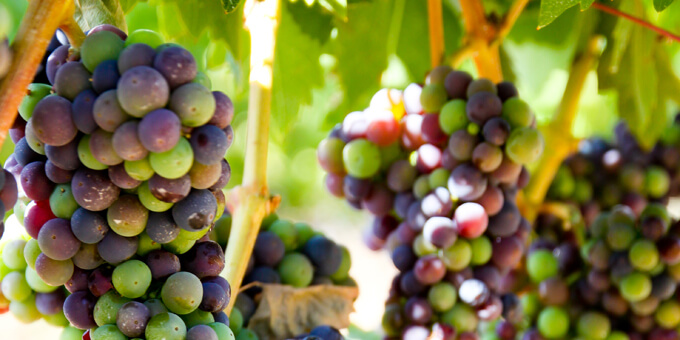 Robert Biale Vineyards
4038 Big Ranch Rd
Napa, CA 94558
Robert Biale Vineyards[24] has produced a range of fine Zinfandel wines since 1940s. After the prohibition, alcohol was closely regulated, but that didn't stop the intrepid Aldo from crafting and selling wines secretly. However, back then phones were party lines, and so the code "Black Chicken" was used to help avoid issues with nosy neighbors. While now the secret is out, the code "Black Chicken" is still used today! Reservations are required for visits to the winery, and private events can be hosted there as well. There are three different tasting options available and tasting rooms open daily.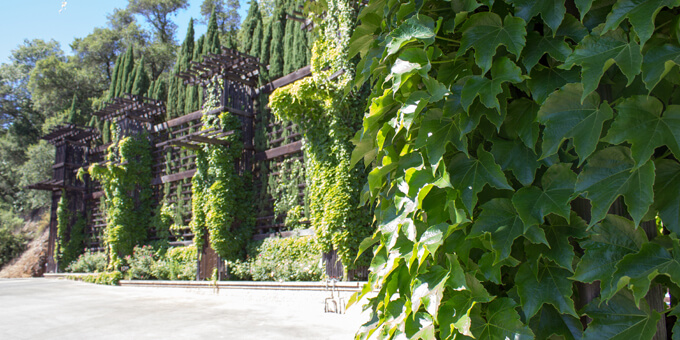 Rutherford Hill Winery
200 Rutherford Hill Rd
Rutherford, CA 94573
Rutherford Hill Winery[25] was among the first wineries in Napa Valley to begin producing Merlot, but has since worked to create new wines and branch out with new innovations and flavors. However, Merlot remains its signature wine and really shouldn't be missed. The caves that house the wines are nearly a mile long, and you can explore them on the wine tour which is offered daily. There is also a picnic area for you to enjoy your own food with the wines!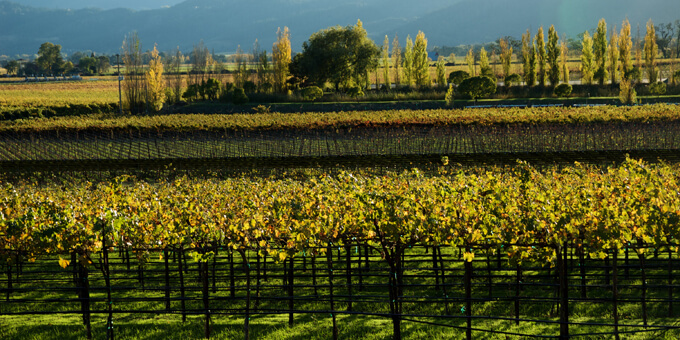 Silverado Vineyards
6121 Silverado Trail
Napa, CA 94558
Silverado Vineyards[26] specializes in Cabernet wines but does offers several different kinds of wines. The vineyard is heavily focused on sustainability and the owners have a deep love and respect for the soil and the land. There are several different vineyards on the property, all of which offer different techniques, tastes, and character. Visitors can learn more about the unique farming approach and about the crafting of these fine wines on the various tastings and tours offered at this beautiful vineyard.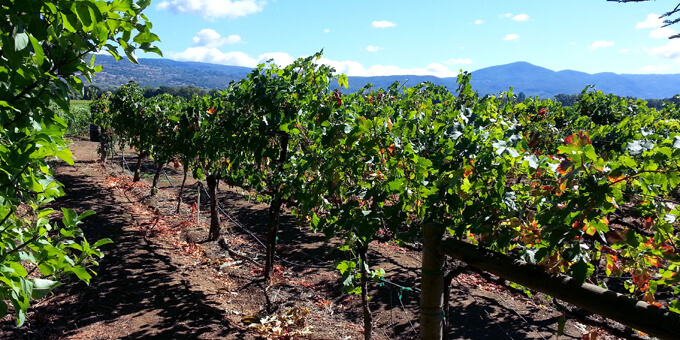 Andretti Winery
4162 Big Ranch Rd
Napa, CA 94558
Andretti Winery[27] was founded by world-renowned racecar driver Mario Andretti. Andretti sought to recreate his Italian childhood in every aspect of the winery, which is constructed to look like an Italian village, while the wines showcase traditional Italian flavors. The grapes are grown in California, but the winery can easily transport visitors to Andretti's beloved Italy the moment they step inside and take that first sip. There are various tasting options available including a vineyard tour, and a wine tasting picnic!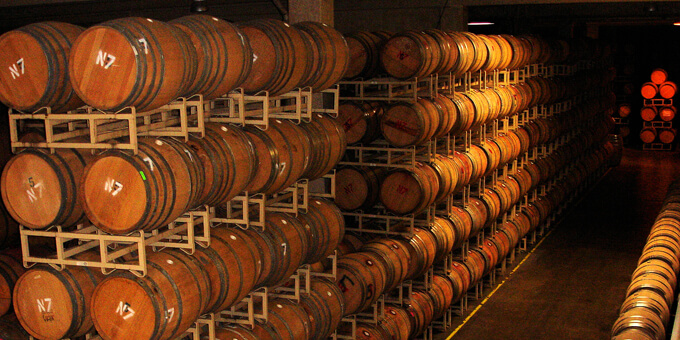 Artesa Vineyards & Winery
1345 Henry Rd
Napa, CA 94559
Artesa Vineyards & Winery[28] fosters a laid-back environment and does not require reservations, although with certain more private tastings, visitors should call ahead. This beautiful winery and vineyard features stunning architecture and has an artist, Gordon Huether, in residence. Huether's art is displayed on the property year-round, and the art frequently changes with new pieces always on display. Visitors can examine his sculptures at Artesa Vineyards as they taste the spectacular wines and tour the picturesque property.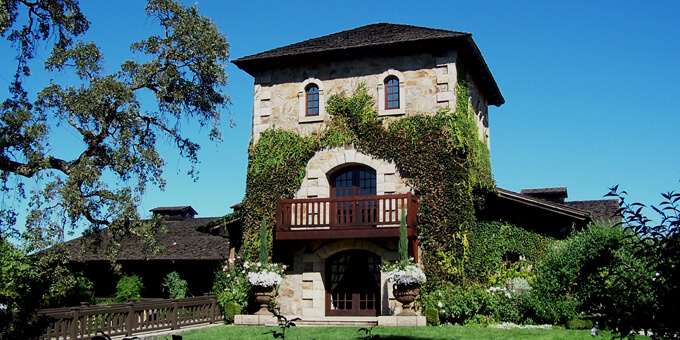 V. Sattui Winery
1111 White Lane
Saint Helena, CA 94574
In addition to other prestigious awards, V. Sattui Winery[29] won "Winery of the Year" for four years in a row (2012-2015) from the Winemaker Challenge. Originally opened in 1885, the winery was shut down during the Prohibition, only to be reopened almost a century later in 1976. The winery specializes in small-batch wines with a wide range of tastes for every palate. In addition to its own vineyards, V. Sattui Winery works with various other growers to create its signature drinks. Visitors can taste the many flavors at the winery's tasting and tours, some of which do not require reservations.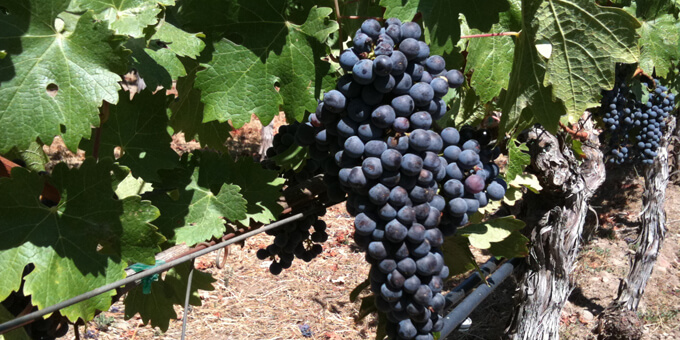 Paraduxx
7257 Silverado Trail
Napa, CA 94558
Paraduxx[30] offers many exquisite red wine blends which can't be matched and is renowned as the only winery in Napa valley that is solely devoted to contemporary Napa Valley blends. Opened in 2005, Paraduxx is also on the Silverado Trail and offers visitors unique tastes and experiences, including the chance to test their palates and even try their hand at blending wines at an exclusive and private tasting. Reservations are required for all tastings.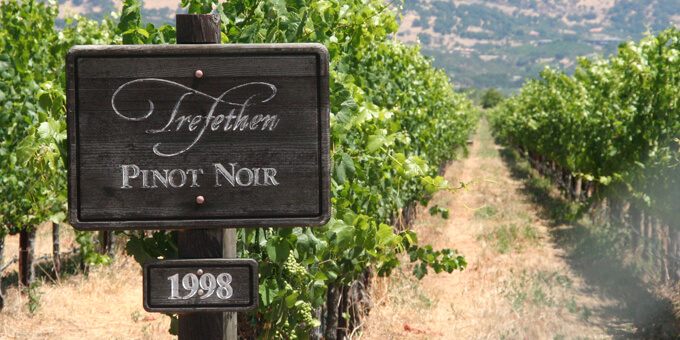 Trefethen Family Vineyards
1160 Oak Knoll Avenue
Napa, CA 94558
The Trefethen Family Vineyards[31] values family and the practices that have carried them through the last 50 years since the vineyard was established. The vineyard won a certificate of excellence from TripAdvisor, and consumers continue to rave about their experiences at Trefethen Family Vineyards. The vineyard features four signature wines, five reserve wines, and many more small lot wines which are available for sampling.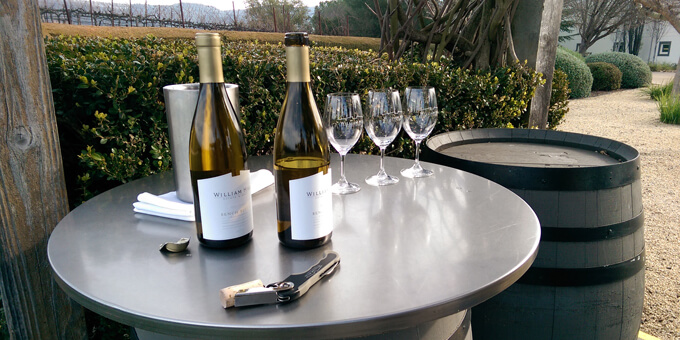 William Hill Estate Winery
1761 Atlas Peak Rd
Napa, CA 94558
William Hill Estate Winery[32] prides itself on its artistic expression in winemaking. While it may sit in the valley, the soil that the vineyard is built on is more like the mountaintop soil which allows the vineyard to grow the kinds of grapes needed for fine Bordeaux varietal wines. The winery also crafts Chardonnay, and is located near the Silverado Trail. In order to tour the winery and sample the delicious wines, customers must make an appointment.
Have you been to any of these fantastic Napa Valley Wineries? Do you know of any others that should be on our list? Share your thoughts and experiences with us in the comments, and be sure to share the article with your friends!








Read More Articles