A labyrinth of fun awaits you at these amazing mazes.
As the weather gets cooler and the leaves start to display beautiful reds and oranges, the season for corn mazes begins. A staple for most autumn lovers, it is easy to get lost in the plethora of mazes offered in the Buckeye State. Whether you come for the maze itself, the insane aerial designs, or the friendly competition to make it out first, a corn maze is the perfect way to bond with friends and family. Make sure you try at least one of these great activities to get in the fall spirit.
Corn mazes are a fun way to experience the fall season. Get lost in a labyrinth of fun with your entire family at these fantastic corn mazes in the beautiful state of Ohio.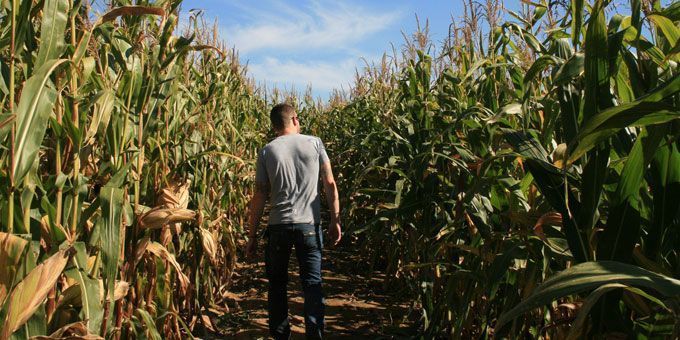 Idle-Hour Ranch in Troy, OH
Take a trip to Troy, Ohio to visit Idle-Hour Ranch[1]. While the ranch opens in June, it really comes to life during the autumn season. The ranch itself is brimming with things to do from animal interactions to exploring the mini farm market where you can purchase items made with yarn from the ranch's alpacas, llamas, camels, and other animals. As the temperature drops, you can hang out near the bonfire, take a journey on a hayride, catch a movie with Movies on the Barn, or get lost in the corn maze. Armed with a game sheet, visitors can find their way through the labyrinth on their quest to collect all messages from in-maze stations. Will you be able to conquer the challenge?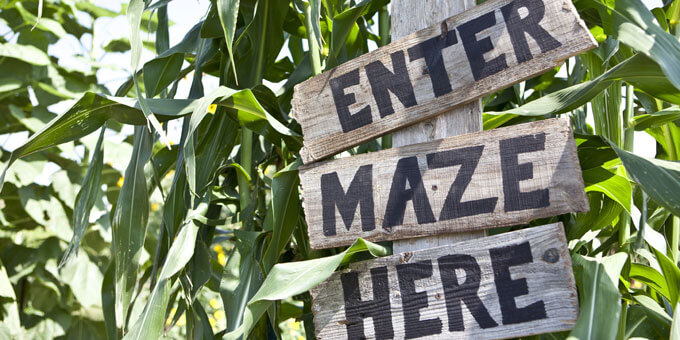 Derthick's Corn Maze in Mantua, OH
Derthick's Corn Maze[2] provides a friendly atmosphere for the entire family. Not only does it feature amazing aerial corn art, but the sprawling collection of three mazes that span more than 10 acres pose quite the challenge for all who visit. Occasional events like the A-Maze-ing Race, Dog Dayz at the Maze, and the Farm Experience attraction provide plenty of fun for all ages. Guests can pick their perfect pumpkin at the pumpkin patch, enjoy fall concessions, or ride a pony. There are tons of activities to explore that are sure to get everyone into the fall spirit.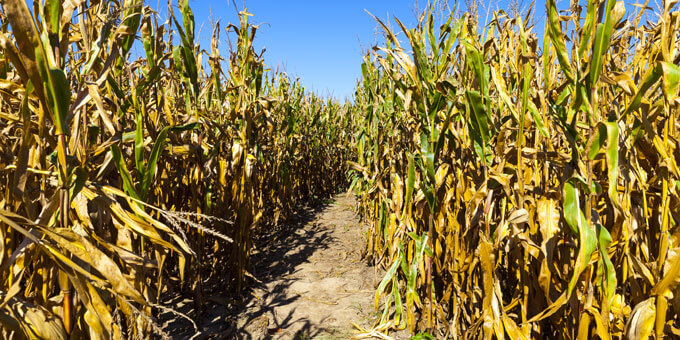 Apple Country Farm in Spring Valley, OH
Although Apple Country Farm[3] sells delicious, fresh vegetables and fruits throughout the year, the fall events are definitely worth marking on the calendar. Starting in September, the farm features a 9 acre corn maze with a lookout tower and two lookout bridges to help orient maze-goers. Trivia stations hidden within the maze helps guests find their way through the twists and turns of the maze. Other activities offered at the farm include a children's maze, hayrides, a pumpkin patch, a barnyard animal petting zoo, and plenty more. If you are looking for a great fall day out, this should definitely be on your list.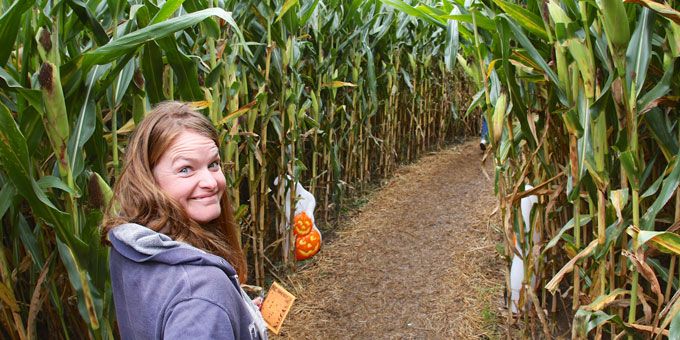 Wheeler Farms Corn Maze at the Butterfly House in Whitehouse, OH
Wheeler Farms[4] in Whitehouse, Ohio is brimming with things to do. During the year, the farm is home to many different activities from the Butterfly House in the summer to the Christmas Tree Farm in the winter. But as the leaves turn to the reds and yellows of fall, Wheeler Farms becomes a family fun zone fit for autumn. Be prepared to get lost in the amazing maze which is decorated in a different theme each season. After making your way through the cornstalk jungle, gather with friends and families around the fire, where you can warm your hands and share stories of your maze exploration.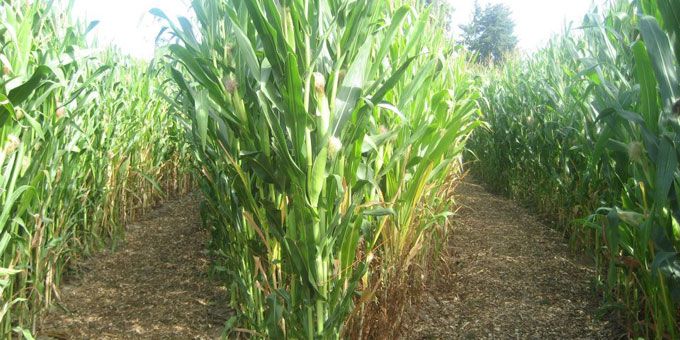 Hillcrest Orchards in Amherst, OH
From an apple orchard to pumpkin patches and a corn maze, Hillcrest Orchards[5] in Amherst, Ohio is the place to be this fall. Visit the farm market where you can peruse and purchase farm-fresh produce and seasonal decorations. Race your friends and family for some competitive fun at the pedal cart track in the orchard and pick some delicious apples to take home. Visitors can also embark upon a hayride to get some fresh country air or explore the crowning attraction: the four-acre corn maze. Make sure you visit Hillcrest Orchards for some amazing family fun.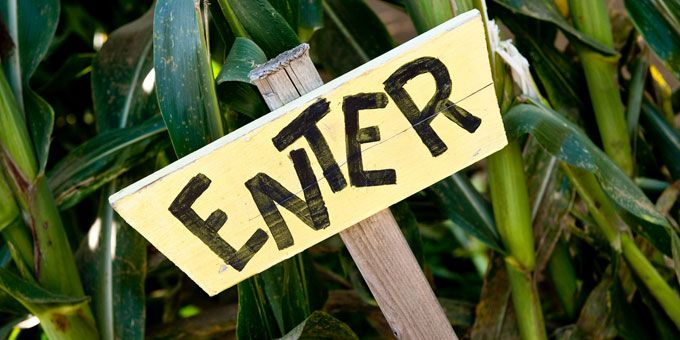 Maize Valley Winery in Hartville, OH
If you love delicious wines and winding corn mazes, Maize Valley Winery[6] in Hartville, Ohio should be your number one fall destination. The winery features many different activities for all ages, so you don't have to be 21 to have a great time. Take a trip on one of the wagon rides, pick out the perfect pumpkin, watch pumpkins get launched from a cannon, or cheer during the animal races. Besides the wine, the eight acre corn maze is the main fall feature. Kids and adults alike can get lost in the winding maze while racing to see who will solve the labyrinth and answer all the trivia questions first. No matter which activities you participate in, Maize Valley Winery offers a great time.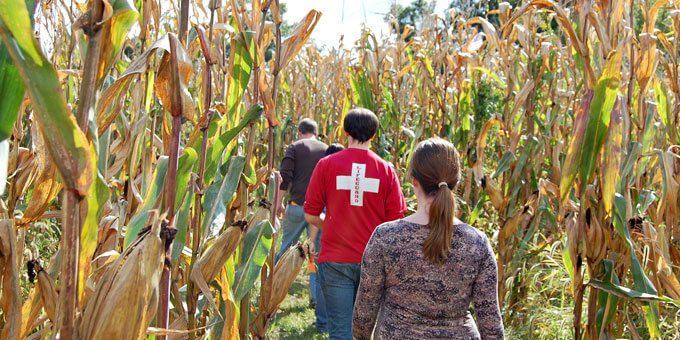 McPeek's Mighty Maze at Colonial Campground in Coshocton, OH
Head to McPeek's Mighty Maze at Colonial Campground[7] in Coshocton, Ohio for an amazing time. There are plenty of different activities for the whole family including a kids' hay bale maze, a corn box, family-friendly games and more. Bring along your flashlight and get lost in this year's space-themed maze which spans a full four acres. If you manage to find your way out, be sure to warm up and hang out at the campfire and try some fantastic food. McPeek's also features a pumpkin patch and a hayride.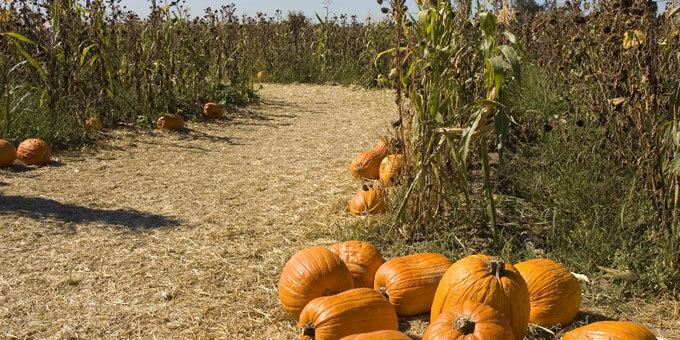 Fleitz Pumpkin Farm in Oregon, OH
Great fall family fun awaits at Fleitz Pumpkin Farm[8]. From the free kids' corn maze and straw bale play tower to the larger 5 acre corn maze, Fleitz Pumpkin Farm is great for people on all budgets. Feed the goats, embark upon a hayride, or visit the Craft Barn to pick up some beautiful Halloween and Christmas-themed painted gourds. And, of course, there are pumpkins galore. Pick out your perfect pumpkin canvas for carving or select a plump pumpkin for some homemade pumpkin pie. If you aren't a great baker, stop by the Snack Shack and try some delicious homemade donuts, fresh apple cider, or hot dogs.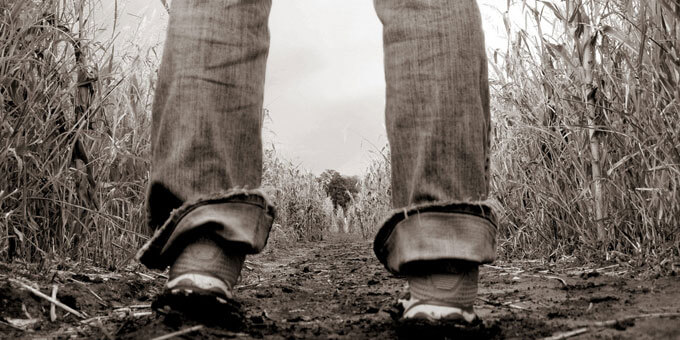 Leaders Farm & ScreamAcres Haunted Attraction in Napoleon, OH
Looking for a spookier corn maze to explore? Put ScreamAcres[9] in Napoleon, Ohio at the top of your list. Included in the ticket is entrance to ScreamAcres, the PanDEMONium haunt attraction, and a kids activity center as well. As you make your way through the haunted maze, you will be chased by the sound of screams and a troupe of terrifying monsters. If you manage to make it out alive, you can feast upon delicious concessions at the Cornfield Cafe. For the fainthearted, the haunted corn maze has a non-horrifying counterpart where you will pit your wits against the twists and turns of the maze. Admission includes a family-friendly attraction called The Barnyard, which includes face painting, a petting zoo, and even a pumpkin patch. There really is something for everything at Leaders Farm and ScreamAcres.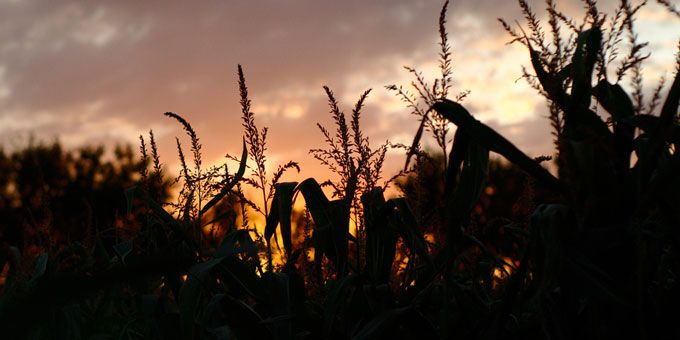 The Haunted Farm LLC in Pleasantville, OH
Get in your frights and delights at The Haunted Farm LLC[10] in Pleasantville, Ohio. With three attractions to explore, the most daring can find their adrenaline rush here. As you wait to enter the maze, sit around the bonfire and watch a scary movie or enjoy live entertainment set to the background of other screaming visitors. Explore the three acre corn maze where you will be bombarded with ghouls and ghosts galore. If you manage to make it out alive, try your luck at the haunted barn maze and a hayride, but make sure you watch out for the Karver, who is set to take revenge on unsuspecting travelers. All this terror is sure to work up an appetite, so stop by the Crow's Nest Shop for your share of goodies and treats.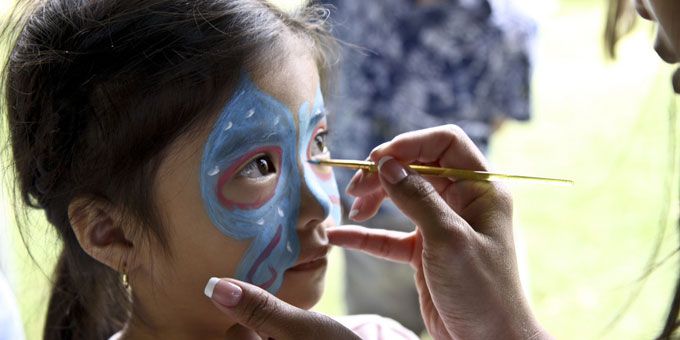 Regal Vineyards in Madison, OH
Whether you are looking for a family-friendly activity or a haunted adventure, Regal Vineyards[11] in Madison, Ohio provides some wonderful fall fun for all ages. The vineyards feature an 8 acre maze where you will navigate your way through the corn stalks with various clues. If you make it out of the maze, you will be entered to win a prize! When night comes, venture into the maze again for a spooky, haunted adventure then explore the haunted winery attraction for a frightening time. Other, family-friendly activities offered at the winery include pumpkin bowling, face painting, paintball target shooting, campfires, and a few kid-friendly mazes including a straw bale maze.
Tom's Maze and Pumpkin Farm in Germantown, OH
Tom's Maze and Pumpkin Farm[12] in Germantown, Ohio offers a unique twist on your average corn maze. Have a great time solving the challenge and escaping the labyrinth. This eight acre puzzle is comprised of three miles of paths to explore as well as 12 hidden puzzle pieces to locate. Find the pieces and make your way to Victory Bridge! Once the challenge is completed, you can take a turn on Tom's Pumpkin Train Ride, check out the Punkin' Chunkin' Cannon, or pick out your pumpkin for carving or delicious fall food. Perfect for all ages, families and maze lovers should be sure to visit Tom's Maze and Pumpkin Farm this fall.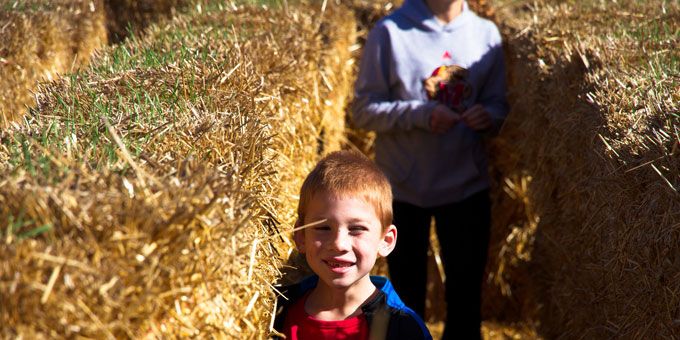 Stevens Gardens in Monclova, OH
Visit Stevens Gardens[13] in Monclova, Ohio for fantastic fall adventure. Not only will you be able to purchase delicious, fresh produce such as pumpkins, gourds, indian corn and beautiful fall decor, but you can also take a hayride, explore the corn maze and straw maze, or visit the petting zoo. You're sure to work up an appetite, so don't forget to try the homemade apple cider slush, kettle corn, caramel apples, and delicious fudge. Make sure to add Stevens Gardens onto your fall to-do list this year.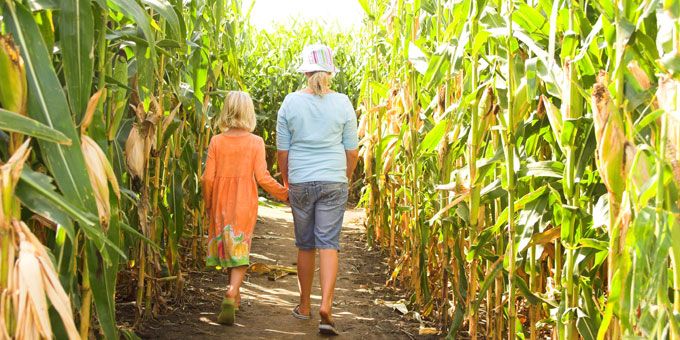 Maze Craze in New Springfield, OH
Take a trip to New Springfield, Ohio to experience one of the most insane corn mazes in the area. Maze Craze[14] features a 21 acre maze (with a patriotic theme this year) that is a sight to behold. Separated into four different maze areas, kids can enjoy the Blue Maze and a game of Farmtracks while older participants can try their hand at the Red Maze, which is the largest maze. The Black, Green, and Red mazes together include a total of 18 checkpoints. Earn a punch-out at each checkpoint to complete your journey. After finding your way through the patriotic maze, try your hand at mining gemstones, take a hayride, or purchase the perfect pumpkin.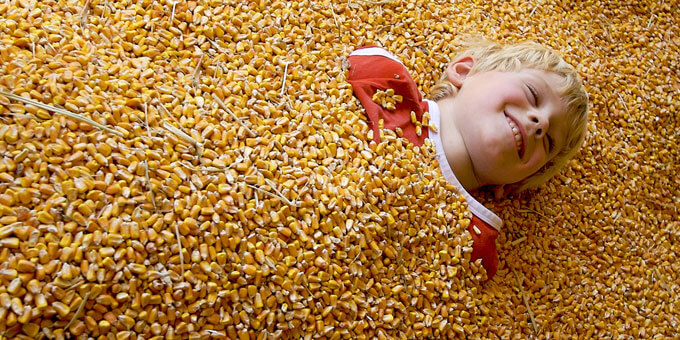 Suter's Produce in Pandora, OH
Bring along the entire family to Suter's Produce[15] in Pandora, Ohio. Suter's produce sells delicious fruits and veggies year-round, but their corn maze simply can't be missed. The farm features plenty of activities sure to delight all ages including hayrides, a pumpkin patch and the corn maze. You're sure to work up an appetite so treat your taste buds to the delicious cider, fresh-pressed every day for your enjoyment. Come explore Suter's Produce this autumn for a great time.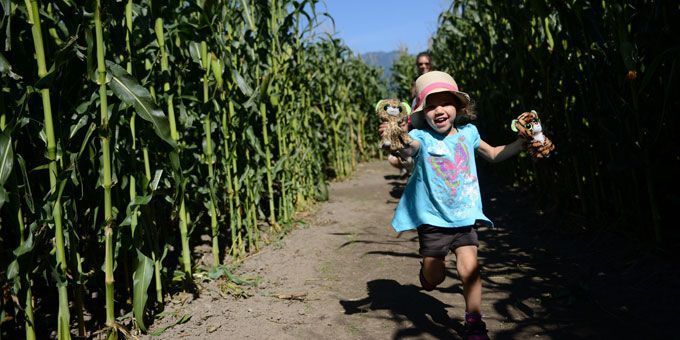 Today's Harvest Farm in New Paris, OH
If you love all things fall, then you can't miss the fall activities at Today's Harvest Farm[16] in New Paris, Ohio. Explore the themed corn maze which features 24 hidden checkpoints. Find all of them and make it out of the maze to earn a delicious apple cider slushy, hot chocolate, or coffee on the house. After the maze, participate in the other fun fall farm activities including putt-putt golf, duck races, life-size checkers, a corn cannon, and a rope maze. The best part is that part of the proceeds from the maze are donated to the Children's Medical Center of Dayton; so not only will you have a fantastic day, but you will also be contributing to an amazing cause.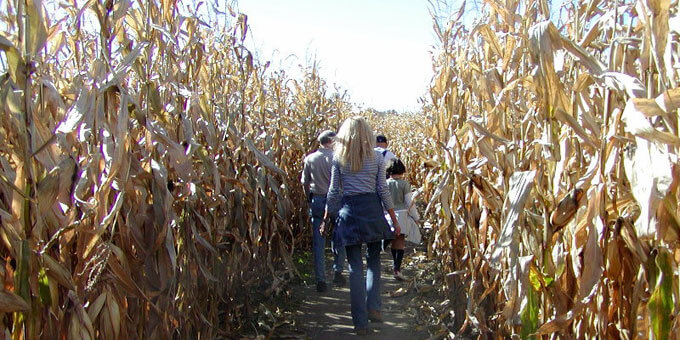 The Maize at Little Darby Creek in Milford Center, OH
The Maize at Little Darby Creek[17] in Milford Center, Ohio is an amazing place to get in all of your fall fun. With 125 acres to explore, you can experience the beauty of a farm while taking in the gorgeous scenery only seen in autumn. The Maize not only features a winding corn maze to conquer, but plenty of other activities that call The Maize home. Base admission into the farm includes the nine acre maze, a petting zoo, dodgeball, pedal karts, laser tag, and so much more. Add-on activities include a hayride and the Haunted Field of Fright which tests the bravest of visitors.
Which is your favorite corn maze to get lost in? What is your favorite corn maze story? Let us know in the comments and share with your fall-loving friends!