Investigate the hauntings yourself with an adventurous stay at one of these hotels.
Whether you believe in locations being haunted or not, there's something to be said for a building with a century or more of history. For the more adventurous traveler, staying the night in a hotel that's rumored to be haunted is quite the experience, and Nevada definitely has a variety of inns, hotels and casinos that fit the bill. Below, are just a few worth mentioning.
Are you brave enough to encounter the paranormal and stay at one of these haunted locales? Nevada is home to a plethora of haunted hotels that will make the hotel from the Shining seem like a 4-star resort.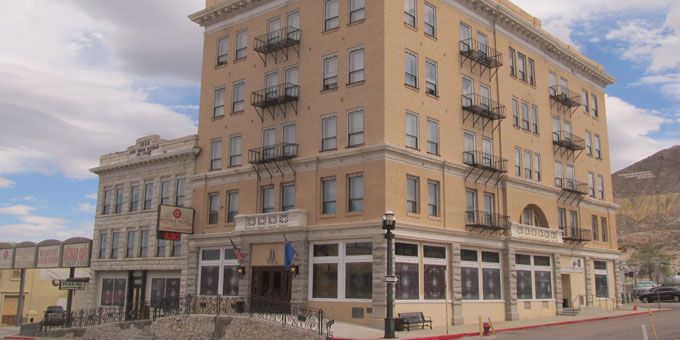 1. Mizpah Hotel in Tonopath near Las Vegas, NV
The Mizpah Hotel[1] is said to have many spirits roaming its hallways and rooms. Built in 1907, the hotel has seen many visitors, some who never made it out alive. A psychic that visited the hotel said one of the spirits inhabiting the building is named Rose and was a prostitute who used to work at the Mizpah. She was killed by a jealous gambler and still visits guests in their hotel rooms, sometimes leaving a single pearl behind. One of the most historic hotels in the state, the Mizpah was featured on the Travel Channel's Ghost Hunters which depicted an old elevator that was supposed to be out of commission, randomly open and close its doors. Other baffling instances include rumors of mysteriously moving items and even a phantom figure that once taunts guests.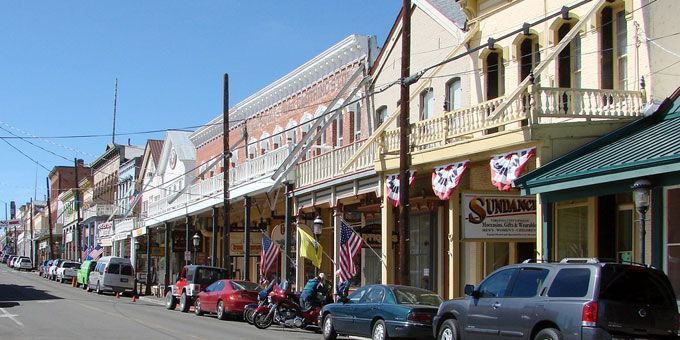 2. Tahoe House in Virgina City near Las Vegas, NV
Virginia City is notoriously haunted. As one of the state's early mining towns, many of the buildings and locations possess a rich history filled with characters and events of days gone by. The Tahoe House Hotel[2] on Main Street was built in 1859 and features 16 charming rooms that are decorated with period stylings and beautiful antique beds. Once a stop for the famous Sam Clemens before he became Mark Twain, this hotel has always been a popular stop for visitors and people passing through. A room on the second deck has been rumored to be occupied by a presence, and strong floral perfume has been detected when there's no one around.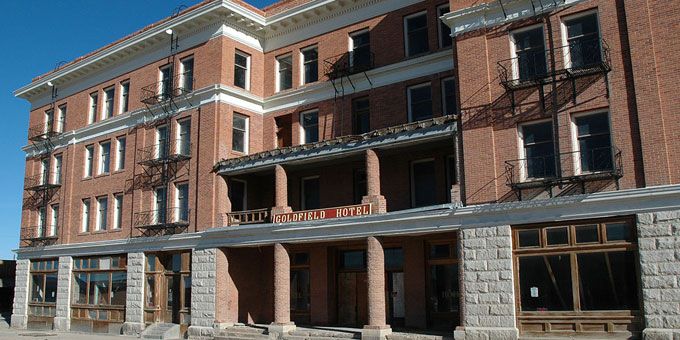 3. Goldfield Hotel near Las Vegas, NV
The Goldfield Hotel[3] was built in 1908 in the prosperous gold town of Goldfield. Once the most luxurious hotel between Chicago and the Pacific Ocean, the four-story hotel attracted only the most affluent of guests, with electric lights, phones and a steam heating system. Twelve years later, most of the gold was gone and people were starting to leave town in search of more favorable locations. The Goldfield Hotel closed in 1945 and was featured on Fox Family TV as one of the world's scariest places. Some say the ghost of a previous owner, George Wingfield, still roams the hotel, leaving piles of cigar ash on the floors, while others tell the story of a woman named Elizabeth, whom Wingfield supposedly murdered in the hotel. Room 109 has been the site of various strange occurrences, including intense cold spots, camera malfunctions, and sightings of ghostly figures.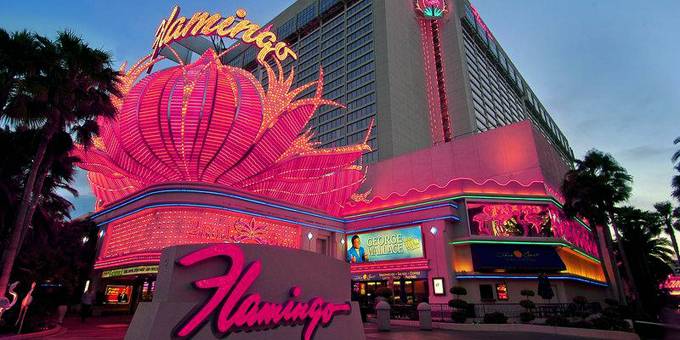 4. Flamingo Hotel and Casino in Las Vegas, NV
Some people head to the Flamingo Hotel and Casino[4] to get married, some come to gamble, and others end up getting a lot more than they bargained for. Billy Wilkerson originally came up with the idea to build the Flamingo Hotel and eventually partnered up with infamous gangster, Bugsy Siegel, who helped design the swanky casino and hotel. The luxurious venue opened in 1946, but Bugsy was murdered soon after in 1947. Many people say his ghost still haunts the hotel and it's not uncommon to hear about a mysterious dark figure standing at the end of the bed at night, eerie whispers, and doors opening and closing on their own. The beautiful chapel gardens, located on the property of the Flamingo Hotel, are home to the Bugsy Memorial, where many visitors also claim to have seen his wandering apparition.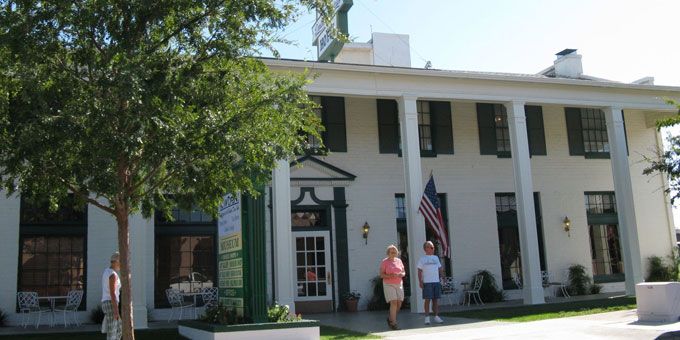 5. Boulder Dam Hotel near Las Vegas, NV
Just 30 minutes south of Las Vegas lies the beautiful 82-year-old Boulder Dam Hotel[5]. This hotel is listed on the Register of Historic Places and features colonial-style decor and furnishings. It housed several notable figures during the 1940s and 50s, including Shirley Temple, Howard Hughes, and English actor Boris Karloff. Hotel staff insist the Boulder Dam Hotel is not haunted, but some previous employees and visitors claim to have felt a presence while in the building, experienced cold spots, and heard whispering voices when no one else was around. The famous Lady in Red is said to have been murdered there and may still wander the property.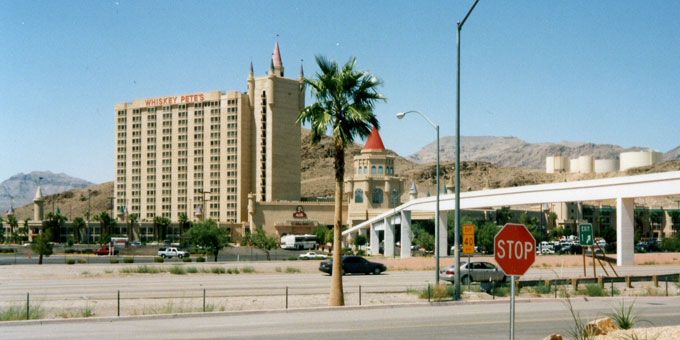 6. Whiskey Pete's Hotel and Casino near Las Vegas, NV
Whiskey Pete was a successful moonshiner in the early 1900s and as legend would have it, he requested to be buried standing up, with a bottle of his own moonshine in his hand. Years later, during the construction of a bridge, a corpse (believed to be his because of its upright position) was accidentally exhumed. Ever since then, rumors have spread that he haunts the hotel and casino with his namesake. Visitors of Whiskey Pete's Hotel and Casino[6] have reported strange feelings of being watched while gambling in the casino and some have even seen the apparition of an old man dressed in historic western clothing.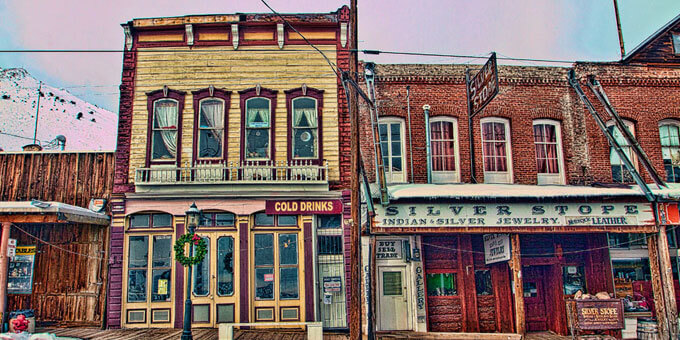 7. Silver Queen Hotel near Carson City, NV
This 134-year-old hotel is home to a number of hauntings and noteworthy occurrences that are hard to explain. It is rumored that a prostitute committed suicide in Room 11 at the Silver Queen Hotel[7] back in the 1800s, and her ghost has been roaming the hallways ever since. Whether or not that rumor is true is undetermined, but visitors still report very strange things happening. Many guests report hearing loud noises at night, including deep growling sounds, tapping noises, and loud footsteps, despite the carpeted floors in the hallways. One woman even insisted she was chased down the hallway by a dark figure! The hotel was featured on the popular television series Ghost Adventures, providing further evidence that this historic building really is haunted.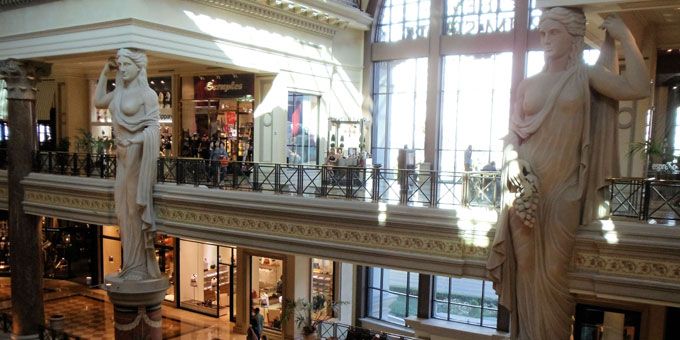 8. Caesar's Palace and Fountain in Las Vegas, NV
This Roman Empire-themed resort was built in the 1960s and has more than 3,000 rooms in six different towers. Rumors of sensory-activated faucets turning off and on by themselves tend to populate the majority of the haunting rumors surrounding Caesars Palace Hotel and Casino[8]. One of the craps tables was also rumored to be haunted and it somehow paid a profit to gamblers for an eerie 13 months straight. Staff members were shocked because something like that is nearly unheard of, so they burned the table out back behind the casino and then replaced it.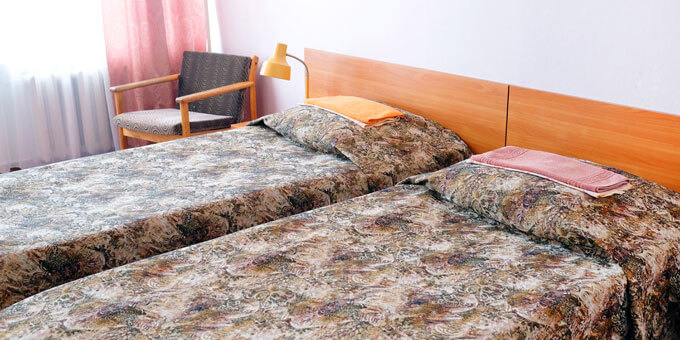 9. Santa Fe Inn near Las Vegas, NV
Although the Santa Fe Inn[9] is more humble than the luxurious hotels and casinos of Vegas, the rooms are large and the staff is friendly. The small community of Winnemucca has been continuously occupied since 1830 and historic restaurants and venues echo stories from the past. Santa Fe Inn guests have reported hearing weird noises during their stay and one guest that booked room 136 had quite the hair-raising experience. After his television was clouded with gray fuzz, he shut it off and was startled by loud knocking at his hotel room door. He opened the door but saw no one there. This happened several times so he went to tell the office staff. When he returned to his room, he found the television back on with the same snowy static again. As he went to shut it off again, he happened to catch a glimpse of a dark shadow walk across the room. Let's just stay he didn't spend the night there. Whether this account is true or not, it certainly is eerie, and it is one of many various reports of strange happenings here.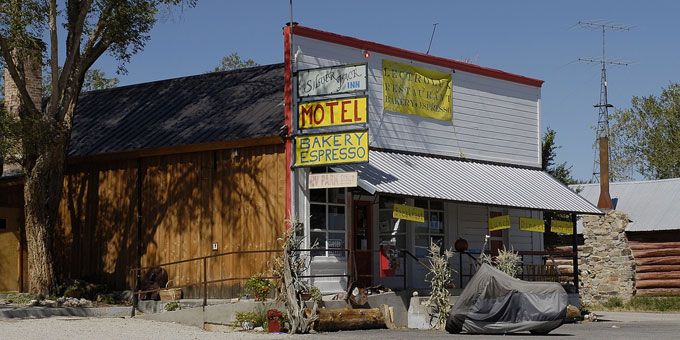 10. Silver Jack Inn & ElectroLux Cafe near Las Vegas, NV
Located in Great Basin National Park, the Silver Jack Inn & LectroLux Cafe is a small but popular spot for tourists and bikers looking to explore the desert landscape. Its nearby petroglyphs and Native American sites attract all kinds of visitors to the National Park. The inn itself is provides comfortable, well-kept accommodations and is rumored to be haunted by two different spirits. Some guests have caught a glimpse of a Native American woman roaming the hallways of the inn, while others swear they saw a tall man around the property who just seems to disappear when approached.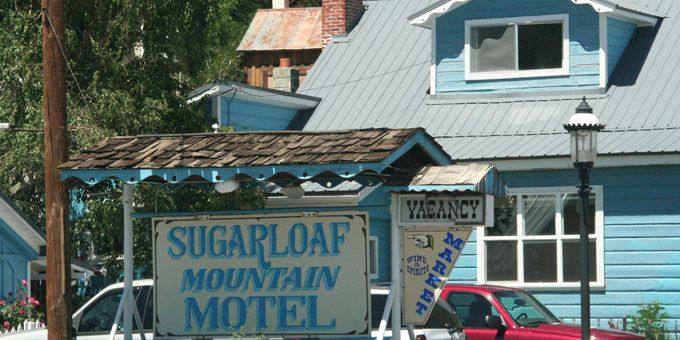 11. Sugarloaf Mountain Motel and Market near Carson City, NV
Part of the Sugarloaf Mountain Motel and Market[10] was built in the 1800s and the building was used as a boarding house for miners. At some point, the motel could have also been used as a jail. Today, guests enjoy staying overnight in the historically authentic rooms featuring the original brick walls, cast iron shutters, and even ghostly visitors. Guests of the motel have reported hearing footsteps and laughter, heavy breathing and some have said their digital alarm clocks won't work in the motel. The previous owners had many photographs of the rooms showcasing mysterious orbs and shadows.
Know of any other haunted hotels or destinations in Nevada? We want to hear about them! Leave us a comment below and share any ghost stories you have too!