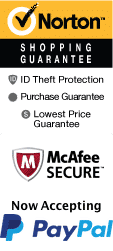 YOUR PEACE OF MIND IS OUR TOP PRIORITY
Should you need to cancel at any time, you have up to 48 hours from your vacation start date to do so for a 100% future travel credit.

Metairie Cemetery in New Orleans, LA
5100 Pontchartrain Blvd New Orleans, LA 70124
Although you might think that most people flock to
vacationsmadeeasy.com/NewOrleansLA/'>New Orleans to listen to sultry jazz and take in the eccentric culture of the city. While all of that might be true, there is one other attraction that sends people to the area in droves. Metairie Cemetery, along with several other above-ground cemeteries in the region, is one of the most sought after sites in the city. New Orleans has had the intriguing tradition of burying their dead above ground in mausoleums and tombs for decades, and the result is a stunning tribute to the deceased.
The cemetery rests upon one of the only high-ground locations in the area, which is a rare find considering the regions below sea level status. If you plan on visiting the cemetery while you're in town keep in mind that although you can drive your car into the cemetery, it can be much more exciting to ride the red streetcars up Canal Street and walk into the original entrance. Louisiana Heritage trail markers lead guests of the Metairie Cemetery to some of the most notable tombs and resting places in all of New Orleans.
The Metairie Cemetery was once a horse racing track and jockey club before transitioning to a Confederate base camp at the turn of the Civil War. Before the war began, businessman Charles T. Howard showered the city with donations and was still denied access to local clubs, including the jockey club. In 1872, he took his revenge by purchasing the land and turning it into the beautiful cemetery it is today.
Make sure to take time to visit the impressive Metairie Cemetery when you visit New Orleans to see the tombs of musicians, politicians, sports-icons, and many more notable New Orleanians.