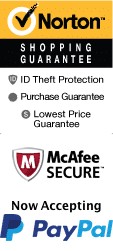 A Honeymoon/Anniversary Escape in Hershey, PA
With A Honeymoon/Anniversary Escape in Hershey, PA you'll find three nights' lodging and entry into Hersheypark, so you can simply unwind and spend a quality vacation with the one that truly matters in one of the most chocolate-oriented cities in the entire world.
About Hershey, PA
Most noted for its ties to Hershey chocolate, Hershey, PA is a quaint dream setting for chocoholics, where you and your loved one can easily find a refreshing and relaxing pace. While Hershey presents a small-town atmosphere perfect for kicking back and merely enjoying the company of others, that's not to say that there's nothing to do. Most notably, you'll find a wealth of attractions and sightseeing options tied to the popular chocolate brand.
Sightseeing in Hershey, PA
As well as offering a wonderful look into the world of chocolate and sweets, there are plenty of awesome places to explore when you aren't enjoying the spoils of your package. Some of the popular activities and landmarks in Hershey include Hershey Gardens, the Hershey Story Museum, and ZooAmerica.
>>MORE: Things to Do in Hershey, PA
About the Honeymoon/Anniversary Escape in Hershey, PA Package
Enjoy sweeping your loved one off their feet for a fun honeymoon or anniversary adventure. Hershey is brimming with things to do with your sweetheart, including indulging in lush chocolate and adventure! This package includes admission to Hersheypark where you can embrace your inner child and have a blast together. It also includes lodging at your choice of Hershey hotels for three nights.
About the Included Admission to Hersheypark
In particular, the number one amusement park in the Northeast, Hersheypark, offers entertainment, rides, shopping, and rich, delicious chocolate. Try out one of the mega coasters like Great Bear, Coastline Plunge, or Fahrenheit. Choose from the many indoor or outdoor restaurants, and be sure to visit the souvenir shops for gifts and memorabilia. Regardless if you love roller coasters or sampling indulgent chocolate, Hersheypark is a wonderful place to spend an anniversary or honeymoon.
About the Included Lodging
Of course, you and your sweetheart will want to take advantage of the comfortable three nights of lodging included in this package. Customize your vacation experience whether you wish to stay at an extravagant resort or a more lowkey hotel. Choose from jacuzzi rooms, pools, and more to get the amenities and features to make your getaway memorable!
>>MORE: Hotels with a Hot Tub in Hershey, PA
Whether your special someone is a fanatic of the Hershey brand, or you're simply looking for something different during your next getaway, consider a Honeymoon/Anniversary relaxing escape in Hershey, PA. It is sure to be a sweet treat!
Frequently Asked Questions:
---
---
---
Customize a package with this form: