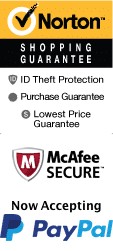 AACA Museum Admission: Hershey Antique Auto Museum
161 Museum Dr Hershey, Pennsylvania 17033
1-800-987-9852
Chat Now
Hershey, PA is a fascinating city that is filled with things to see and do, and a Hershey car museum visit should be at the top of your itinerary. If you are looking for a remarkable adventure when in the area, be sure to visit the Hershey Antique Auto Museum.
Perfect for motorheads and automobile-lovers, this car museum Hershey features some of the hottest cars. With an array of awesome vintage finds, any cars appreciator will be certain to have a blast. The museum has many amazing cars to view, with three floors of museum space to explore. Guests will be able to see plenty of antique and vintage vehicles while snapping photos and admiring the craftsmanship on the restored vehicles. It is one of the most interesting car museums in the world, and it is home to some notable vehicles such as:
The Liberty Car: Great War Cadillac US1257X
DeLorean Prototype (on loan)
Hershey's Kissmobile Cruiser
Antique bus used in 'Forrest Gump'
Tucker Automobiles
Permanent Exhibits

There are many permanent exhibits for guests to explore. These exhibitions detail everything from road map history to the history of bus transportation and more. Explore these unique displays to learn all about transportation when you visit the AACA Museum.
Museum of Bus Transportation:

Bus transportation is one of the most fascinating aspects of American transportation, and guests will be able to explore the nation's biggest display of vintage buses. These full-scale buses offer plenty of unique aspects to explore, from the bus from the 'Speed' movies to the actual antique bus used in 'Forrest Gump'. The exhibit comes to life with plenty of infographs to help you learn about the history of buses in the US.
Tucker Automobiles The Cammack Tucker Collection:

Explore the Tucker collection at this fascinating permanent exhibit. Here, guests will be able to see the extensive creations of Preston Tucker, who created 51 original Model 48 vehicles. This museum has models #1001, #1022, and #1026. Guests can also explore engine prototypes and interactive displays.
Driving After Sundown - The Evolution of Headlights:

Learn about travel at night at this unique permanent exhibit. Located in the Main Gallery, the exhibit has a hands-on interactive exhibit as well as showcases of past and present lighting technology. See everything from the days of candles to modern headlights at this exhibit.
From Roads to Rails:

See some awesome miniature train tracks as you learn about railroad transportation at this permanent exhibit. Guests will be able to operate various features on the tracks, which include Thomas the Train, a Fire Station, Construction Site Excavators, and more! This miniature display is a cool introduction to the hobby of model trains.
Remembering Road Maps Display:

Look at a fascinating array of road maps at the Remembering Road Maps Display. Road maps were once a staple to travel, although nowadays people rely more on Google Maps or a GPS. Maps are fascinating and these unique paper maps create a look into the past that you can't find anywhere else. Explore maps from all over the country!
From the permanent displays to the traveling displays, this unique exhibit brings countless fascinating pieces to the center stage. See some remarkable vehicles and learn all about the history of transportation at the AACA Museum. Hershey is a unique place to visit, and you can take a step back in time with a visit to this unique museum. Add it to your vacation package along with your hotel of choice for a marvelous time in the city.
Frequently Asked Questions for AACA Museum Admission: Hershey Antique Auto Museum:
Approximately how long could a customer plan to spend here?

Most guests spend 1-2 hours at the attraction.

Are wheelchairs and strollers available?

There are 2 manual wheelchairs available on a first-come, first served basis.

Is it handicap accessible?

Yes, it is handicap accessible.

Is photography & video recording allowed?

Both photography & video recording is allowed.

For what ages is the attraction appropriate?

It is appropriate for all ages.

Is parking available?

Yes, free parking is available.
Book Now!