Wisconsin Dells Ghost Boat
11 Broadway Wisconsin Dells, WI 53965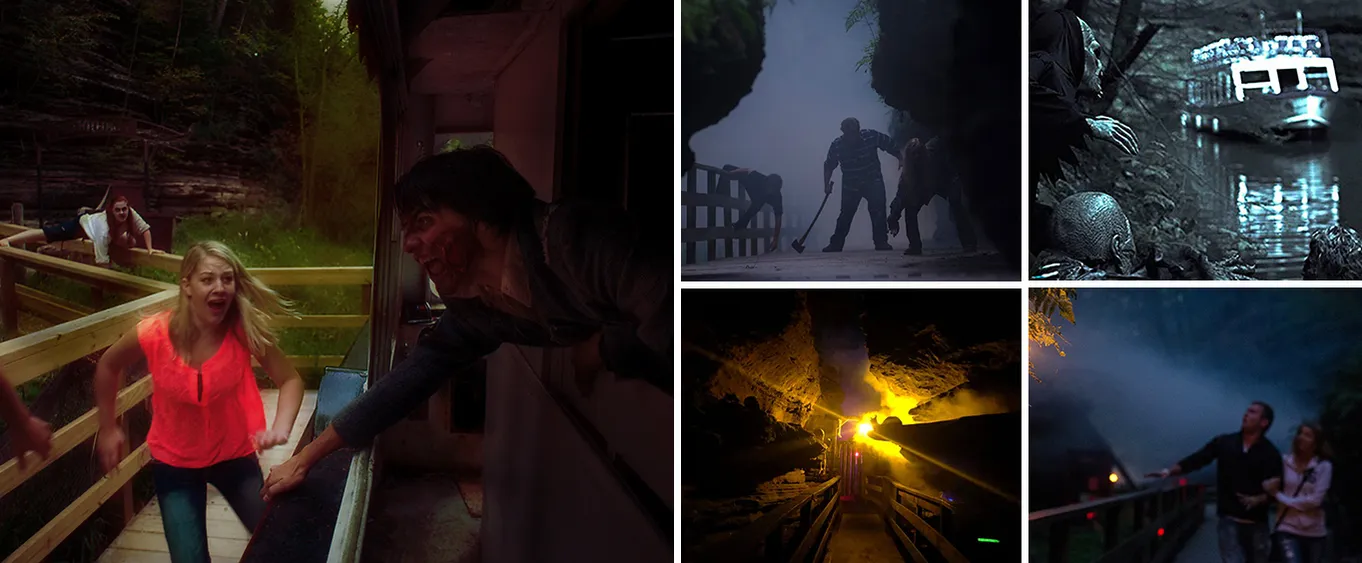 Find out what's lurking in the shadows of the rivers and canyons of Wisconsin Dells with this fun sightseeing cruise. Let's put it this way: nothing good lurks around at night. If you want to see for yourself, take a ghost boat Wisconsin Dells tour of the area for an experience that you'll never forget... assuming that you came back from it. This 90-minute haunted excursion takes you up-river and into the darkness by boat. Once you reach the scariest part of the river, you'll get out and experience what true fear feels like.
Experience tons of spooky fun on the Ghost Boat Wisconsin Dells cruise! Head out on the Dells Ghost Boat Tour for a memorable time in the Dells.
As the sun goes down in the Dells, you'll board the two-level ghost boat Dells and head down the waters to the haunted canyon. During your journey into the darkness, the crew will tell you the legend of Whiskey Jack and the mining settlement that used to encompass the area; you'll figure out exactly why this is a scary place to be. After a fifteen-minute ride down the Wisconsin River, you'll dock at an ancient grotto and leave the safety of the boat. You will be led into the shadows of the canyon though nearly untouched forest. You'll understand the source off all of the legends and see the ruins of the mining town... and those who never left.
This ghost tour Wisconsin Dells adventure is suitable for all ages, but younger children may be easily scared by the stories, dark, and jump scares. Embark on this haunted ghost boat tour Wisconsin Dells journey for one of the best experiences you'll have in the Dells! dellsghostboat
Frequently Asked Questions for Wisconsin Dells Ghost Boat:
Approximately how long could a customer plan to spend at Wisconsin Dells Ghost Boat?

The experience is 90 minutes.

Where does the tour depart?

Main Landing building at 11 Broadway in downtown Wisconsin Dells.

Is photography & video recording allowed?

Yes, cameras are allowed.

For what ages is Wisconsin Dells Ghost Boat appropriate?

All ages are allowed, but the recommended age is 10 and up.

Is parking available at Wisconsin Dells Ghost Boat?

Free parking is available in the Dells Boat Tours lot.