Dells Lumberjack Show
411 State Hwy 13 S Wisconsin Dells, WI 53965

Dells Lumberjack Show is no longer available.
This activity is no longer available. Top related activities are listed below: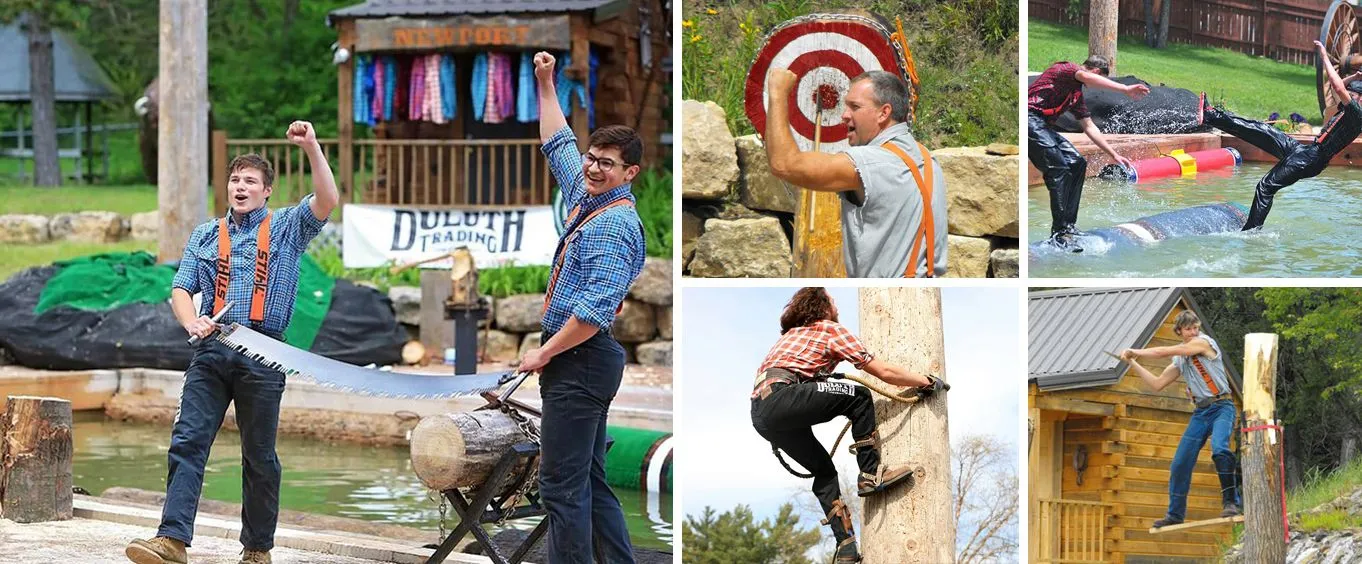 An astounding lumberjack show Wisconsin Dells location awaits you in the Wisconsin Dells! This exciting adventure delights visitors of all ages. The show features two teams of burly lumberjacks who take to the grandstand stage to compete in fantastic events! Fourteen challenges are included to capture the essence of lumberjacking and the profession's legacy. Not only will you watch these incredible feats, but you'll learn what it means to be a lumberjack. There are interactive elements and the entire family will love this entertaining show!
The lumberjacking feats include:
Canoe Jousting

: The lumberjacks battle it out on canoes with mackinaw-wrapped sticks.

Standing Block Chop

: The teams will chop a standing block of wood just as though it were a tree!

Axe Throwing

: This is an exciting sport that's fun to watch. Cheer on the lumberjacks as they try to hit the targets.

Crosscut Sawing

: Two lumberjacks push and pull a long saw to cut through a log.

Springboard Chop

: This event is the most dangerous; the lumberjacks will stand on a black that is attached to the tree as they cut it.

Obstacle Pole

: The teams must make technical cuts with their chainsaws.

Hot Saw

: The teams cut through three cookies as fast as they can with modified chainsaws.

Log Roll

: This notorious event is sure to make you laugh. The last one standing wins!

Chainsaw Carve

: The teams will demonstrate just how artistic they can be with a piece of wood.

Boom Run

: The lumberjacks will run across logs that are set in the water.

Speed Climb

: Using the same gear as a lineman, the lumberjacks will climb a 50ft pole as fast as they can.

West Coast Choker Race

: This activity will test the endurance skills of these athletes.

Final Relay

: Four events performed rapidly. Who will win?
Each event leaves guests awestruck at the strength and agility it takes, providing a unique insight into the life of authentic lumberjacks. These lumberjacks are some of the best athletes in the world. They are trained by a 10-time world champ speed climber and the 'jacks' compete at multiple competitions throughout the year, including the Lumberjack World Championships and the Stihl Timbersports Series. Just as in the lives of real lumberjacks, the Wisconsin Dells lumberjack show goes on, rain or shine, and are held under a covered grandstand, so there's no need to worry about the weather
during your vacation
.
Frequently Asked Questions for Dells Lumberjack Show:
Approximately how long is the Dells Lumberjack Show?

The show lasts approximately 90 minutes.

In what theater is the show held?

An outdoor theater at 411 State HWY 13 Wisconsin Dells, WI.

For what age is this appropriate?

This show is perfect for all ages.

What type of parking do you have?

Parking is free.