YOUR PEACE OF MIND IS OUR TOP PRIORITY
Should you need to cancel at any time, you have up to 48 hours from your vacation start date to do so for a 100% future travel credit.
The purrfect feline-friendly vacation awaits you.
From cat cafés, wild cat sanctuaries and trained house cat shows, America is full of feline-friendly activities, perfect for a cat-lover on vacation. So since you can't always bring your cat along for the ride, check out some of these fun attractions and activities and customize your next vacation.
Who doesn't love a cute cuddly cat? If you are an extreme cat lover, these attractions are the perfect places to visit!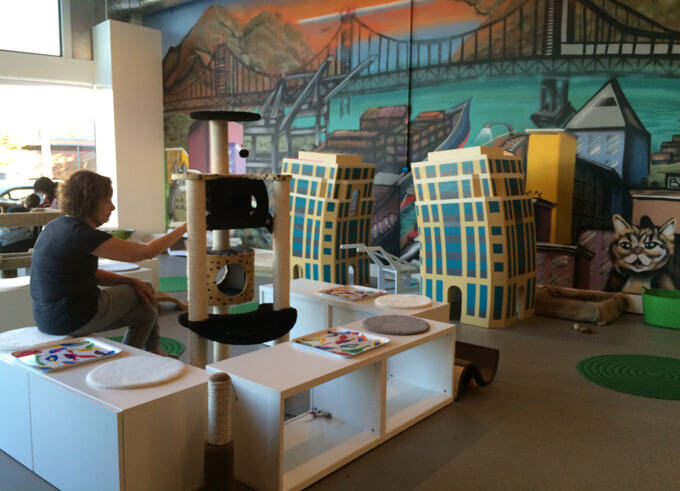 1.Cat Town Café — Oakland, CA
To the delight of cat lovers everywhere, North America has officially jumped on the Cat Café wagon, with Cat Town Café[1] being the very first to open its doors in 2014. A cat café is a blend of a café and an adoption center, where adoptable cats are free to roam the establishment while customers enjoy the cat companionship and a drink. Many of these specialty cafés partner with food establishments so the food and beverages aren't made in the same location. Because of high popularity, most cat cafés require you to make a reservation online before dropping by so make sure to reserve your spot before you go! While Cat Town Café was the first, there are more sprouting up around the country. Here are a few more we would suggest giving a try:
Crumbs & Whiskers
[2]
— 3211 O St. NW,
Washington D.C.
Meow Parlour
[3]
— 46 Hester St., New York, NY
Planet Tails Cat Café — 2355 Vanderbilt Beach Rd., Naples, FL
Calico Nook — 58 E. Central St., Franklin, MA
Denver Cat Company
[4]
— 3929 Tennyson St., Denver, CO
Purrington's Cat Lounge
[5]
— 3529 NE Martin Luther King Jr. Blvd, Portland, OR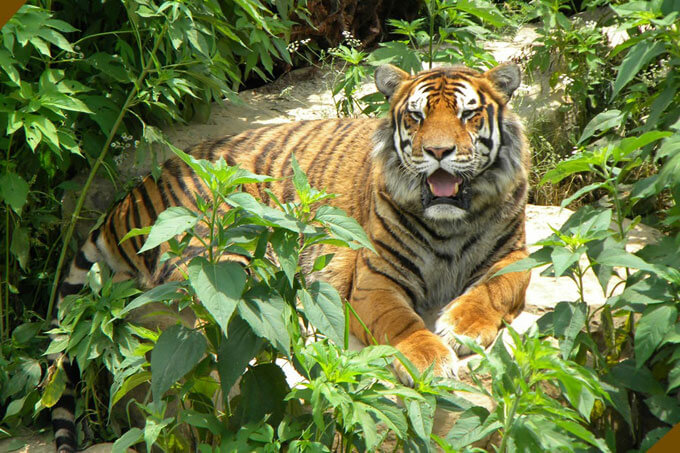 Located just 10 minutes north of Branson, the National Tiger Sanctuary[6] is home to more than 20 exotic large cats. Knowledgeable staff members give guided tours of the sanctuary and visitors can even feed the big cats with the You Feed Tour. A Behind the Scenes Tour is a great way to get an insider's view of how the cats are cared for, food preparation and feeding.
3. Cattin' Around Sculpture — Missoula, Montana
The Cattin' Around Sculpture[7] is a large piece of art on the 100 block of West Main Street in downtown Missoula. The lounging alley cat was created by artist Mike Hollern and it's actually part of a public art tour. The chiseled cat can be seen stretched out on the ground and a small puddle of water on its back is a popular spot for birds to perch and bathe. Check out 23 other pieces[8] of art on this walking public art tour downtown and see what Missoula is all about while you're at it.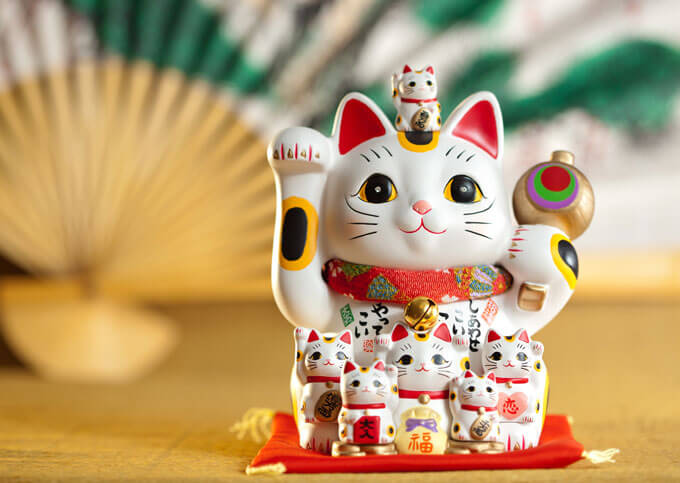 4. Feline Historical Museum — Alliance, OH
The Feline Historical Museum[9] in Alliance, Ohio is home to exhibits on all things cat including a gigantic collection of cat figurines, books, cat collectibles, artwork and Maneki Nekos, or Japanese welcoming cats that are said to be good luck. One fascinating item on display that cat lovers will find appealing is the 4-foot square Cat House designed by Frank Lloyd Wright in 1954. The house is a historic piece of architecture that was originally designed for a specific cat. Visitors might even get lucky enough to visit on a day when live cats are roaming the museum. Occasionally, there may be an Egyptian Mau or Maine Coon running around.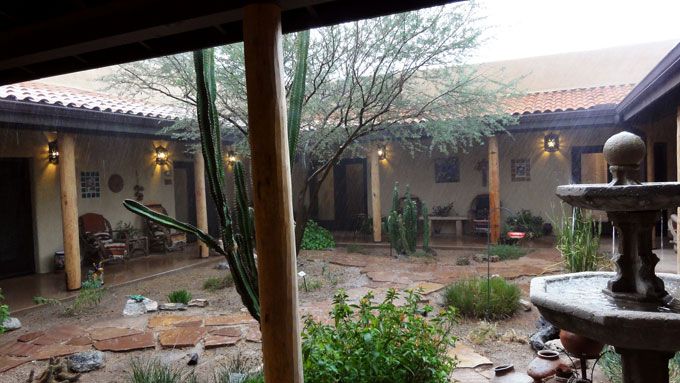 5. Cat Mountain Lodge — Tucson, Arizona
This vintage ranch bed and breakfast is nestled at the base of the Tucson Mountains on more than 13 acres of desert. The Cat Mountain Lodge[10] is warm and inviting and surrounded by endless wildlife viewing areas, hiking trails and all the attractions of Tucson. It's an eco-friendly establishment, landscaped with native plants, rainwater conservation and underground water storage, as well as organic body products for the rooms. But the real perk for cat lovers is the chance to see mountain lions and bobcats roaming around in their natural habitat. It's not uncommon to see them in the area, especially while hiking and exploring the mountains.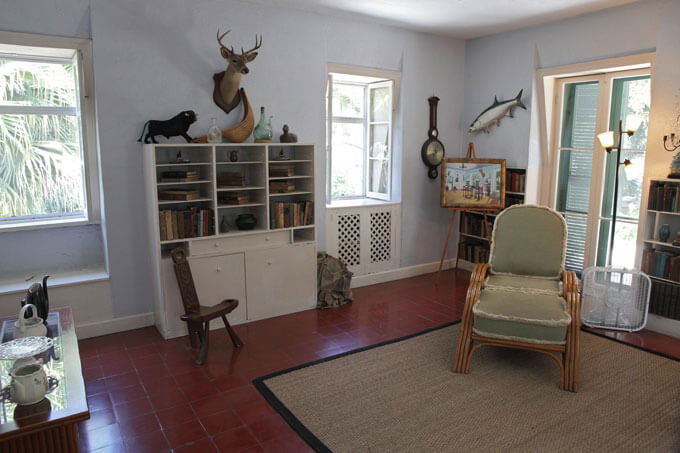 6. The Ernest Hemingway Home and Museum — Key West, Florida
The Ernest Hemingway Home and Museum[11] is still home to the descendants of Hemingway's the white, six-toed cat, Snow White. In fact, 40-50 different cats roam the property at all times and about half of them have six toes. Since Hemingway named all of his cats after famous people, the staff has continued the tradition with the house cats that live there today. Thirty-minute guided tours of the home are available every day of the year from 9 a.m.- 5 p.m.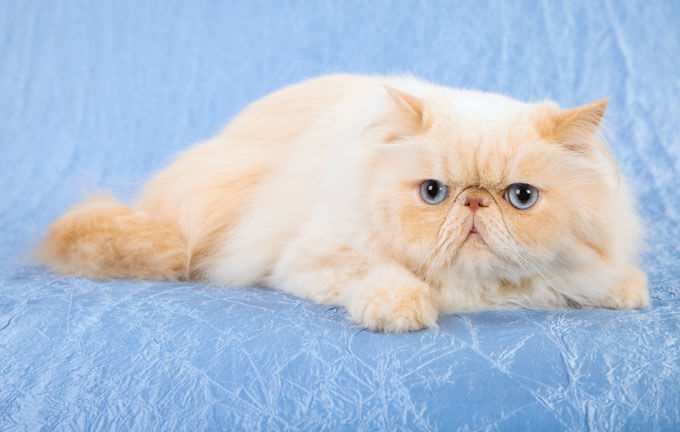 7. Garden State Cat Club Expo — Somerset, NJ
The Garden State Cat Club Expo[12] is America's biggest cat expo show and is ranked as one of the best in the county. The annual event features educational activities, feline agility competitions, face painting, retail vendors, adoption opportunities and more. And just for fun, the cat expo will also feature Cats in Cars riding around the show hall. With plenty of things to see and do, you don't even have to be a cat owner to enjoy this event. This year's expo was July 18-19 at the Garden State Exhibit Center but mark your calendars for next year!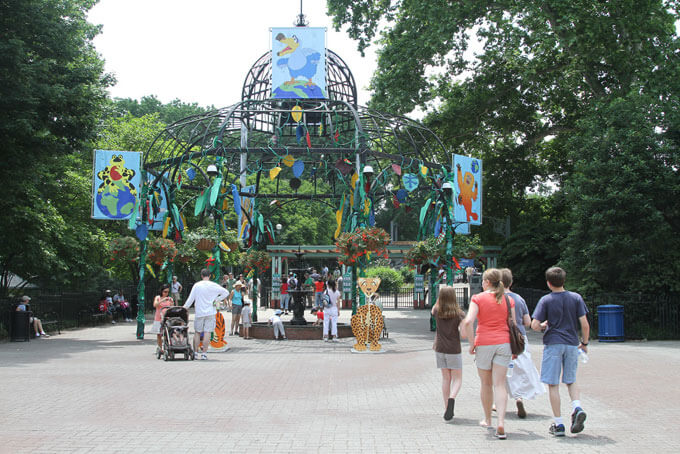 8. Big Cat Crossing at the Philadelphia Zoo — Philadelphia, PA
For the ultimate safari experience, check out Big Cat Crossing at the Philadelphia Zoo. The Big Cat Crossing[13] is an enclosed catwalk that stretches above walkways in the zoo, giving visitors the chance to watch wild cats freely roam outside of their zoo habitats. It's a safe way to see big cats like leopards, lions, pumas, tigers and jaguars up close. Not to mention, watching these huge animals walk directly over you is a pretty amazing experience in itself. This new addition to the zoo was introduced to the public in May of 2014 and has been a big hit.

The Cats and Quotes Art Exhibition[14] at the Brooks Memphis Museum of Art features artwork from different time periods, all revolving around the feline. Browse the exhibit full of paintings, ceramics, sculptures and famous printed quotes about cats to fully understand the role of the cat on modern culture. The exhibit will be available to visitors until January 3, 2016.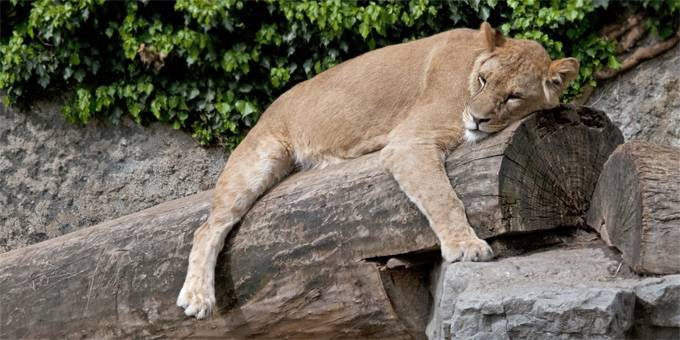 Turpentine Creek[15] is a wildlife refuge in Eureka Springs, Arkansas that serves as a forever home to abandoned, abused and neglected bobcats, cougars, leopards, ligers and more. The refuge offers a self-guided tour through the habitats and when you're done, you don't even have to leave! Lodging is available for those who want to stay in a safari or wild cat-themed lodge. Stay in the Siberian Suite, ideally situated with tigers right outside the door or check out the Bengal Suite, a family-friendly room filled with white tiger decor.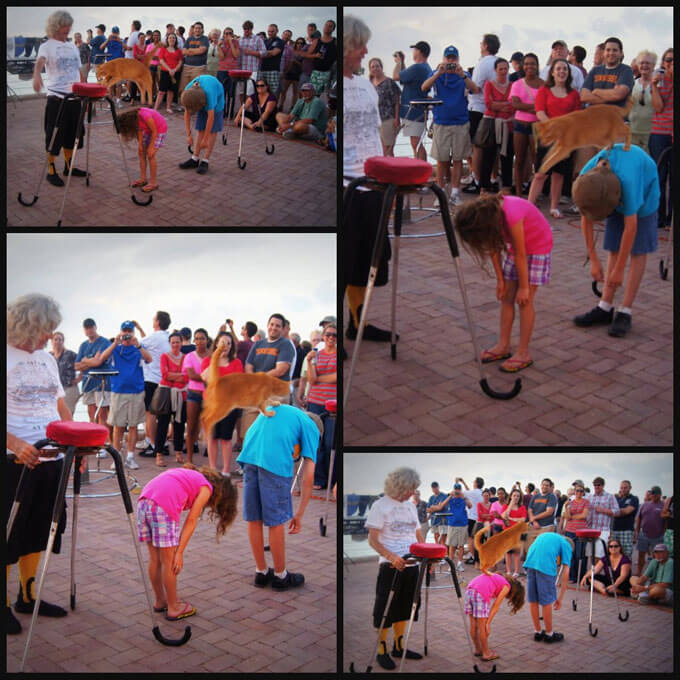 11. Dominique and his Flying House Cats show — Key West, Florida
Dominique LeFort puts on a show unlike any other with his impressive trained housecats, Oscar, Chopin, George, Cossette, Sharky, Sara and Mandarine. Dominique and his Flying House Cats[16] show have been entertaining residents and visitors of Key West for years and he is well-known by many as The Catman. He puts on the half hour comedy and cat show nightly at Westin Pier and his brilliant, hilarious showmanship keeps the crowds coming back for more. Don't miss this guy next time you're in Key West.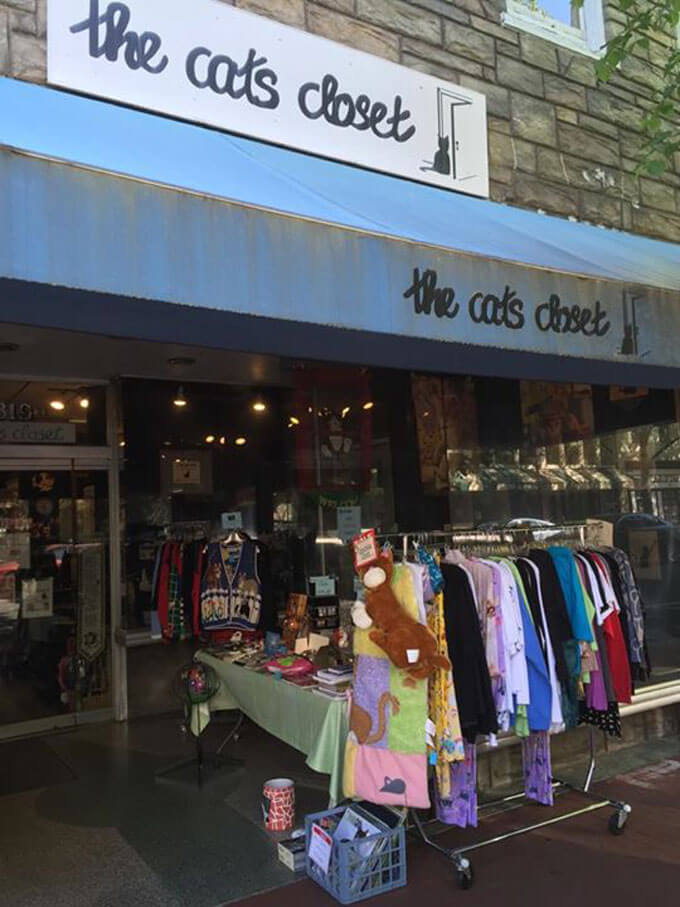 12. The Cats Closet — Fredericksburg, Virginia
Shoppers in downtown Fredericksburg will discover a diverse selection of cat-themed merchandise at The Cats Closet on Caroline Street. Find clothing such as cat shirts, cat hats, cat sweaters, cat ties for men and more! This shop has a gigantic selection of cat jewelry, cat home décor and cat collectibles alongside cat toys, beds, bowls and kitty condos. The Cats Closet even has four resident cats that will help you shop! Beau, Pepper, Oreo and Scarlet are all happy to help.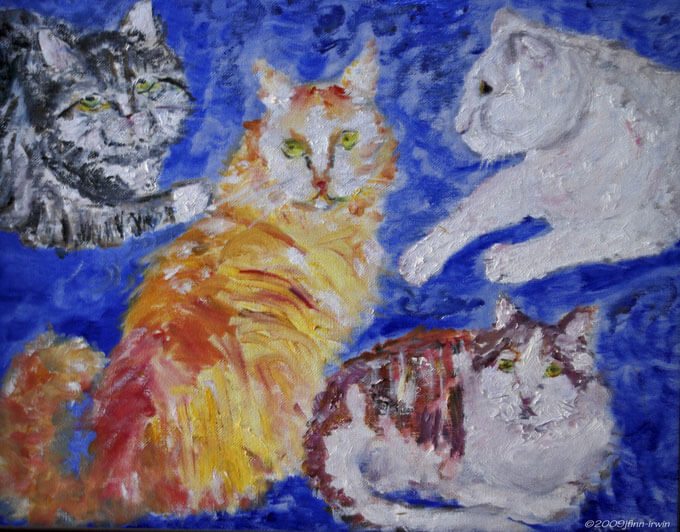 13. The Paint Party Studio — Flemington, New Jersey
The Paint Party Studio[17] in the town of Flemington, New Jersey offers fun Paint Your Pet classes that give you the chance to artistically express your love for your cat. Just email a clear head shot of your cat five days prior to you class and by the time you get there, a studio artist will have sketched your photo onto a canvas for you so you can fill it all in with paint. Many art studios offer Paint Your Pet classes but it's not always offered very often. The Paint Party Studio offers the Paint Your Pet class at least once a month, so it makes for a great group outing and activity for any group of cat-loving friends.
Do you know of any other fun cat attractions or events? Let us know in the comments below!