Segway Tour Options in Tampa Bay, FL

Get out and have an amazing time sightseeing and enjoying some adventure in Tampa Bay, FL with one of these Segway tour options. You can enjoy some great scenery while having a blast with these fun vehicles.
Tampa Bay Area Segway Tours
Segway Tours offers an exciting and unique way to explore St. Petersburg's rich history. Enjoy a guided tour on a personal segway through the historic downtown area and learn about the city's past. Stop by landmarks such as the St. Pete Pier, the Vinoy Hotel, and the Snell Arcade while cruising through quaint neighborhoods and admiring stunning waterfront views. With experienced guides and state-of-the-art segways, this tour is the perfect way to experience all that St. Petersburg has to offer.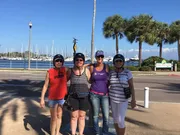 Segway Tours in St. Petersburg, Florida offer a scenic and thrilling excursion through the historic neighborhoods, waterfront parks, and scenic views of downtown. Each tour is guided by an experienced local who provides a safety orientation and leads a 2-hour small-group tour for up to 8 riders. Guests will learn about Florida's history, architecture, and culture aboard a fun and eco-friendly machine. Don't miss out on this unforgettable adventure!
Segway Tours are an exciting way to explore Tampa Bay Area, FL. The 2-hour guided tour takes you through scenic routes, allowing you to enjoy the beautiful views of the city. You will receive basic training on how to operate a segway before commencing the tour. Along the way, you will view historic landmarks and learn about the rich history of the city from your knowledgeable tour guide. This is a perfect activity for anyone looking for an adventure and a unique way to explore Tampa Bay Area.
Sep 26
10:30 AM
1:30 PM
5:30 PM
Sep 27
10:30 AM
1:30 PM
5:30 PM
Sep 28
10:30 AM
1:30 PM
5:30 PM
Sep 29
10:30 AM
1:30 PM
5:30 PM
Sep 30
10:30 AM
1:30 PM
5:30 PM
Oct 01
10:30 AM
1:30 PM
5:30 PM
Oct 02
10:30 AM
1:30 PM
5:30 PM
Oct 03
10:30 AM
1:30 PM
5:30 PM
Oct 04
10:30 AM
1:30 PM
5:30 PM
Oct 05
10:30 AM
1:30 PM
5:30 PM
Oct 06
10:30 AM
1:30 PM
5:30 PM
Oct 07
10:30 AM
1:30 PM
5:30 PM
Oct 08
10:30 AM
1:30 PM
5:30 PM
Oct 09
10:30 AM
1:30 PM
5:30 PM
Oct 10
10:30 AM
1:30 PM
5:30 PM
Oct 11
10:30 AM
1:30 PM
5:30 PM
Oct 12
10:30 AM
1:30 PM
5:30 PM
Oct 13
10:30 AM
1:30 PM
5:30 PM
Oct 14
10:30 AM
1:30 PM
5:30 PM
Oct 15
10:30 AM
1:30 PM
5:30 PM
>