Fishing in Tampa Bay, FL

Go fishing in Tampa Bay, FL with these amazing fishing attractions. Whether you want to take a boat or fish off the land, there are so many ways to enjoy the sport in Tampa.
Fishing in the Tampa Bay Area is an activity that fishing enthusiasts cannot miss. This Private 6-hour Fishing Charter takes you and your group on a personalized fishing experience in the beautiful waters of Tampa Bay. With the assistance of an expert guide, you'll have the opportunity to catch a variety of fish species such as snook, redfish, and trout. This private charter guarantees an intimate and unforgettable fishing experience for you and your loved ones.
Fishing enthusiasts, get ready for an unforgettable adventure with this all-day shared fishing charter in Madeira Beach, Florida. Join the friendly crew and other anglers as you embark on an exciting journey to some of the best fishing spots in the area. Equipped with top-of-the-line gear and equipment, you'll have the opportunity to catch a variety of fish, from grouper to snapper to amberjack. With a spacious boat and expert guidance, this is the perfect activity for anyone looking to experience the thrill of fishing in the Gulf of Mexico.
Jun 12
N/A
Jun 14
N/A
Jun 16
N/A
Jun 17
N/A
Jun 19
N/A
Jun 21
N/A
Jun 23
N/A
Jun 24
N/A
Jun 26
N/A
Jun 28
N/A
Jun 30
N/A
>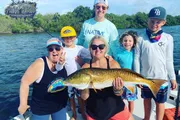 Fishing is an exciting activity that should be on the top of your bucket list while visiting Tampa Bay Area, FL. The four-hour inshore fishing trip provided by Vacations Made Easy is the perfect way to experience the thrill of fishing in one of the most beautiful waterways in the country. With a professional guide and all necessary equipment provided, you can catch species like trout, snook, and redfish while enjoying the scenic beauty of Tampa Bay. A must-do activity for any angler or nature lover.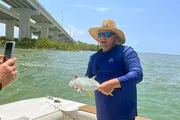 Fishing is the highlight of this 4-hour tour activity in St. Petersburg, Florida. Led by an experienced fishing guide, guests are taken on a fishing adventure through the scenic coastal waters of Tampa Bay. With all the necessary gear provided, anglers can cast their lines and reel in some of the area's finest fish, including redfish, snook, and trout. The tour also includes a stop on a private island for a chance to explore the beach and enjoy a picnic lunch.