The Brice A Kimpton Hotel
601 East Bay Street Savannah, GA 31401
1-800-987-9852
Chat Now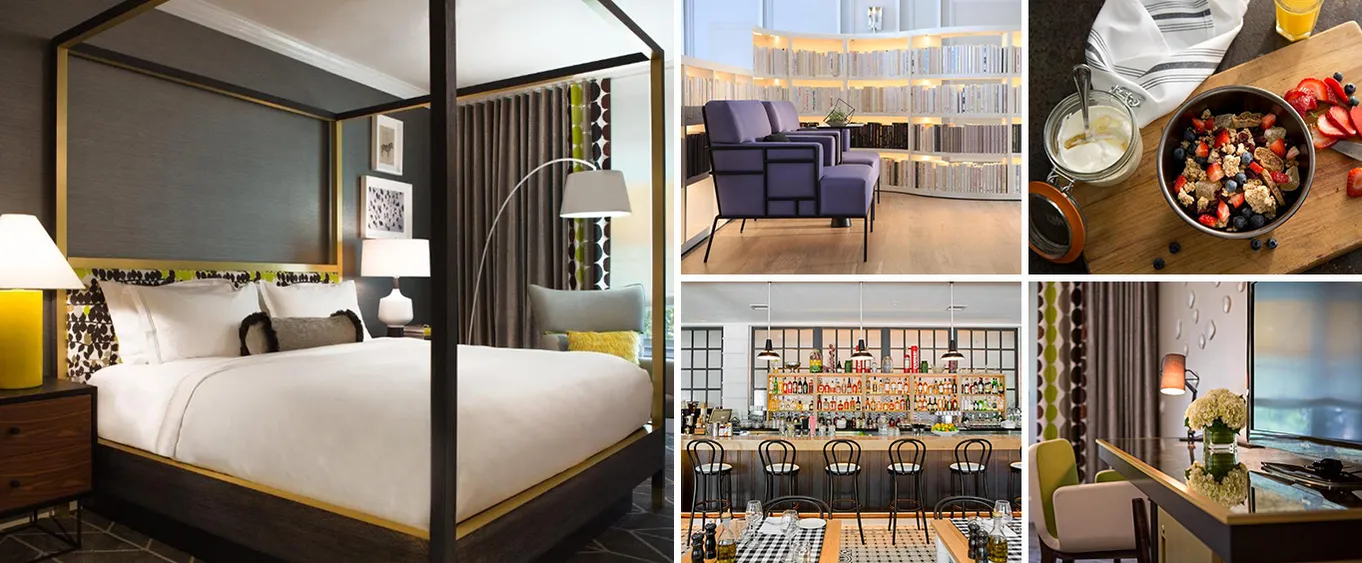 Related Lodging by Category:
The Brice A Kimpton Hotel in Savannah, Georgia, is a contemporary twist on southern charm. The dark gray brickwork of the building stands out from other downtown Savannah hotels. Inside, you'll find a modern lobby with an eclectic mix of decor. The 1860s building once housed a livery and Coca-Cola bottling facility. In 2014, it was converted to a modern hotel. In the lobby, you'll find artwork from the Savannah College of Art and Design. The Brice A Kimpton Hotel has 145 rooms with flat-screen TVs, coffee makers, and work desks. Select rooms also have a balcony and a sofa bed. Brice's onsite restaurant, Pacci Italian Kitchen + Bar, is run by Chef Roberto Leoci of Leoci's Trattoria. The food is excellent and the service is friendly. The Brice A Kimpton Hotel has a renowned restaurant, Pacci Italian Kitchen & Bar. It serves modern Italian-inspired dishes. The hotel also has weekly aperitivo specials. Guests can order a five-course dinner for just $5 and indulge in room service until ten p.m. The staff is friendly and helpful, and the food is delicious. Unlike most other downtown Savannah hotels, The Brice A is unique, and your stay will be an unforgettable one. The Brice A Kimpton Hotel in Savannah, Georgia is a great choice for travelers looking to experience the Southern style of Savannah. The Brice offers rooms with a 40-inch flat-screen television, work desk, alarm clock, and phone. Select rooms feature a balcony and a sofa bed. Each room includes a fitness center and a tour desk. The hotel is adjacent to Washington Square and just 2 km away from Forsyth Park. The Brice A Kimpton Hotel is a modern IHG Hotel in Savannah, Georgia. The rooms are stylishly furnished and feature a king-sized pillow-top bed and Frette Italian-style sheets. The spacious bathrooms feature hairdryers and free Wi-Fi. There is also a full-service bar and complimentary wireless Internet access throughout the hotel. The hotel is an ideal choice for business and leisure travelers alike. The Brice A Kimpton Hotel is located near the historic district of Savannah. The hotel is within walking distance of Old Harbor Light and the Juliette Gordon Low Birthplace. The Brice is in a central location in Savannah and is a great place for sightseeing in Savannah. Its location makes it convenient for many activities, including the city's shopping and dining scene. There is a fitness center on-site and a swimming pool. It also offers concierge and dry cleaning services. The Brice A Kimpton Hotel is centrally located and offers a great view of the downtown area. It is also within walking distance of Reynolds Square and Warren Square. The Kimpton Brice Hotel is a great place to hold a wedding or other social event. All rooms have iPod docks and complimentary wireless Internet. The hotel is an IHG Hotel, and it is one of the newest and most hip in Savannah. After booking your favorite lodging and vacation package, be sure to check out great Savannah activities like the Savannah River boat.
Reviews

Leslie Briganti
Fort Pierce, FL
✓
Verified Traveler
The staff made us feel like special guests in a friend's home. They couldn't do enough for us! Request a keurig coffee maker for your room the morning coffee downstairs is not good.

Shawn Veres
Dunwoody, Georgia
✓
Verified Traveler
The hotel was beautiful and the staff was amazing. Rodney at the valet service was awesome in his suggestions and his service. The only downside was the mattresses. The first room was so soft that it had the middle crater and our backs hurt so bad. Thenjoy we moved to a suite with an upgrade price and we assumed the mattress would be better, we were wrong. Everything else was great but the hotel needs new mattresses.
Book Now!