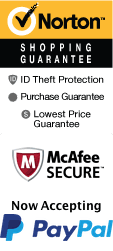 YOUR PEACE OF MIND IS OUR TOP PRIORITY
Should you need to cancel at any time, you have up to 48 hours from your vacation start date to do so for a 100% future travel credit.
Mackinac Island Weekend Getaway Package
Set out to forget your stresses and relax in the beautiful Mackinac Island with this Mackinac Island Weekend Getaway Package, featuring two nights of lodging and the Grand Hotel Luncheon Buffet and Self-Guided Tour.
Mackinac Island is a historic place that has drawn many visitors since the 1800s. The historic side of the island is home to Victorian-era mansions, lighthouses, museums detailing the shipwrecks of the Great Lakes, and gorgeous Lake Huron views. As well as offering a chance to step back in time, guests can take advantage of great shopping, dining, and activities to keep them entertained.
>>MORE: Things to Do in Mackinac Island
Sightseeing is a huge part of what makes Mackinac Island so charming. Since motor vehicles are not typically allowed on the island, you can feel the historic magic as you roll down the paved streets on a Carriage Tour in the area. As well as carriage tours, Mackinac Island also offers other ways to experience the island, with the beautiful State Park and points of interest such as Whitefish Point and its historic lighthouse.
>>MORE: Mackinac Island Carriage Tours
About the Mackinac Island Weekend Getaway Package
Escape the stresses of your every day life to experience a fun weekend getaway in the beautiful Mackinac Island. This great package includes two nights of lodging as well as the Mackinac Island Carriage Tour.
About the Included Mackinac Island Carriage Tour
Mackinac Island has a cool atmosphere, where not even automobiles are allowed to breach its roads! Instead, hop on the Mackinac Island Carriage Tour to be whisked away for an afternoon of fun adventure. Learn about Mackinac Island's intriguing history and culture as you enjoy a horse-drawn carriage ride through the city. See landmarks like Arch Rock and the Avenue of Flags while enjoying a fairy-tale-like experience!
About the Included Lodging
This inclusive package allows you and your crew to stay for two nights at your choice of lodging in the area. The two night stay will allow plenty of time for the Luncheon Buffet, a casual tour of the historic Grand Hotel, and some relaxation on the world's longest front porch!
>>MORE: Lodging Options in Mackinac Island
Whether you're interested in the history of the Grand Hotel, enticed by the beautiful landscape or simply looking for a great meal, the Mackinac Island Weekend Getaway Package is a great investment. With lodging and admission to the Mackinac Island Carriage Tour, it doesn't get any better than a weekend getaway in Mackinac Island!
Frequently Asked Questions:
---
---
---
Customize a package with this form: