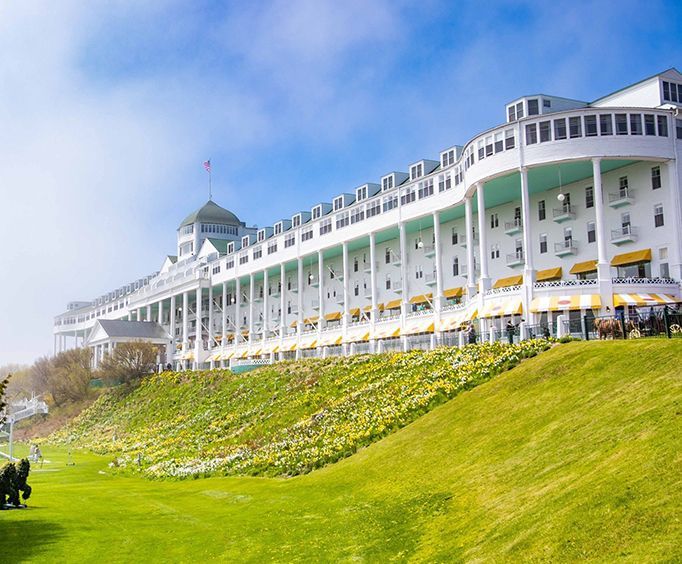 Mackinac Island Weekend Getaway Package
The Grand Hotel on Mackinac Island is home to the world's longest front porch, a beautiful view and a rich history.

Create This Package in 3 Easy Steps:
1. Choose Dates & Times for Your Activities
2. Select Your Lodging from Over 21 Hotels
3. Confirm & Checkout
Details

2 Nights' Lodging in your choice of over 21 hotels.

Grand Hotel Luncheon Buffet and Self-Guided Tour

Prices Starting at:
Ages 19 and Up: $180.00
Ages 18-19: $68.39
Ages 11-17: $45.72
Ages 5-10: $39.24
Ages 0-4: Free
Description
Your two night stay at a hotel of your choice will include access to the illustrious Grand Hotel Luncheon Buffet as well as a self-guided tour. This trip is especially recommended for sweethearts or newlyweds.
The Luncheon Buffet is the meal of a lifetime and will likely be one of the highlights of visit! Beginning at noon and lasting for two hours, the buffet offers everything from seafood to pastries. The self-guided tour will allow you to wander the public grounds of the hotel which include the porch, stable and gardens.
Whether you're interested in the history of the Grand Hotel, enticed by the beautiful landscape or simply looking for a great meal, the Mackinac Island Weekend Getaway Package is a great investment. The two night stay will allow plenty of time for the Luncheon Buffet, a casual tour of the historic Grand Hotel, and some relaxation on the world's longest front porch!