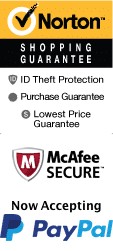 Grand Hotel Luncheon Buffet and Self-Guided Tour
1891 Cadotte Ave (GPS Address) , 1 Grand Ave Mackinac Island, MI 49757
Grand Hotel Luncheon Buffet and Self-Guided Tour is now only available for large groups.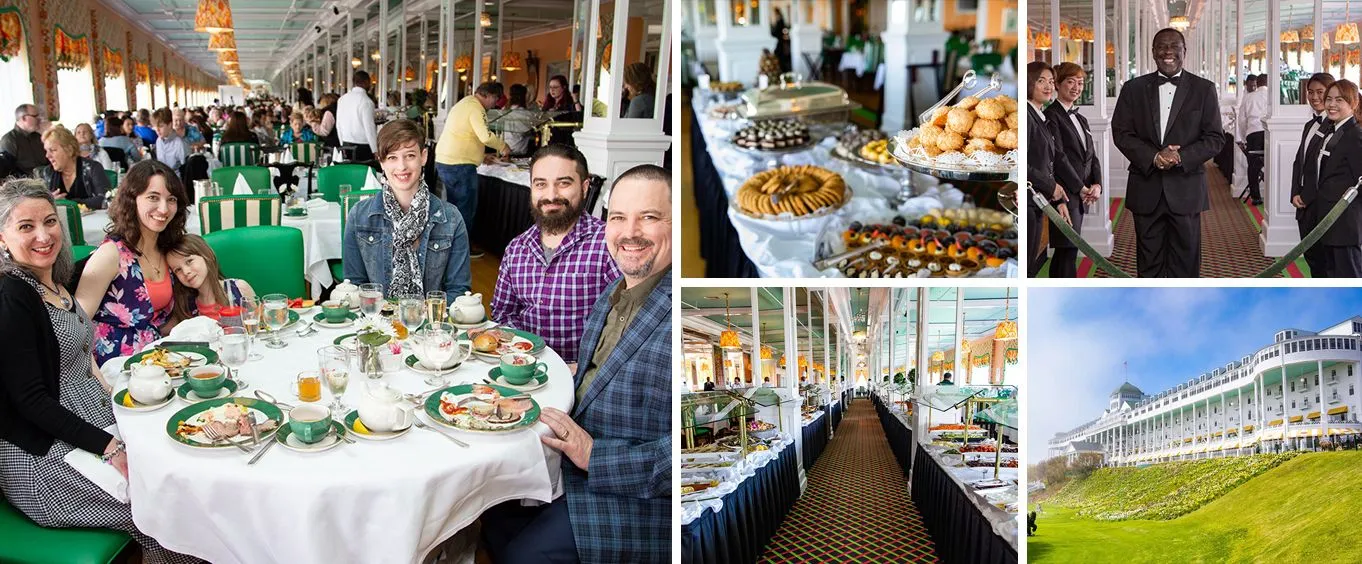 Spend a few hours basking in the luxury and grandeur of the beautiful and historic Grand Hotel and restaurant area while experiencing the beauty of Mackinac Island in Northern Michigan. Enjoy the legendary Luncheon, a decadent dinner worthy of true royalty and one of the main highlights of this experience!
Many people love to stay at this amazing lodging option, but for some, the experience of just visiting the grounds or the onsite restaurant is enough of a delight. With this beautiful self-guided tour and lunch spread you will be able to relish in a wonderful visit to this historic area.
Guests can also choose to partake in other dining options at their own leisure as it also serves up breakfast, afternoon tea, brunch, and other lunch and dinner events.
Enjoy the charm of Mackinac Island, where bikes and horse-drawn carriages are the favored modes of transportation and where sweethearts and honeymooners can enjoy the vast lake and colorful flowers. Guests can sit back and relax away the afternoon in a rocking chair and enjoy the views of the Straits of Mackinac on the World's Longest Front Porch.

Includes Admission to
The Grand Hotel
Established in 1887 and owned by the same family for three generations, the Grand Hotel welcomes you to experience America's Summer Place! You can enjoy your self-guided tour of all the public areas of the hotel any time from 8 a.m. to 6 p.m., so feel free to take your time as you check out the Front Porch, the gardens, and the Grand Hotel Stables, which feature horses and antique carriages.
The historic Grand Hotel Mackinac Island Restaurant in Michigan was built in 1887 with the advertising of the world's largest porch and opened with rates ranging from $3 to $5 a night. The Grand Hotel has had many well-known visitors such as Thomas Edison, Mark Twain, and 5 U.S. Presidents including Harry S. Truman, John F. Kennedy, Gerald Ford, George H. W. Bush, and Bill Clinton. The building was designated a State Historic Building in 1957, a National Register of Historic Places in 72, and a National Historic Landmark in 89. It is also a favorite Hollywood filming location, as Somewhere in Time and This Time for Keeps was filmed on the property. The front porch ranges over 600 feet that overlooks a beautiful Tea Garden and Swimming Pool. The location utilizes a horse-drawn carriage for a more classic style look due to the island not allowing motor vehicles. The Grand Hotel features tons of great activities including an Ice Cream Parlor, shops, golf course, salon and spa, tennis, live music, lawn games, and so much more. Take one of the Grand Hotel tours for an interesting time and enjoy lunch at the Grand Hotel Mackinac Island.
Here, you can view the sights and sounds of this sprawling landscape at your own pace during visiting hours, so feel free to take your time and stroll at your leisure for an absolutely beautiful experience on Mackinac Island! Be sure to visit other notable Mackinac Island attractions after your dining experience. Just a few of the best things to do in the area include the ferry, Butterfly House, and kids activities. Celebrate a great vacation with awesome food and fun!
Reviews

Ilze Korb
Lake Orion, MI
✓
Verified Traveler
"What a beautiful experience!"
What a beautiful experience! Having never been to the grand hotel, i was extremely pleased from start to finish. Someone met us in the lobby and informed us as to what we were to expect and guided us on our way. A hotel map was presented to us for our convenience in touring the hotel. I am speechless when it comes to the buffet. An enormous variety of gourmet foods with wait staff that was beyond superb. We sat in the rockers on the front porch and then walked the grounds. Couldn't have asked for a more enjoyable experience that left so many wonderful memories.Two thumbs up!!

Donna Sopher
Spencer, OH
✓
Verified Traveler
"wonderful experience!! "
We thoroughly enjoyed the grand hotel luncheon buffet and self-guided tour. The facility was amazing, as well as the courteous/helpful staff. The food was delicious and what a great selection of food. Did not feel rushed - was a wonderful experience!! Will definitely come to the grand again for the luncheon buffet.

Christy Chester
Dickson, TN
✓
Verified Traveler
Enjoyed the self-guided tour of the grand hotel . . . Very beautiful. It was nice to sit in a rocking chair on the front porch to enjoy the view. Very much enjoyed the luncheon buffet! Food and service were wonderful!

Christopher Roberts
Bartlett, IL
✓
Verified Traveler
"highly recommend this to anyone"
Beautiful setting and the food and service was top notch. I'd highly recommend this to anyone that wants to see the hotel and grounds. If you go, do yourself a favor and dress on the nicer side of casual. I would definitely do this again on my next trip to the island.
Frequently Asked Questions for Grand Hotel Luncheon Buffet and Self-Guided Tour:
Is the tour handicap accessible?

Yes.

What is included in the admission price?

Includes admission to the grounds and a plated lunch.

Approximately how long does it last?

Most guests spend 3-4 hours touring & eating.

For what ages is the tour appropriate?

Appropriate for all ages.

What type of dress & footwear are recommended?

Comfortable clothes and walking shoes.

Is photography / video recording allowed?

Both photography and video cameras are permitted.