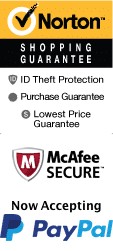 Tanger Outlets in Lancaster
ORDERING INFORMATION
Book by Phone:
1-800-987-9852
Book Online:
You can't spend time in Lancaster without taking some time to shop at the premier Tanger Outlets in Lancaster. The Tanger Outlets malls is located on Route 30 East, making it convenient to access from many locations in the Lancaster area. While you are shopping at the Tanger Outlets, you will have access to over 60 brand name and designer shops, each peddling their merchandise at discounted prices. Some of the stores you can find here include Skechers, Izod, Guess, Nine West, Fossil, Coach, and so many others. There are also some snack shops and restaurants on-site as well, such as Arby's, Starbucks, and Subway, as well as ample on-site parkings at the outlet mall. You will want to plan to spend at least several hours enjoying all that the mall has to provide and searching for great bargains.
Tanger Outlets
If you want to reside close to the Tanger Outlets in Lancaster, you will have plenty of great lodging choices to choose from. The Best Western Eden Resort Inn is located just down the road from the Tanger Outlets and is also close to the Strasburg Railroad and Train Museum, Hershey Park, and more. Guest rooms feature a fridge, two phones, cabled television, payperview movies, and more. During your retreat you will also have access to a game room, a fitness center, an indoor heated pool and hot tub, and more.
Comfort Suites Amish Country
The Comfort Suites Amish Country is a great option.This location is perfect for shopping, sightseeing, or just revitalizing your soul and enjoying the scenery. You can catch up on suntanning on warm days near the outdoor pool, or head to the game room, spa, or exercise room on-site for rest and recreation. Each guest room features premium cable channels, Internet access, plush comforters and soft and cleanly sheets and other amenities.
Rodeway Inn Amish Country
This Lancaster, PA hotel sits in a great location in the heart of historic downtown Lancaster, close to the outlet mall, the Lancaster Museum of Fine Art, Central Market, and more. Each of the guest rooms at this hotel have been beautifully decorated and feature Internet access, a coffee maker, cable TV, and more. After a great night of rest, wake up to the treat of a free continental breakfast each AM. During your rejuvenation, you will also have access to the indoor pool, restaurant, lounge and a nightclub.
You will love exploring the Tanger Outlets and other nearby attractions on your trip to the Lancaster area!