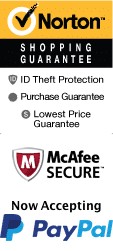 Spend a Day in Nearby Philadelphia
Sitting just eighty miles east of Lancaster is the historic and vibrant city of Philadelphia. Philadelphia has played an important role in US history and today is also a vibrant cultural mecca with entertainment venues, great shopping destinations, and more. Take some time away from the attractions in Dutch Country and enjoy all that Philadelphia has to offer with a day trip from Lancaster.
The Philadelphia Zoo was established in 1874 and today is home to some of the rarest and most endangered species in the world. As the first zoo in America, the Philadelphia Zoo still retains some of its historical character to create a unique zoo ambiance with Victorian-style gates and other historic features. You will love spending time with the over 1,300 animals that call the zoo home, including giraffes, white rhinos, red pandas, and more. The animals all live in exhibits that have been designed to be as close to their natural environment, giving you an intimate look at the animals.
The National Liberty Museum honors 1,000 men and women who have made a heroic difference through extraordinary acts of courage and bravery. These individuals honored at the museum include world leaders, servicemen, and police and firefighters who lost their lives on 9/11. In addition, the National Liberty Museum features exhibits that look at conflict and liberty with hands-on and interactive activities and displays.
At Independence Hall, you can take the Independence National Historic Park Cell Phone audio tour, giving you a convenient way to explore this national landmark. Here, you will find the Liberty Bell, which historically rang out on July 8, 1776 after the signing of the Declaration of Independence. Spend some time learning more about the history of our Founding Fathers, including Benjamin Franklin, whose home Franklin Court was once located in this area. Some of the other landmarks in this area include Congress Hall, Old City Hall, and the First and Second Banks of the United States.
While you are in Philadelphia, take some time out of your sightseeing to enjoy some retail therapy at the Philadelphia Premium Outlets. This large outlet mall is home to over 150 designer shops offering merchandise at steeply discounted prices. Some of the many fabulous stores you will find here include Tommy Hilfiger, Adidas, Sony, Calvin Klein, Neiman Marcus Last Call, Gap Outlet, Coach, and others. This outlet mall also features several great dining options on-site including the Lakeside Inn, the Black Lab Bistro, and the Liki Japanese Restaurant.
These and many other attractions and activities are waiting for you to enjoy and explore in Philadelphia. Make plans to experience all that Philadelphia has to offer you with a day trip to Lancaster and surrounding area!