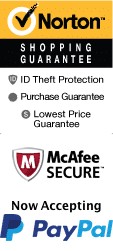 Shop 'til You Drop in Lancaster on Black Friday
Shoppers from all over the country look forward to Black Friday. Black Friday is the day after Thanksgiving and is the official start to the Christmas shopping season. Retailers mark this day with huge sales on just about everything. Most stores open their doors far earlier than normal, and give early morning shoppers additional discounts. Shoppers use Black Friday to buy everything from holiday gifts for others to items they need and want for themselves.
If you are planning on being in Lancaster for the Thanksgiving Day holiday, you will want to take advantage of the amazing sales at the many Lancaster area shops on Black Friday. One of the most popular shopping events is Midnight Madness at the Rockvale Shopping Outlets. Doors will open at midnight after Thanksgiving Day and will remain open until 9pm the following day, giving you plenty of time to get all of your shopping done. Early shoppers will save big bucks with door buster specials and early bird sales. At Rockvale, you will enjoy 76 acres of shopping excitement, with 120 outlet stores such as Vanity Fair, JanSport, Vassarette, East Pak, Best Form, Lee, Wrangler, Healthtex, Nautica, and more.
If jewelry for that someone special is on your gift list this year, Gem's Garden Jewelry is a 'must' for your Black Friday shopping extravaganza. With a variety of rings, chains, bracelets, and more in gold and silver, you can find that perfect something you are shopping for . The store specializes in stones such as emeralds, sapphires, rubies, tanzanite, and others.
Old Mill House Shoppes gives you an amazing selection of home décor pieces. Here, you can shop for a variety of pieces to add some holiday flair to your own home, or find that perfect gift for the hard-to-shop-for person on your list. Some of the many great items you will find here include quilts, folk art, wreaths, cables, dinnerware, glassware, candies, and more.
The Park City Mall is a popular shopping destination for a full day of Black Friday savings. At the Park City Mall, you will find 180 top retail stores, including such names as Abercrombie and Fitch, Build-a-Bear Workshop, Against All Odds, Bebe, Banana Republic, J Jill, and dozens of others. With many snack and dining choices on-site as well like Romano's Macaroni Grill, Fuddruckers, and Starbucks to name a few, you will have plenty of options to rest and re-fuel before you head out for more Black Friday shopping.
Take advantage of one of the biggest sales of the year by shopping till you drop at Lancaster's Black Friday during your next holiday vacation to the area! Book your lodging today!