Drink up and experience some of the south's oldest venues and historic bars.
Spend an evening soaking up the ambiance and history of a century-old venue, where patrons just like yourself sat enjoying a brew hundreds of years prior. While some of these bars may have changed ownership, functioned as a different business or even closed their doors for a time, each of these establishments embraces its rich history and traditions while providing an authentic experience for every patron that walks through the door.
Whether you prefer cocktails or classic brews, these Southern bars serve up awesome drinks, history, and some of the best experiences in the country.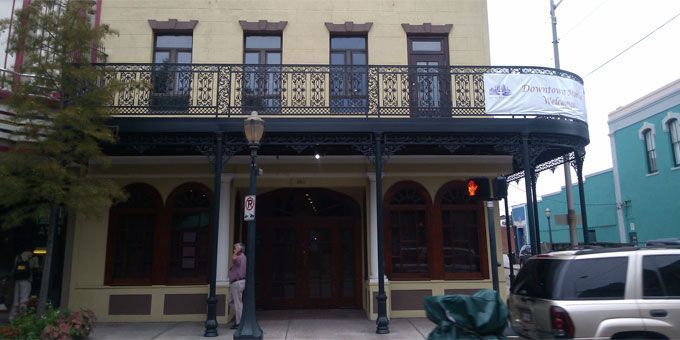 1. T.P. Crockmiers in Mobile, Alabama
250 Dauphin St., Mobile, AL 36602
T.P. Crockmiers[1] was established in 1875 and has been nothing but a great success from the very beginning. Founder Thaddeus P. Crockmier wanted to create a unique restaurant in the south that would attract those with an appreciation for quality food and drink and today, the establishment still brings hungry visitors to the table. Serving up a delicious menu of homestyle favorites and refreshing, the menu allows for both a quality drink and meal to be had at this historic venue.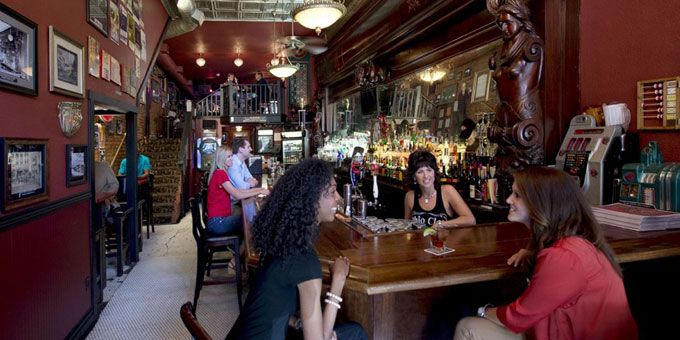 2. The Ohio Club in Hot Springs, Arkansas
336 Central Ave., Hot Springs, AR 71901
The Ohio Club[2] was established in 1905 as a bar and casino and claims to be Arkansas' oldest bar. It has seen more than 100 years of patrons including big names like Mae West, Al Capone and Babe Ruth, and not even prohibition could stop its forward motion. During prohibition in 1926, the Ohio Club changed its name to the Ohio Cigar Store, a front for the speakeasy bar and casino which was hidden upstairs.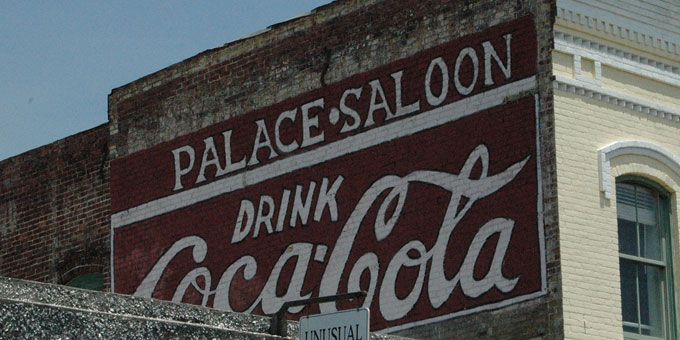 3. The Palace Saloon in Fernandina Beach, Florida
117 Centre Street, Fernandina Beach, FL
Florida's oldest bar, The Palace Saloon[3] was established in 1903 and served as the harbour district's only "ship captain's bar." The bar was an elegant one, with mosaic floors, rich mahogany fixtures, a lengthy 40-foot bar and gorgeous murals on the walls. The legendary Palace Saloon kept its doors open during prohibition by providing patrons with items like gas, ice cream, wine and near beer. Today, guests still enjoy a classy atmosphere with happy hour Monday-Friday, Man Up Mondays and Ladies' Night on Thursdays.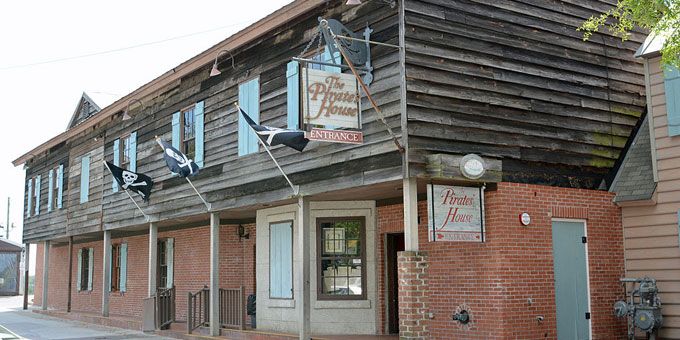 20 East Broad Street, Savannah, GA 31401
Established in 1753, The Pirates' House[4] has pretty much always been the place to be for rowdy pirates and seamen. Although nowadays, you won't find rambunctious plunderers slopping their grog all over the place (thankfully), but you'll still find that same old rustic charm this 262-year-old bar has maintained throughout the years. The menu features a variety of southern fare, including delicious seafood entrees and of course, the drinks are a must-have.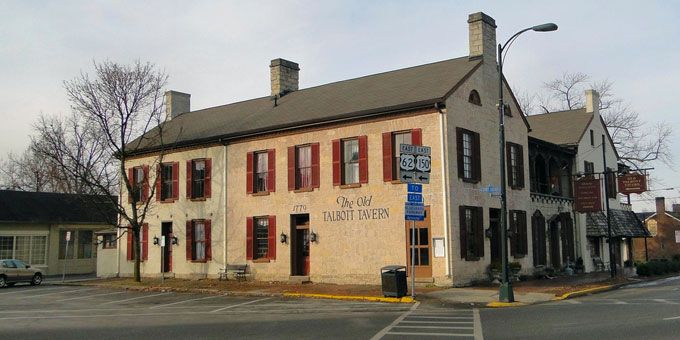 5. Old Talbott Tavern in Bardstown, Kentucky
107 West Stephen Foster, Bardstown, KY 40004
Old Talbott Tavern[5] was established in 1779 and features a restaurant, bourbon bar, gift shop and Bed & Breakfast. Many famous people have crossed paths with this establishment such as Daniel Boone, Abraham Lincoln, Gen. George Rogers Clark and even King Louis Phillipe so it's no surprise the tavern is rumored to be haunted. There have been various reports from patrons and staff of mysteriously moving objects, phantom knocks and footsteps, sightings of dark shadows and even a piano that played by itself.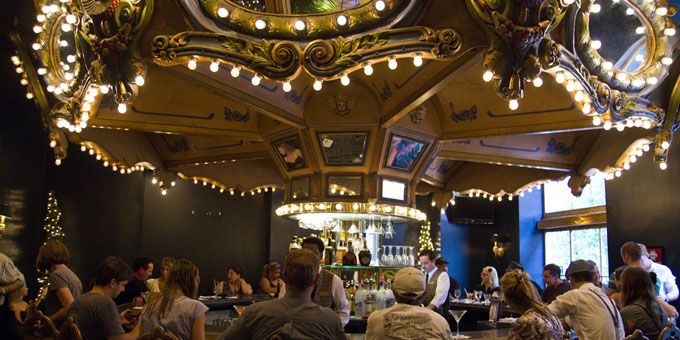 6. The Carousel Bar & Lounge in New Orleans, LA
214 Royal Street, New Orleans, LA 70130
The Carousel Bar & Lounge[6] is located inside New Orleans' Hotel Monteleone, which has a rich history on its own. The hotel first opened in 1886 and since then, it has been operated by five generations of Monteleones. The Carousel Bar & Lounge features a giant circumnavigating carousel bar, installed in 1949, that spins very slowly as customers enjoy cocktails and brews. It has undergone many changes throughout the years, but the main attraction still remains. The original antique carousel top and distinct chairs still spin and the bar is world renowned as one of the best.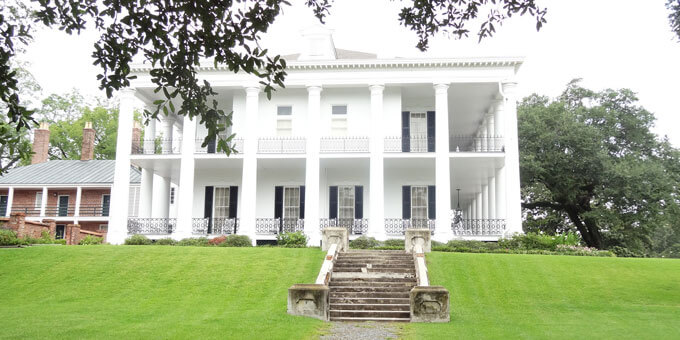 7. The Castle Pub in Natchez, Mississippi
84 Homochitto St., Natchez, MS 39120
The Castle Pub[7] is located in the original 1790's carriage house of the Dunleith Historic Inn. The inn itself was built in 1856 and was originally a residence before it became a National Historic Landmark in 1974, and then a historic inn in 1976. The pub is open each evening serving up delicious appetizers, and comprehensive selection of wine, domestic and foreign beers and 25 different craft beers. Guests can also order entrees from the Castle Restaurant at the pub.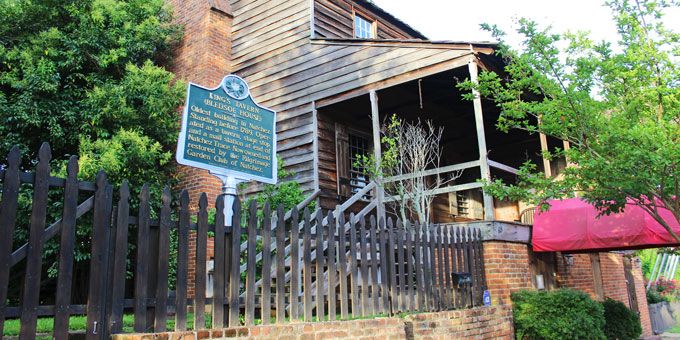 8. King's Tavern in Natchez, Mississippi
613 Jefferson St., Natchez, MS 39120
King's Tavern[8], established in 1789, was a tavern, an inn and a post office all in one. It's one of the oldest buildings in Natchez, Mississippi and the tavern was always part of the establishment. With more than 200 years of history, it's no surprise King's Tavern is also reported to be haunted. During a renovation of the fireplace in the 1930s, human remains were found stashed away behind a wall, one of which was supposedly the original owner's mistress! Since then, patrons and workers have reported mysterious happenings in the tavern but customers still aren't scared off. The food and drinks are just too delicious.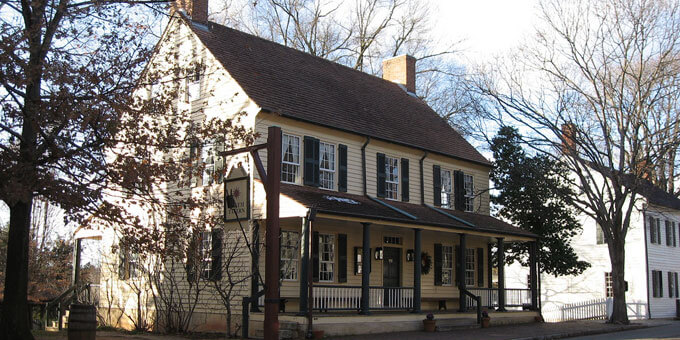 9. The Tavern in Old Salem in Winston-Salem, North Carolina
736 S. Main St., Winston-Salem, NC 27101
The Tavern in Old Salem[9] was established in 1784 and boasts craft and draft beers, wine, mixed alcoholic beverages and mouthwatering dishes inspired by the Moravian cuisine of native Moravia families living in Salem in the 19th century. The tavern was declared a National Historic Landmark in 1964 and is said to have served as lodging for George Washington in 1791.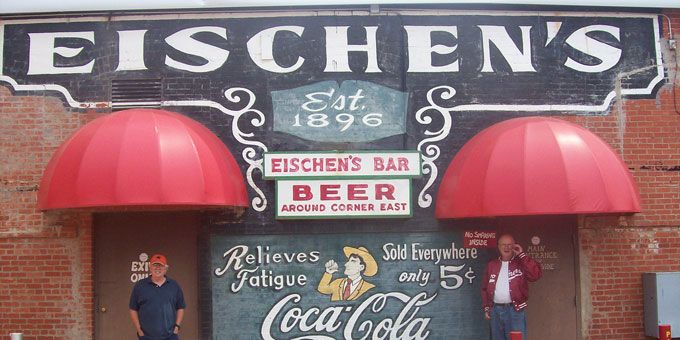 10. Eischen's Bar in Okarche, Oklahoma
109 S. 2nd St., Okarche, OK 73762
Established in 1896, Eischen's Bar[10] welcomes visitors with a sign that proclaims its title as the "oldest in Oklahoma." Before prohibition, the business functioned as Eischen's Saloon, and then after, it took on the name Eischen's Bar. Although much of the building was destroyed in a 1993 fire, a piece of the antique hand-carved back bar was preserved and remains on display today. The bar is touted as an Oklahoma legend and many celebrities have stopped by over the years, including Amy Grant, Toby Keith, Guy Fieri and Jerry Van Dike.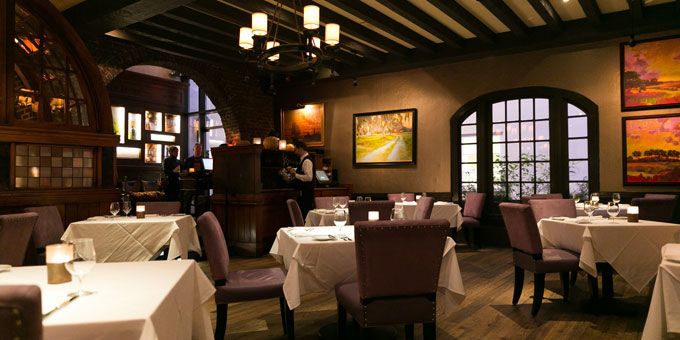 11. McCrady's in Charleston, South Carolina
2 Unity Alley, Charleston, SC 29401
McCrady's[11] was established in 1778 as McCrady's Tavern. The tavern served as a social hot spot for high society individuals in the late 1700's and even hosted a 30-course dinner for George Washington! It functioned as several different kinds of businesses and eventually fell into disrepair, but in 1982 McCrady's was finally restored and gained a spot on the National Register of Historic Places and Landmarks. The bar boasts an incredible selection of more than 1,000 bottled wines, classic and signature cocktails, domestic and imported beers and a variety of scotches and whiskeys. Pair your beverage with modern southern cuisine highlighting fresh, seasonal and locally-sourced ingredients.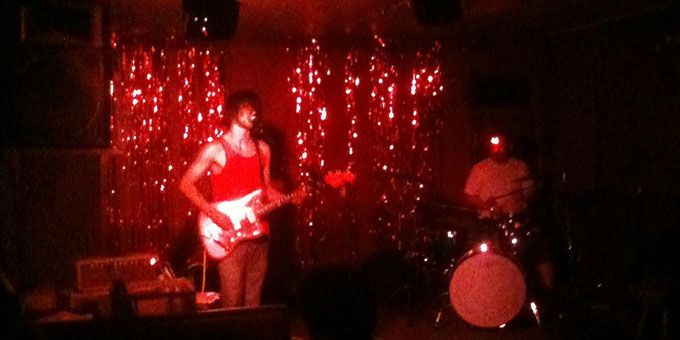 115 27th Ave. N, Nashville, TN 37203
The Springwater Supper Club & Lounge[12] was established in 1896 and claims to be the oldest bar in Tennessee. The lounge hosts an eclectic variety of live music and attracts all sorts of visitors with a location right next to Centennial Park. During prohibition, Springwater Supper Club & Lounge was a speakeasy and although it has functioned under several different names and purposes, like a trading post, a brothel and a library, it's quite the dive bar these days.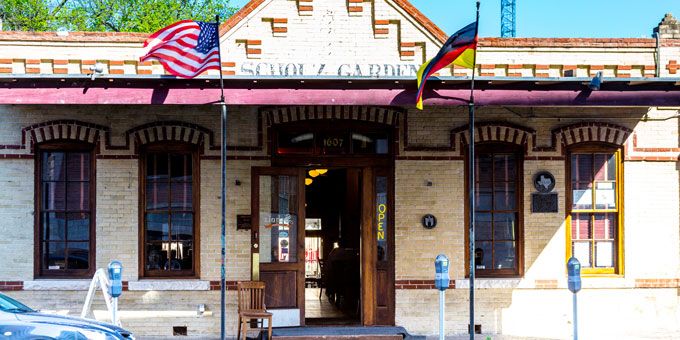 13. Scholz Garten in Austin, Texas
1607 San Jacinto Blvd., Austin, TX 78701
Scholz Garten[13] was established in 1866 by August Scholz, a German immigrant. The bar was built over an old school house and quickly grew to become a common location for events and celebrations in the Austin area. During prohibition, the beer garden continued to thrive with its creation of a new non-alcoholic brew, and Scholz Garten's German and Texas-influenced cuisine gained popularity during that time as well. The beer garden, now a historic landmark, was the original meeting place of the German social club Austin Turn Verein and a favorite meeting place of the Austin Saengerrunde, the oldest ethnic organization in the city. Today, the restaurant and bar still serves as a beloved piece of Texas culture and tradition, serving delicious food and brews with pride.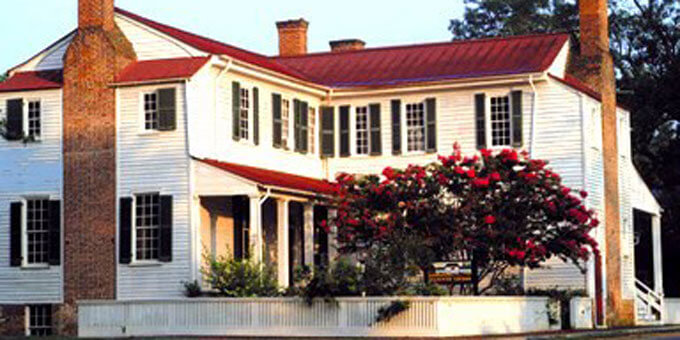 14. Hanover Tavern in Hanover, Virginia
13181 Hanover Courthouse Rd., Route 301, Hanover, VA 23069
Hanover Tavern[14] was established in 1733 and is one of America's few rare colonial era taverns still standing. It originally occupied 550 acres at Hanover Courthouse but grew to encompass 3.5 acres total. Hanover Tavern served as a post office, a community center and a stopping point for both the Confederate and Union troops during the Civil War. In 1953, a group of actors bought the tavern and created the Barksdale Theatre, a dinner theatre that still calls Hanover Tavern home. The tavern was restored to its original glory by the Hanover Tavern Foundation and visitors can enjoy historic tours, theatre productions and a delightful meal paired with their drink of choice.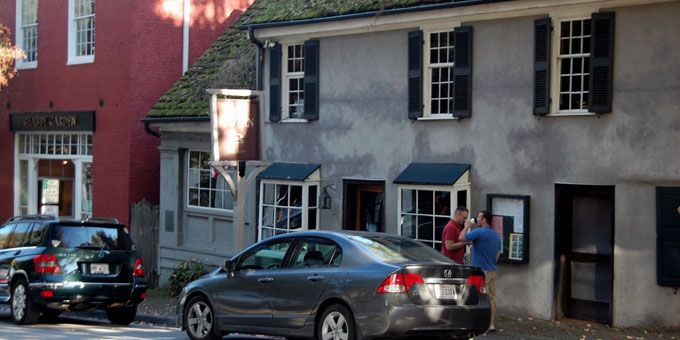 15. The Tavern in Abingdon, Virginia
222 E. Main St., Abingdon, VA 24210
The Tavern[15] is located in Abingdon's oldest building and although the tavern itself opened in 1994, the location dates back to 1779. The building was first used as a tavern and inn and served notable people like President Andrew Jackson, Henry Clay and Charles L'Enfant, the designer of Washington, D.C. Over time, the location was repurposed as several different kinds of shops, a residence and finally a restaurant. Patrons enjoy The Tavern today as a family-friendly restaurant with impressive wine and beer lists, great food and a comfortable atmosphere.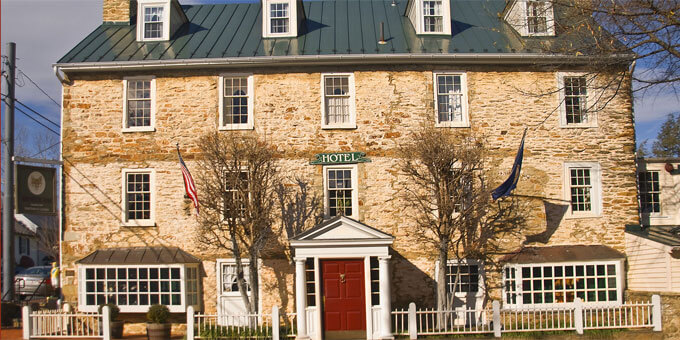 16. The Red Fox Inn and Tavern
2 East Washington St., Middleburg, VA 20117
The Red Fox Inn and Tavern[16] was established in 1728 and the stone walls, stately fireplaces and dimly lit dining room all speak to a historic past. Almost three centuries have seen The Red Fox Inn and Tavern and during the Civil War, the bar was actually used as a surgeon's table. The Red Fox has also served several notorious people such as President Kennedy and his wife Jackie. Patrons enjoy the authentic food and drinks, even featuring the classic colonial peanut soup.
Do you know of any other historic southern bars we forgot to mention? Leave us a comment and let us know if you've been to any listed above.