Avoid the tourist traps and uncover the tastiest local hotspots.
Nashville is a premiere destination for many reasons: great music, great shows and of course, one of the best food scenes around. You can find just about anything in Nashville. Farmers markets, sophisticated fine dining, down home southern cooking, ethnic platters … you name it.
So when it comes down to choosing a place to eat while on vacation in Nashville, how can you possibly make a decision? Ask the locals. They know where to find the most delicious eats without all the touristy distractions. So next time you find yourself in the Music City, stop by one of these local hotspots and dig into a delicious and authentic Nashville dining experience.
Feel like a local and experience the best of Music City foodie experiences with these beloved eateries. These Nashville restaurants are among local favorites, so from hole-in-the-wall places to famous saloons and restaurants, be sure to grab a bite to eat at one of these places during your getaway.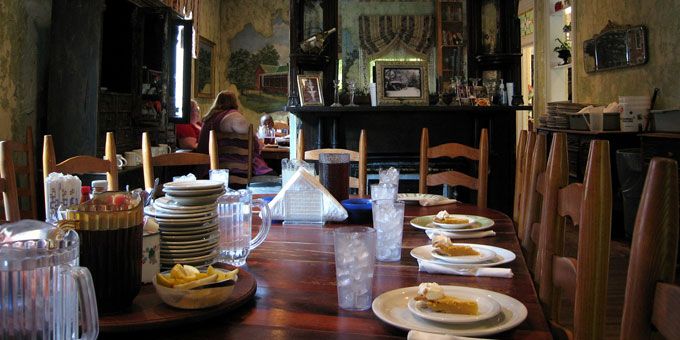 10. Monell's
1235 6th Ave. N, Nashville
Enjoy a communal, family-style meal at Monell's[1], where great food is never more than an arm's length away. Homestyle favorites are the main staple of this fine establishment, with the skillet fried chicken and corn pudding being some of the most popular items on the menu. Guests can choose from delicious and filling meals for breakfast, lunch or dinner, alongside mouthwatering desserts that are well worth the extra calories. Strudels, pies, sweet muffins and cookies are just the start of it.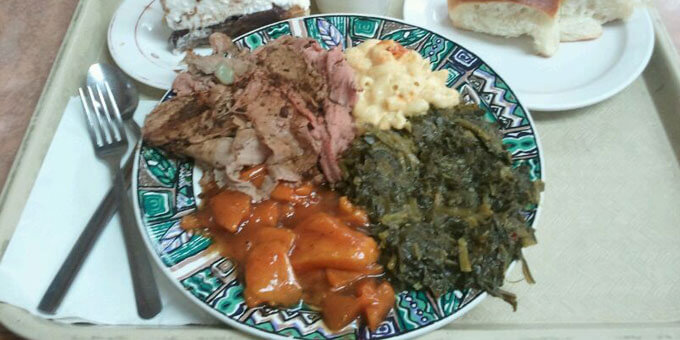 9. Arnold's Country Kitchen
605 8th Avenue South, Nashville
You're likely to encounter a long line at Arnold's Country Kitchen[2] when you stop in for a bite, but that's only because everyone knows how delicious this 33-year-old homestyle restaurant is. With a rotating menu each day, the selection is always a broad one. The restaurant is set up like a buffet, with a steam table and tray line, featuring specialty meats like roast beef, liver and onions, kielbasa and kraut, baked tilapia and fried chicken lined up for the picking. Each day brags different side options as well, but you'll probably come across eats like pinto beans, fried apples, mac & cheese, candied yams, stewed okra and more.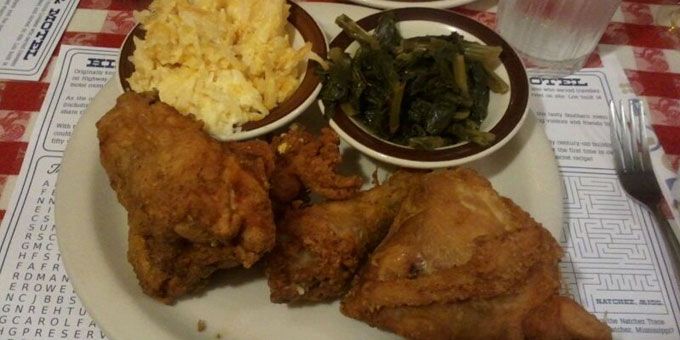 8. Loveless Cafe
8400 Hwy. 100, Nashville
For more than 60 years, Loveless Cafe[3] has been serving up delightful, classic southern food and buttery hot biscuits that put just about every other recipe to shame. (But seriously — people come back raving about the biscuits, so don't miss them!) Breakfast platters have all those southern fixings and the dinner selections feature fried pork chops and catfish, savory smoked meats, homemade chicken salad, pork barbecue sandwiches and so much more.
7. Peg Leg Porker
903 Gleaves St., Nashville
This no frills, traditional barbecue joint is one of Nashville's most notable. With such a simple interior, one wouldn't expect such a variety of meal options, but Peg Leg Porker[4] certainly offers flavorful and savory meats. The dry smoked ribs are smoked over hickory for more than 18 hours and when plated, this crowd favorite slips right off the bone. And homestyle sides like smoked green beans, mac and cheese and creamy potato salad top off an enticing meal full of flavor and satisfying comfort food. A favorite among locals and tourists alike, Peg Leg Porker was named one of the Top 10 Barbecue Joints in the U.S. by Paula Deen Magazine in 2014.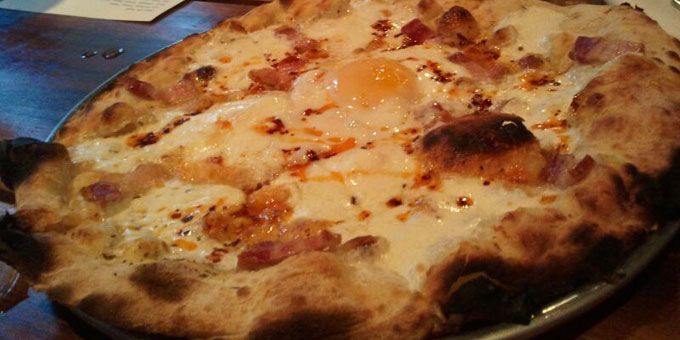 6. City House
1222 4th Ave. N, Nashville
This upscale Nashville favorite is nestled in the historic Germantown district near the bank of the Cumberland River. Visitors stop by for the inviting ambiance and eclectic menu full of heavenly entrees and a broad drink menu of beer, fine wine, whiskeys and cocktails. Choose from an ever-changing selection of entrees made with fresh ingredients and a unique special Sunday menu, meant for sharing. Try one of City House[5]'s infamous pizzas topped with smoked sausage, pineapple, red onion, buttermilk cheddar and serranos. The most eclectic eaters can stop by and pick up a bowl of popcorn with uncharacteristic flavors of hot chicken!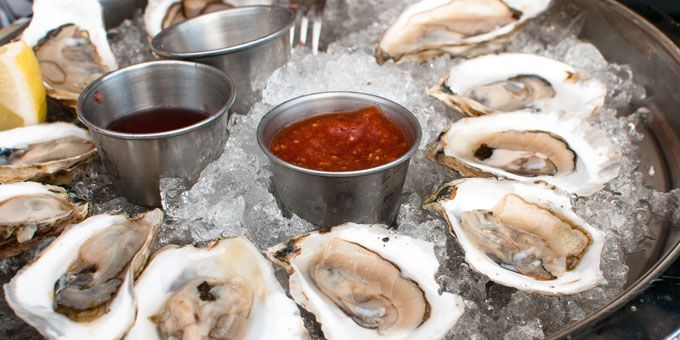 5. The Southern Steak & Oyster
150 3rd Avenue South, Nashville
This upscale downtown restaurant is well-known by Nashville locals as a flavorful experience bursting with inventive cuisine. Chef Matt Farley creates the dishes at The Southern Steak & Oyster[6] and treats guests to a "shuck-to-order" oyster bar that just can't be beat. Not to mention fresh, local ingredients, sustainable seafood and a wood-fired grill all add to this eatery's exotic flair. The menu is perfect for any time of day, breakfast, noon or night and an outdoor patio provides ideal seating for these warm summer days.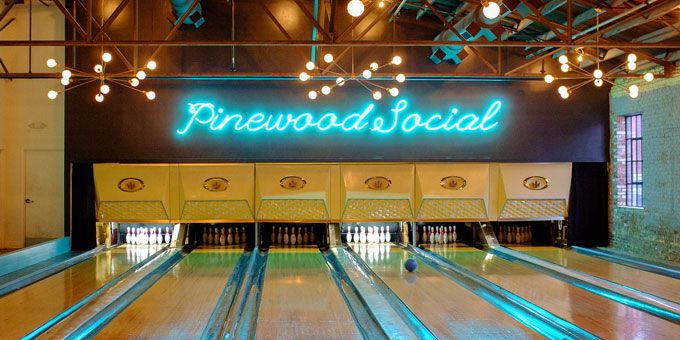 4. Pinewood Social
33 Peabody St., Nashville
Pinewood Social[7] leaves absolutely nothing to be desired. A well-stocked menu of diverse foods, cocktails, beer and Crema Coffee (a local coffee company) keeps patrons routinely satisfied and coming back for more. This place doesn't only serve good food though. Guests spend hours relaxing in comfortable couches and chairs in the living room area, hanging out at the bar, enjoying a game of pool at the vintage bowling lanes, relaxing at the pool or sipping a cocktail in the outdoor courtyard. It's easy to see why such a diverse place attracts so many locals.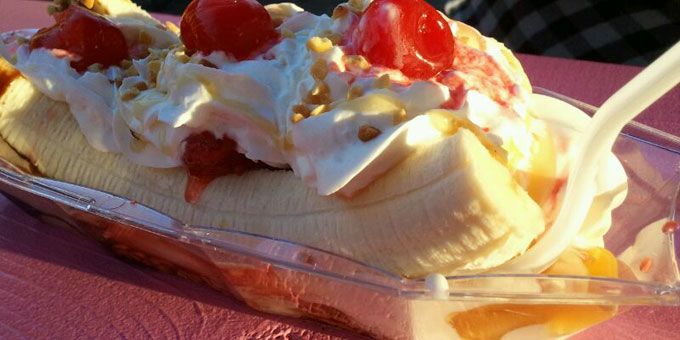 3. Bobbie's Dairy Dip
223 4th Ave. N, Nashville
Bobbie's Dairy Dip[8] is a Nashville treasure, attracting residents and visitors of all ages with irresistible ice cream treats and one-of-a-kind burgers and sandwiches. The black bean and garden burger are two favorites among vegetarians, while the bacon cheeseburger remains a steady crowd favorite. For dessert, the staff whips up dreamy double brownie sundaes, strawberry shortcakes, hot fudge cakes, thick creamy shakes and more. While the Dairy Dip may not look like much from the outside, you'd be mistaken not to check out this hole-in-the-wall gem for yourself.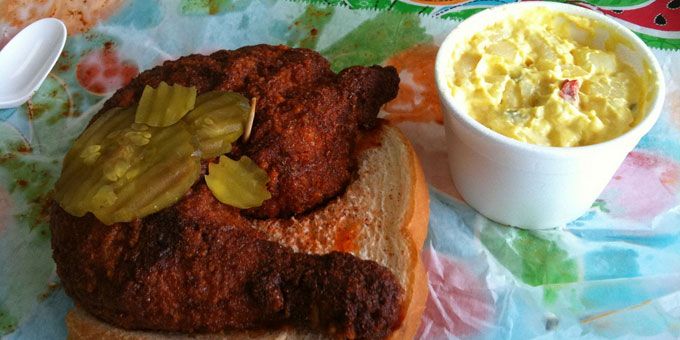 2. Prince's Hot Chicken Shack
123 Ewing Dr., Nashville
This cash-only joint is all about the spicy chicken. Whether you get the breast, the leg, the half or the whole, your options are basically not hot, or hotter than fire. Prince's Hot Chicken Shack[9] doesn't bother with glitzy decor; they get right down to the nitty gritty and cook up some of the juiciest, most flavorful chickens and pair them with piles of pickles, baked beans, coleslaw, potato salad and slices of white bread. Finish it off with a heavenly slice of pie and you're good to go.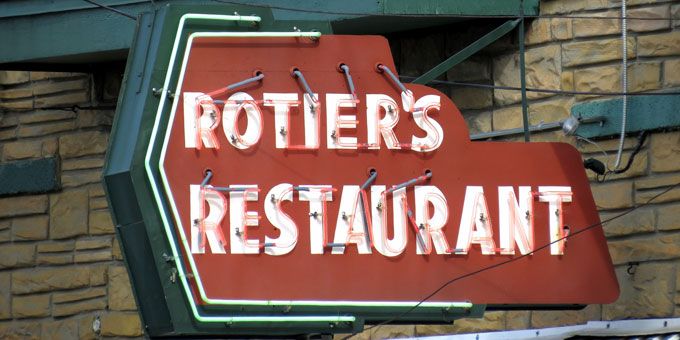 1. Rotier's Restaurant
2413 Elliston Place, Nashville
If you're on the lookout for a juicy burger and a thick, creamy milkshake, Rotier's[10] is the place to go. The notorious Cheeseburger on French Bread is what made this place famous but the delicious eats don't stop there. Add unique toppings to your Grilled Cheeseburger on Bread like a fried egg or pimento cheese, dig into a fried bologna sandwich or order something different and try the chicken gizzards, hailed by the locals. After 70 years, you'd assume Rotier's has got it right and according to the locals, they do. Homemade potato chips, delicious brews that quench your thirst and a lively, thriving group of regulars make this place enjoyable all around.
Have you tried any of these local favorites in Nashville? What's your favorite place to eat in Nashville when you visit? Comment below!