A behind-the-scenes look at how your favorite Easter candies are made.
Did you know it takes more than a week to make a single Jelly Belly jelly bean? Well, perfection takes time and making candy actually takes a lot of chemistry and technique.
You might look at a Hershey's Kisses and think, "Well, I could make something similar at home with the right equipment and ingredients." But could you make a cordial cherry at home without puncturing the chocolate shell like Queen Anne does? I know I couldn't. (They use an enzyme called invertase that I know for a fact is NOT in my spice cabinet right now.)
Hershey, Mars, Dove, and Wonka (among others) reign supreme in the candy industry, and each have their tricks and secrets when it comes to making America's favorite Easter candies. So what if you had the chance to get a behind-the-scenes look at the magic?
Well, the good news is, you can! Several candy factories offer self-guided or guided tours that allow you to explore the ins and outs of their candy-making techniques. So this Easter while you're packing your kids' Easter baskets full of those delicious solid, milk chocolate bunnies, Peeps, and pastel colored M&Ms, you can also treat them to a tour of the factory where their favorite treats were crafted to perfection.
Do you have a sweet tooth? Indulge in some of the best cities in the country with these candy tours!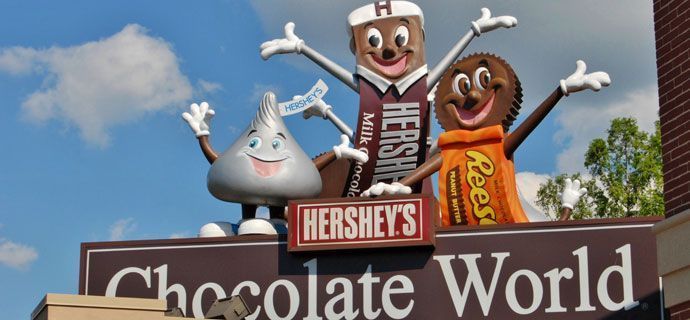 Hershey Chocolate Company — Hershey, PA
Hershey is responsible for a variety of delectable Easter candies floating around out there. Reese's Peanut Butter Eggs and Bunnies, Whoppers Robin Eggs, hollow milk chocolate bunnies and, of course, we can't forget about those mouthwatering Cadbury Creme Eggs! But before you start drooling, let's talk about how this household name came to be.
The Great American Chocolate Tour
Although tours through the actual factory are not permitted, The Great American Chocolate Tour at Hershey's Chocolate World (which is in the same complex as Hersheypark) is a comparable option and admission is free! This riding tour takes visitors through the entire chocolate-making process, or what some chocolate companies call, "from bean to bar." Once you hop in the coaster car, you'll be transported through a tropical rainforest, abundant with cocoa beans, all the way to the simulated Hershey factory, where the magic happens.
You'll get a close look at the production process as you ride by high-definition videos on the walls and models of factory controls and industrial equipment used during the manufacturing process. Even watch as ingredients are mixed and then crafted into your favorite treats.
Complete with life-sized candy bar characters and dancing cows, the Great American Chocolate Tour is entertaining for kids while still educational and interesting for adults too.
But the best part of the tour is saved for the end. It would just be cruel to make you suffer through all those delicious smells and sights without appeasing your appetite, so (lucky for you) Hershey employees provide a delicious and free chocolate sample at the tour's conclusion.
An off-season visit in the winter or early spring makes for shorter lines and parking is even free outside the summer months of May to September. So now is the perfect time to go if you haven't had the chance to get there.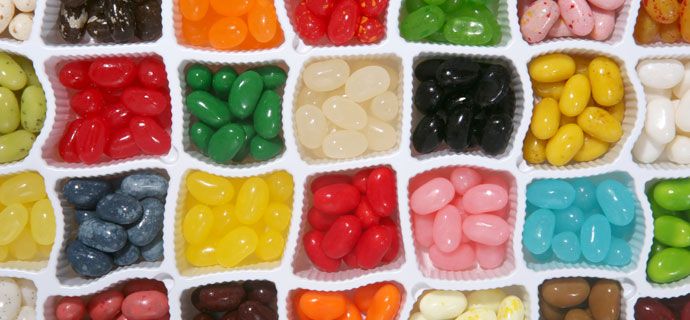 Jelly Belly Candy Company — Fairfield, CA/Pleasant Prairie, WI
With 50 taste bud-inspiring flavors ranging from cappuccino and caramel corn, to crushed pineapple and strawberry cheesecake, these gourmet jelly beans are a crowd favorite. Commonly found in Easter baskets around the country, Jelly Belly beans have become a classic American candy. Not just that, but Jelly Belly's real world reproduction of Harry Potter's Bertie Bott's Every Flavour Beans gives kids everywhere bragging rights with those bizarre booger, vomit, and earthworm flavors. I mean, what kid wouldn't want to taste that?
Jelly Belly Factory Tours
The Fairfield Visitor Center in California[1] or the Jelly Belly Center in Wisconsin[2] are both open doors into the larger-than-life kitchens that pump out these delicious, chewy creations.
Fairfield, CA tour: The Fairfield Center invites visitors to embark on a free 40-minute walking tour, that was once declared the "best factory tour in America" by Reader's Digest. While many candy factories don't permit factory tours due to FDA regulations, Jelly Belly is special in that it allows visitors to see the real working factory and its day-to-day operations.
An experienced guide will lead you through the factory while explaining how each of Jelly Belly's 50 flavors are created. You'll get to watch the factory workers transform simple ingredients into familiar treats and see all the machines that make the process a whole lot easier. The Jelly Belly factory tour also details the production of the company's more than 100 other candies, gummies, and goodies.
Pleasant Prairie, WI tour: The Jelly Belly Express Train Tour at the Jelly Belly Visitor Center in Pleasant Prairie delights guests with a 25-30 minute train ride through the warehouse. You'll stop at several different informative stations that illustrate the history of the company and the candy making process.
The journey through "Candy Alley" comes complete with entertainment, featuring a chorus line of dancing Jelly Belly characters and jelly bean art.
Both of these tours provide free samples of any flavor jelly bean, and a visit to either location's candy store will ensure that you leave with a stockpile to take home with you.
Tours are available daily from 9 a.m.-4 p.m at both locations. Reservations are not required unless you have a group of 20 or more. Tours depart every 15-30 minutes.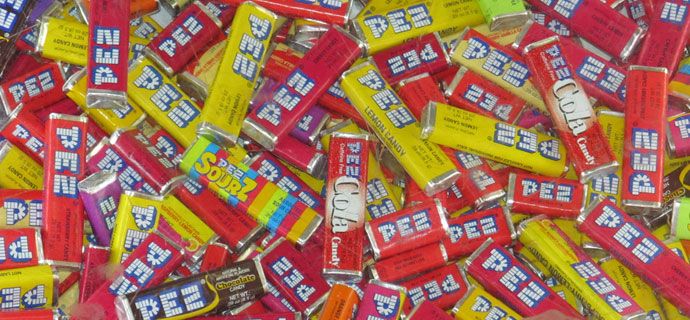 PEZ Candy — Orange, CT
PEZ Candy is a fun, customizable treat for just about any holiday or occasion, and Easter is the perfect excuse to fill baskets with cute, pastel-colored bunny dispensers. The PEZ Candy Company has been in operation for almost 90 years, supplying the world with those tasty rectangular bites. Flavors range from fruity to chocolate, to Sourz to Cola, and more, but dispensers are really what add a touch of flair to any bite.
PEZ Visitor Center
The PEZ Visitor Center[3] is just 45 minutes southwest of Hartford and offers self-guided visits. The visitor center is home to more than 4,000 square feet of PEZ collectibles and artifacts, an interactive timeline, the world's largest PEZ dispenser, a factory store, and more.
The manufacturing area is not open for visitor tours, but there are viewing windows into the production floor and supplemental videos for a behind-the-scenes look at the making of PEZ candy.
While you're making your way around the visitor center, make sure to take advantage of the detailed candy demonstrations, provided by the staff, and watch a batch of PEZ Candy being made from start to finish. Afterward, you'll even get a taste! Reservations are required for the candy demos, but it comes free with your admission charge.
The Visitor Center is also hosting an Easter egg hunt on March 28 for kids 12 and under. Just make sure to bring your own basket and get ready to meet the Easter bunny, who will be waiting inside the center from 1-2:30 p.m. to say hello!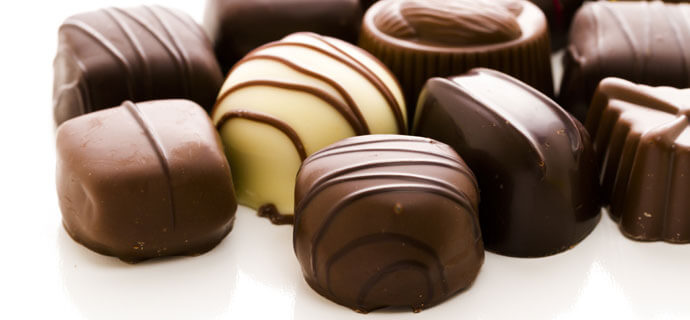 Fannie May — North Canton, OH
When it comes to Easter candy, Fannie May makes just about any delicious treat you could ever want; cream-filled eggs coated in a thick layer of chocolate, solid milk and dark chocolate bunnies, Pastel Mint Meltaways, and the decadent Caramel Pecan Fudge Egg … I should just stop before I ruin your diet. But the Fannie May company has been around for more than 90 years and their legacy may be just as rich as their chocolate.
Fannie May Chocolate Tours
The Fannie May/Harry London factory[4] in North Canton, Ohio provides guests with a free 45-minute guided tour through their history and production process. The tour incorporates the company's full history along with close-up views of cocoa beans being converted to chocolate, then combined with fresh ingredients to create those smooth-tasting candies we all love.
Following a brief video presentation, your guide will accompany you for a stroll along the catwalk above the enclosed manufacturing area. During you walk, your guide will share a wealth of knowledge about the more than 500 varieties of gourmet chocolates and candy produced in the factory. Although hard to believe, this facility actually uses more than 30,000 pounds of chocolate and 10 gallons of vanilla each day. That's 150,000 pounds of chocolate in a five-day week!
Your tour will end with a free chocolate tasting in the chocolate shop, and of course, you'll have plenty of opportunity to pick up your favorite treats for the ride home.
Tours are available Monday-Thursday from 10 a.m.-4 p.m. and reservations are only required if you have a group of 20 or more.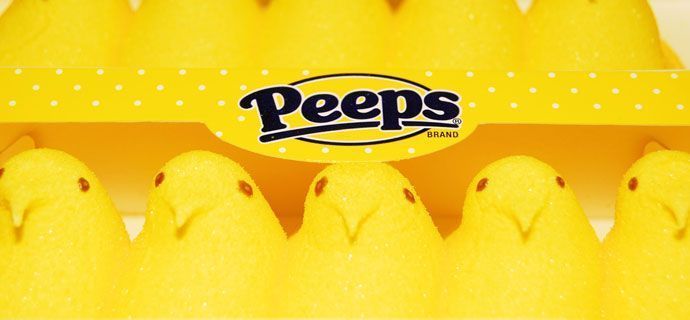 But what about Peeps?
You didn't think I'd forget, did you? Just Born Candy Company may not be a household name, but their popular marshmallow Peeps sure are. And an Easter basket just isn't complete without them! Those fluffy, colorful wonders are produced right alongside the popular Hot Tamales and Mike and Ikes, and the company is actually the world's largest manufacturer of novelty marshmallow treats.
Unfortunately, Just Born doesn't offer factory tours because of FDA guidelines, sanitation, and safety procedures, but all hope is not lost! They offer a virtual factory tour here[5], if you're really curious to know how those delicious marshmallow favorites are crafted. As for me? I think I'll just stick to buying them in bulk.
Do you know of any other great candy factory tours? Please leave a comment. We'd love to hear about them!