Escape everyday life with a visit to one of these beautiful getaways.
Honeybees populate so many of the crops and flowers we enjoy like strawberries, onion, watermelon, sunflowers and raspberries. But the recent controversy over the decline in honeybee population[1] due to neonicotinoid pesticides, climate change and habitat loss, has some worried about the future of these plants we've come to rely on and love.
Luckily, there are many public gardens that promote a common respect, education and appreciation for gardening and the pollination of plants and flowers, and Georgia happens to be a hotspot for many these beautiful botanical gardens. With almost 20 different public gardens just waiting to be discovered, you can spend a day enveloped in the peaceful beauty of a botanical garden, all while discovering the importance of honeybees and everything they do for us.
Southern flora and fauna is truly a sight to behold. Whether you are interested in botany or simply want to enjoy the most scenic and picturesque views on this earth, be sure to visit these unique botanical gardens in the gorgeous state of Georgia.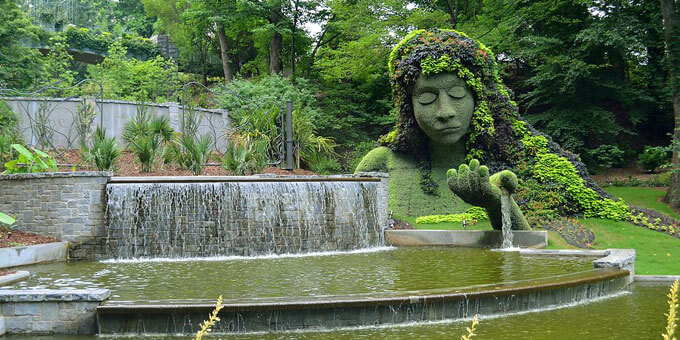 1. Atlanta Botanical Garden
The Atlanta Botanical Garden[2] in Atlanta is famed as one of the largest woodland gardens in the country and is home to a variety of plants and flowers. The indoor Fuqua Orchid Center features a magnificent waterfall surrounded by radiant Andean orchids, bright blueberries and slick, moss-covered logs. Nineteen different collections throughout the garden including the Hydrangea Collection, the Dwarf and Rare Conifer Garden, the Japanese Garden and more all display an unbelievable array of natural beauty. The Atlanta Botanical Garden also hosts a number of activities and classes for visitors young and old, like a class on yogurt and soft cheese-making, practical beekeeping and growing edibles. Be sure to visit some of the other awesome Atlanta endeavors, from dining options to shopping at some awesome Atlanta Outlet Malls!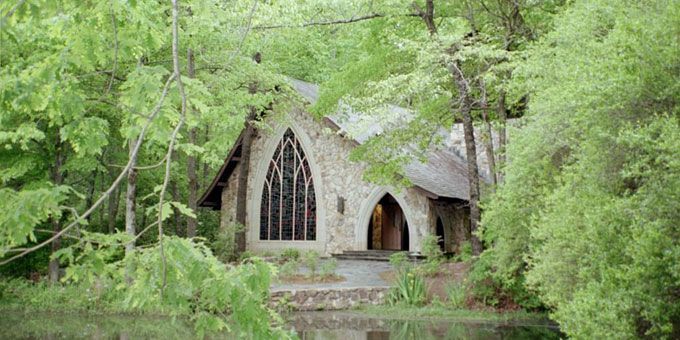 2. Callaway Gardens
2. Callaway Gardens
Seven miles of nature trails, recreational sports on Robin Lake and 20,000 brilliant azaleas are just a few of Callaway Gardens[3] dazzling sights to see. Visitors can begin their visit at the Callaway Gardens Discovery Center in Pine Mountain, where the garden tour begins. Catch a glimpse of some of the area wildlife like, ruby-throated hummingbirds and tiger swallowtail butterflies and a variety of songbirds as you explore the garden's many avenues and collections. The Callaway Brothers 40,000-acre Azalea Bowl on the hillside is a must-see alongside the Overlook Azalea Garden which is coated in vibrant red, pink and cream-colored petals in the spring. The gardens are also home to several historical sights like the fieldstone quartz Ida Cason Callaway Memorial Chapel and a 19th-century pioneer log cabin.
3. Coastal Georgia Botanical Gardens
The Coastal Georgia Botanical Gardens[4] in Savannah is home to 16 different gardens and plant collections, ranging from hardy palms and Chinese pistachio trees, to bearded irises and exotic camellias. Just 19 miles from the coast of the Atlantic Ocean, this location is home to the historical bamboo garden first planted more than 100 years ago. The Coastal Georgia Botanical Gardens also features a 50,000-gallon water garden, centered around a 9-foot cascading waterfall, populated with aquatic plants and stunning water lilies. One of the garden's newest areas, the Shade Garden, rests near the shores of freshwater lakes where loblolly pines, ferns and Glenn Dale azalea sprout up from the ground.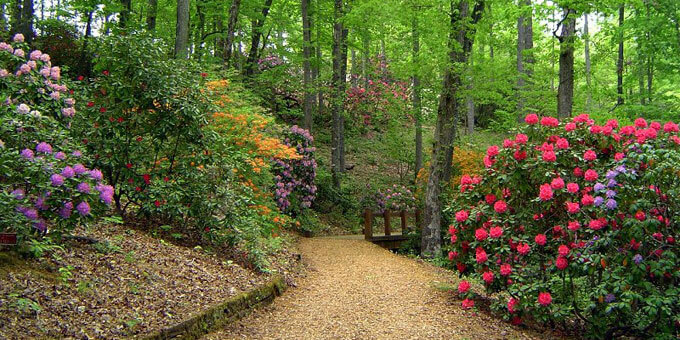 4. Hamilton Gardens at Lake Chatuge
The Hamilton Gardens at Lake Chatuge[5] in the North Georgia Mountains of Hiawassee is the area's best kept secret. The 3,000-plant collection includes the largest rhododendron collection in the state of Georgia and the only domestic yellow azalea known to exist. The mile-long trail loops lead visitors through a maze of natural beauty in a peaceful oasis filled with cherry trees, dogwoods, lady slippers and tulip magnolias. Among the lush plant variety, Lake Chatuge serves as the perfect backdrop. Guests are welcome to attend several different events throughout the year, including a fall festival, and during the spring, they can purchase flowers from a variety of rhododendrons, azaleas and other plants from the garden.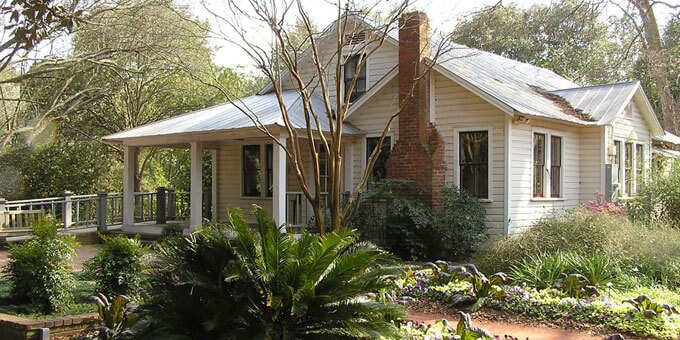 5. Garden of the Coastal Plain
The Garden of the Coastal Plain[6] in Statesboro is home to more than 11 acres of woodland trails, an arboretum, the Whelchel Camellia Garden and more. The breathtaking Georgia landscape has been overtaken by longleaf pines, magnolia branches and cottage courtyards filled with stunning hydrangeas and perennials. The flowers attract an array of hummingbirds and fluttering butterflies for viewing throughout the gardens and daily changes assure there's always something new to see at the Garden of the Coastal Plain. The Heritage Farmyard, Weathervane Barn Rural Life Exhibit, Oak Grove One Room Schoolhouse and the Kennedy Outdoor Classroom all provide plenty of outlets for educational opportunities and a Children's Learning Garden that makes learning about plants fun and exciting.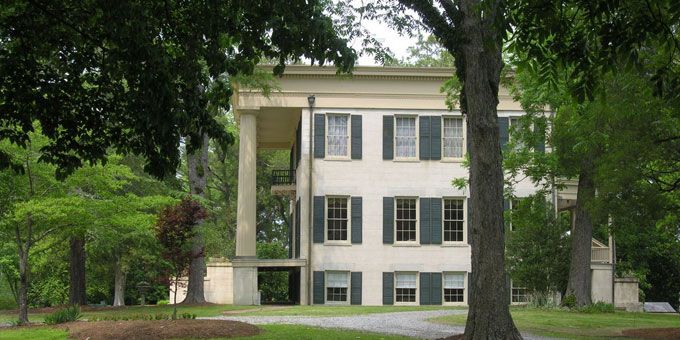 6. Lockerly Arboretum
The Lockerly Arboretum[7] in Milledgeville has been an educational public garden for more than 50 years now, providing visitors with 50 acres of walking trails, magnificent gardens and experienced gardeners and horticulturists who can answer questions about gardening at home. A variety of volunteer opportunities are also available at the arboretum, ranging from keeping the grounds clean and healthy, to planting in the garden. The Lockerly Arboretum showcases a large selection of camellias, azaleas, perennials, annuals, hollies alongside oak trees and magnolia trees. The gardens' nearby pond is outfitted with picnic tables so visitors can enjoy a relaxing lunch and the historic Rose Hill mansion on the property is open for self-guided tours as well.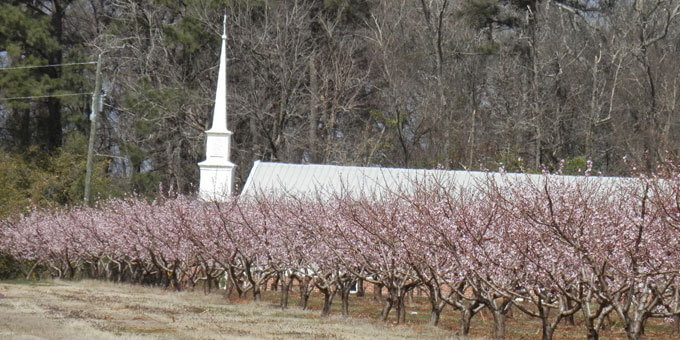 7. Massee Lane Gardens
Massee Lane Gardens[8] in Ft. Valley is regularly used for weddings and other events because of its spectacular beauty. An International Camellia Society Garden of Excellence, Massee Lane Gardens claims to be one of the world's finest collections of camellias with a nine-acre garden. The visitor center offers informative slide shows about the gardens, a gift shop, auditorium and reception room for group events and gatherings. Outside, the Abendroth Japanese Garden and the Scheibert Rose Garden are a brilliant display of rare natural beauty and invite visitors to stroll the day away, observe the wildlife and soak up the views. On-site, the Stevens-Taylor and the Annabelle Lundy Fetterman Educational Museum provide a porcelain display for guests to enjoy as well.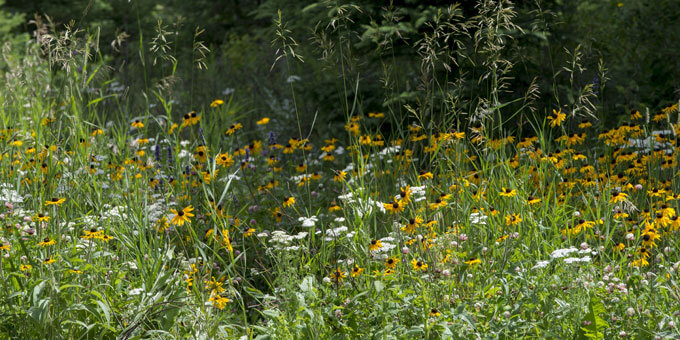 8. State Botanical Garden of Georgia
The State Botanical Garden of Georgia[9] in Athens offers a unique array of plants and flowers that do more than just look pretty. Of course, the brilliant displays are stunning; with colorful dogwoods, azaleas and magnolias bursting forth from every inch of soil as historically passed-along perennials return year after year in the Heritage Garden. But the State Botanical Garden of Georgia also places an emphasis on educating its guests, with a Tropical Conservatory, Herb & Physic Garden full of curious and exotic plants. The Stinging Nettle, for example, is grown in this collection, and although it's known for its stinging properties, it's actually grown for a variety of useful things. The Stinging Nettle is often used to treat arthritis and as an ingredient in shampoo to control dandruff. But the Herb & Physic Garden is just one of seven different collections and nature areas the botanical garden offers.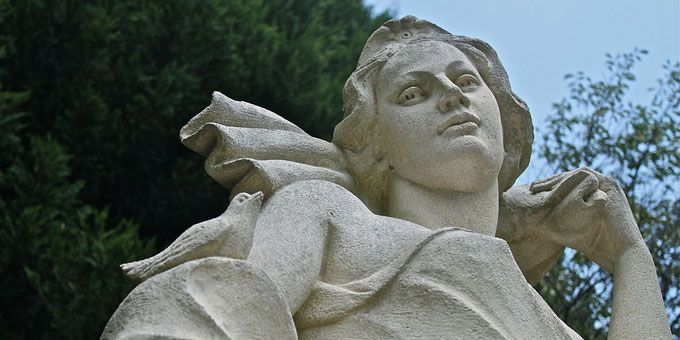 9. Vines Botanical Gardens
Vines Botanical Gardens[10] in Loganville went from being a private home, to a public garden, back to a private residence and finally to the county park it is today. The lush garden is centered around the glistening Swan Lake, where water birds perch in the afternoon sun. Several different fountains populate the park and a romantic bridge curves over one of the waterways, providing visitors with a gorgeous view of the growing vegetation and gorgeous flower beds. The Vines Botanical Gardens also features a water garden, a garden railroad, a rose garden and the Vines Mansion, which is commonly used for event rentals.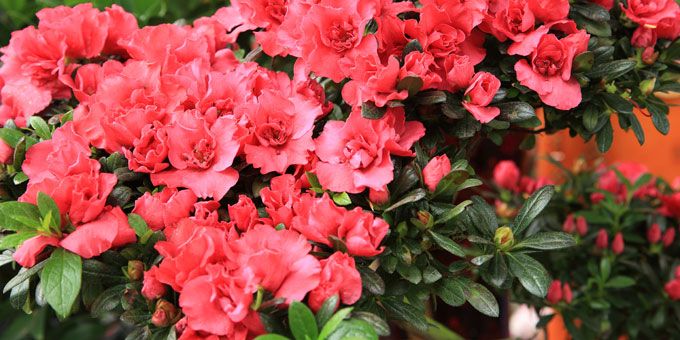 10. Waddell Barnes Botanical Gardens
The Waddell Barnes Botanical Gardens[11] in Macon is home to 16 different themed gardens with shaded walking trails intertwined throughout. Each different garden is bursting with extravagant beauty, whether it be a grove of cherry trees, Asian Shade Trees, a Conifer Garden or the beautiful colors of the Summer Garden; it's all a sight to behold. Each collection in the Waddell Barnes Botanical Gardens offers something different and even the winter months see new life in the Winter Garden with camellias, Spike Winterhazel, Dwarf Fothergilla and Slender Hinoki False Cypress.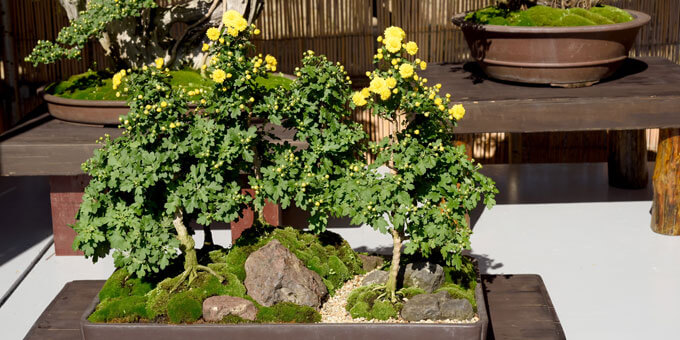 11. Smith-Gilbert Gardens
The Smith-Gilbert Gardens[12] in Kennesaw are home to more than 3,000 species of plants and the historic Hiram Butler House, built in 1881. The home was restored to its original beauty in the 1970s with several renovations, and today the Hiram Butler House is listed on the National Register of Historic Places. Of course, the garden has an unparalleled experience to offer as well. Sixty minute guided tours take visitors around the grounds where they will discover a variety of collections, including the Conifer Garden, the Perennial Garden, Cedar Field and Rose Garden, the Camellia Garden and much more. Make sure to note the 31 different carefully placed sculptures around the gardens! They tell the unique story of Mr. Richard Smith and Dr. Robert Gilbert and their beautiful garden collections.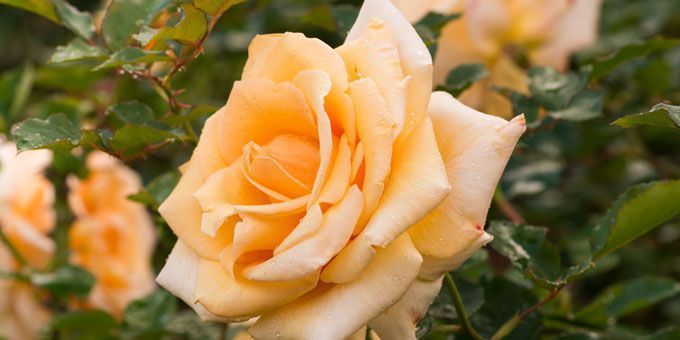 12. Savannah Botanical Gardens
The Savannah Botanical Gardens[13] in Savannah have been delighting visitors with breathtaking gardens, historical exhibits and the chance for peaceful relaxation since the 1980s. The gardens are centered around the historic Reinhard House, a 19th century Savannah home that was moved to the botanical garden in 1990, and it is often rented for special events and weddings. The Savannah Botanical Gardens are filled with natural beauty, from the winding nature trails to the two acre pond, archaeological exhibit and charming gardens featuring roses, perennials and herbs.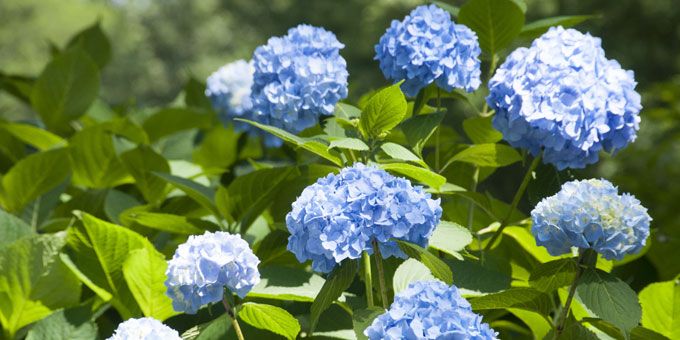 13. Dunaway Gardens
The restored Dunaway Gardens[14], located just south of Atlanta, features nearly 25 acres of historic gardens that were once frequented by celebrities, directors and performers during the 1930s and 40s. The gardens which were named after actress Hetty Jane Dunaway, eventually fell into disarray but in 2000, the owner decided to bring Dunaway Gardens back to life. Today, it's used by many professional photographers and brides for garden weddings, and visitors stop by for self-guided tours of the property, which is filled with fascinating sights to see. The four Arrowhead Pools surround a 60-foot totem pole carved by Chief Sawtee, the Hanging Garden is filled with stunning perennials and two stone staircases and a newly designed rose garden features cedar trellises, walking paths and more than 100 roses.
Have you had the opportunity to visit any of these beautiful botanical gardens in Georgia? Which would you like to visit? Share your thoughts in the comments below.