YOUR PEACE OF MIND IS OUR TOP PRIORITY
Should you need to cancel at any time, you have up to 48 hours from your vacation start date to do so for a 100% future travel credit.
Summer's just not complete without a visit to one of these.
Wisconsin Dells is internationally known as the "Water Park Capital of the World," and is home to some of the world's largest and most visited indoor and outdoor water parks. With the warmer weather on the rise, you can bet your kids are already itching to get to the water park and have some fun. So what better time to explore the fantastic options Wisconsin Dells has to offer than right now?
Cool off and have a splashing time in the Wisconsin Dells. These local water parks provide an amazing array of fun, making the Dells a popular vacation destination for those who love the water.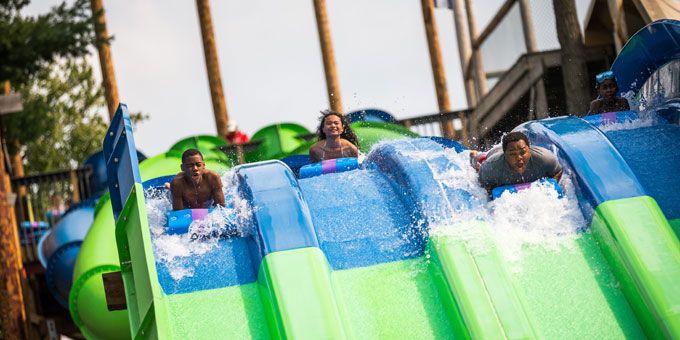 1. Noah's Ark
With more than 70 acres of fun, Noah's Ark in Wisconsin Dells has been deemed the largest water park in the world. Nine different thrill rides offer endless splashes and excitement for the daring fun-seeker, including the Black Anaconda, a ¼-mile-long water slide and roller coaster that pushes 30 mph, the Flash Flood, which sends you soaring over the edge of a gigantic waterfall, and the Time Warp, the world's largest bowl ride. Twelve less extreme rides also provide more gentle options for the little ones, with bumper boats, lazy rivers and kiddie slides galore. And of course, Noah's Ark provides a variety of fun activities on dry land too. Check out the 4-D Dive-In Theater, the arcades or the remote-control pirate ships of Hooligan's Harbor.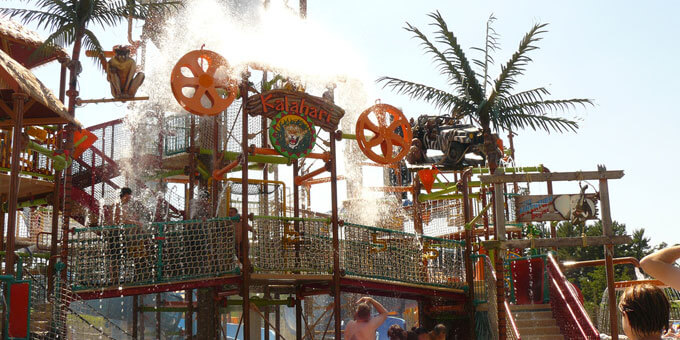 2. Kalahari Resort
Kalahari Resort Waterpark[1] in Wisconsin Dells is home to 15 exciting rides and attractions, perfect for the whole family. Choose from thrill rides like Flowrider, an extreme body boarding experience, the Screaming Hyena, a trap door water slide that drops you at a rip-roaring 25 mph descent, or the Sahara Sidewinders, an electrifying pair of indoor looping water slides that sends you flying more than 250 feet down into the water! If you're not into all the extreme stuff, relax at the Swim-Up Bar, where a delicious cocktail is just an arm's stroke away or soak in the Indoor/Outdoor Spa while the kids play. The little ones will enjoy Crocodile Cove, an activity pool filled with water chutes, spouts, basketball hoops and much more. This 125,000-square foot water park is open year round for endless poolside enjoyment.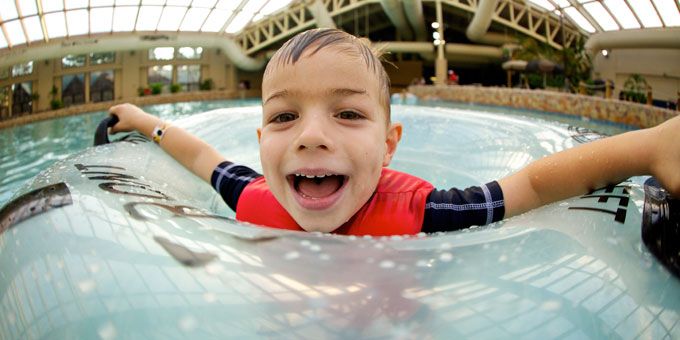 3. Logger's Landing at Grand Lodge
This 50,000-square foot indoor water park in Wausau is overflowing with exciting activities for all. Logger's Landing at Grand Lodge Waterpark Resort[2] features a host of attractions including two different activity pools, an enormous lazy river, a remote, relaxing whirlpool and seven waterslides. Whether you're wanting to sit back and relax or soak up some thrills, Logger's Landing is perfect for cooling off on those hot summer days. Dare to hop on the Sasquatch, an 84-foot tall water slide, or climb to the top of the Tree House, where several slides will take you right back down into the pool.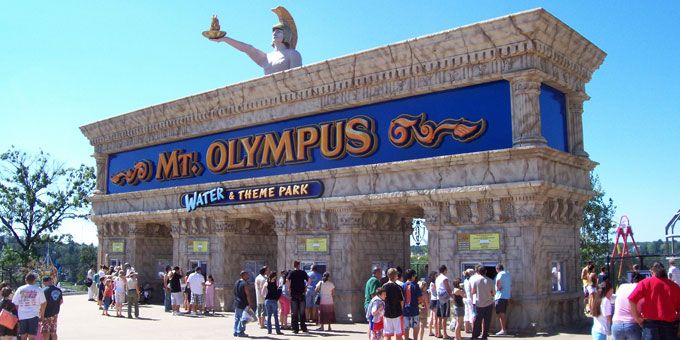 4. Mt. Olympus
With dozens of exciting rides and activities catered to guests of all ages, Mt. Olympus[3] outdoor water park in Wisconsin Dells is one of the area's premiere attractions. Each slide, play area and attraction brags a unique experience of its own, from the Lost City of Atlantis to the lazy (but fast) River Troy. There's always something new to try. Not to mention, Mt. Olympus is paired with an outdoor theme park, so when you're ready to dry off, you can just hop on some of those fantastic roller coasters and attractions nearby.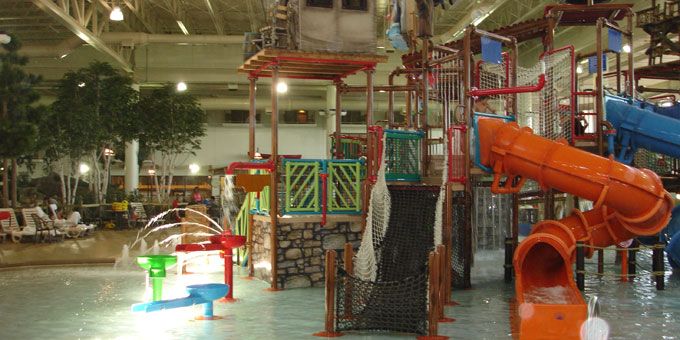 5. Chula Vista Resort
Chula Vista Resort in Wisconsin Dells has the advantage of providing guests with both an outdoor water park and an indoor water park. At Chula Vista, water park passes are included with an overnight stay, so you're automatically signed up for all the fun! The Incatinka Kiddie wading pool is great for younger children who just aren't ready to take on the larger slides and water features yet. Baby slides, water guns and small water geysers make for a safer and more enjoyable experience. The bigger kids will enjoy having 500 gallons of water dumped on them at Mount Montezuma's Mayan Temple, and the thrilling Flyan Mayan Up Hill Water Roller Coaster. Chula Vista's outdoor water park offers even more excitement with a kiddie river, wave pool, a pool specifically for water sports like volleyball and basketball, a sandy beach area and more.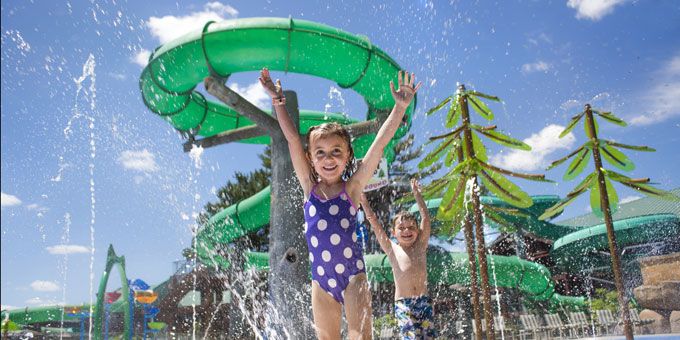 6. Wilderness Hotel & Golf Resort
The Wilderness Resort[4] in Mt. Olympus[5] outdoor water park in Wisconsin Dells boasts eight indoor and outdoor water parks, to which admission is included with every guest's stay at the resort. The five indoor parks include, Klondike Kavern, Wild WaterDome, Margarita's Indoor/Outdoor Swim-Up Bar, Wild West and Cubby's Cove, and feature themed adventures for every age group. The largest indoor park, Wild West, is home to more than 70,000-square feet of electrifying body slides, a dumping bucket, bumper boats and more. The four outdoor water parks include New Frontier, Lake Wilderness, Lost World and Cubby's Outdoor. Lost World covers 3.2 acres with an interactive lazy river, three hot spas, sports pools, wild body slides and a play area that's perfect for the younger kiddos.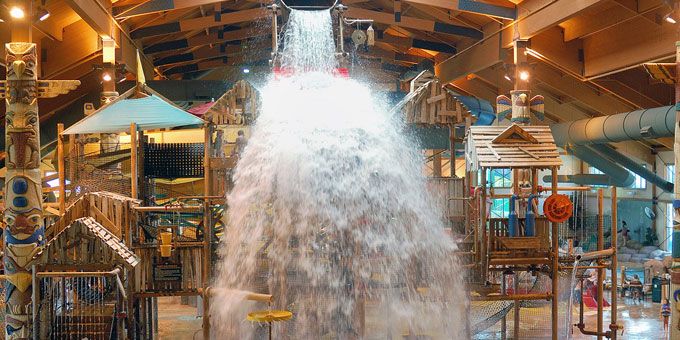 7. Great Wolf Lodge
With 16 different water attractions and rides, Great Wolf Lodge in Wisconsin Dells has more than just a catchy jingle. It has hours of endless fun and splashes! Kids absolutely love Fort Mackenzie, the interactive, multilevel tree house, and the Howlin' Tornado's six-story funnel will give you a run for your money. The Frog Bog Log Walk challenges younger kids with an agility course that can only end in belly flops and big splashes while the 132,000-gallon Crooked Creek lazy river carries you around the water park. Just looking to sit back and relax? Don't worry. Adults 18 and up can escape the madness and soak up the warm waters of the North Hot Springs while families can relax together in South Hot Springs.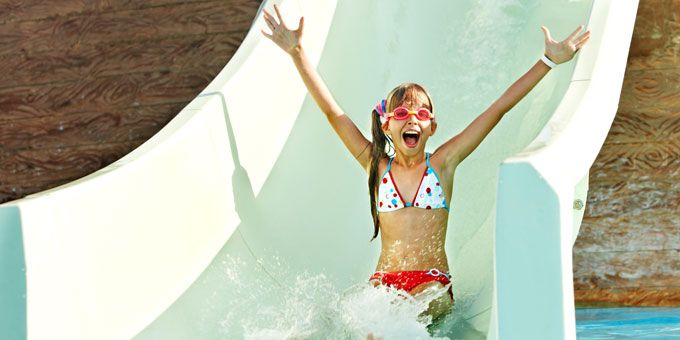 8. Polynesian Water Park Resort
Polynesian Water Park Resort was the Wisconsin Dells area's very first indoor water park, and today it covers more than 200,000-square feet with almost 500,000 gallons of water. Both an indoor water park and outdoor water park offer unparalleled fun, complete with water sports, amazing water slides, a lazy river and kiddie play areas. The Polynesian Water Park Resort also has the added advantage of being close to just about everything Wisconsin Dells has to offer. When you stay at the resort, you're just minutes from downtown, dozens of great dining options, boat tours, shopping and much more.
Are you thinking about spending some of your summer in the Dells? Have you already been to some of these great water parks? Share your memories with us in the comments below!