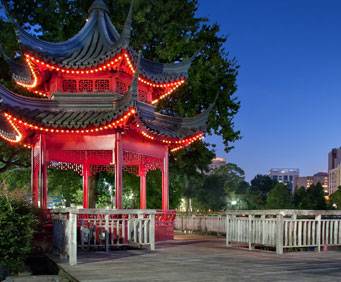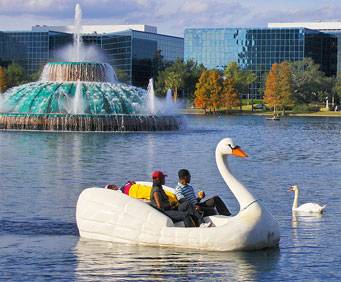 Lake Eola Park in Orlando, FL
195 N Rosalind Avenue Orlando, FL 32801
Lake Eola Park is one of Downtown Orlando's most popular destinations featuring beautiful scenery, paddle boat rentals, gondola cruises, special events, dining and more! Families can saunter through the park and feed the majestic swans, while couples can cuddle while being paddled around the lake in the romantic gondolas.
Special events are frequently held on the park grounds and at the Walt Disney Amphitheater, and there is also plenty of play equipment for the kids to enjoy! The Terrace, a small outdoor cafe, offers a great option for tranquil dining and the .9-mile long track allows visitors to jog or stroll through the picturesque scenery.
The park has been in Orlando since the 19th century with Lake Eola - which, like many central Florida lakes, is actually a sinkhole - as the centerpiece of the park. The park boasts an incredible 43 acres of natural wonder in the heart of Downtown Orlando, with just over half of the acreage taken by the beautiful lake. Fountains add to the majestic scenery in this exciting Orlando park, which always offers plenty of fun things to see and do! When you look into booking vacation packages Orlando Florida, be sure to visit some local parks as well.