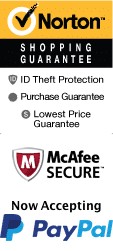 Memphis Ghost Walking Tour
197 Beale St Memphis, TN 38103
1-800-987-9852
Chat Now
Experience Memphis' unique side and the city's secrets of the supernatural on a haunted ghost walking tour adventure with this Ghost Walking Tour. This two-hour guided journey will be led by professional storytellers who bring the true, chilling stories of yesterday to life. You will walk through the South Main Historic District - the city's most haunted district - and discover the city's dark past.
You will visit the historic Orpheum Theater which is home to the ghost of a little girl who plays the organ and tricks the actors. You will also visit the John Alexander Austin House and the infamous Earnestine & Hazel's. At Earnestine & Hazel's, you'll hear all about the history of the former brothel and how it came to be one of the most haunted buildings in America. You will love hearing about the supernatural side of life with this ghost experience, so if you dare, add it to your itinerary.
About the John Alexander Austin House
See the outside of this beautifully restored 1800s mansion on this Memphis ghost tour. The house was originally built for a Confederate veteran and was added to the Register of Historic Places in 1984. This house is said to be haunted by two lovers.
About the Orpheum Theater
Memphis' most famous ghost, a 12-year-old girl named Mary, resides at the Orpheum Theater. Killed by a streetcar on her way to a show, she now wanders the theater and even occupies a specific seat. She is a mischievous spirit who likes to play pranks and slam doors.
About Earnestine & Hazel's
Step inside the historic Earnestine & Hazel's on this exciting ghost hunting adventure. Trek up the steps and learn about the area's history. The building was once a brothel, and it is said to be haunted by the apparitions of prostitutes who worked and were murdered there. You might even hear the jukebox start to play on its own accord or see shadowy figures. In some cases, people have been pushed and tugged on.
Reviews

Kam Scott
Inver Grove Heights, MN
✓
Verified Traveler
"There were ghost in my pictures."
When i first heard about this i though what fun and entertainment we were going to have. I listened to the tour guide who did a great job story telling i thought. I toke several pictures on the walk and had a great time. I though it was weird that night that i had problems with my new camera but just blew it off. When i developed my pictures i was amazed. I knew why my camera had issues. There were ghost in my pictures.

Robert Bisbee
Erie, PA
✓
Verified Traveler
"I HIGHLY recommend the tour"
Our guide was well informed,funny and gave us great in depth information during our walk.If you're into the paranormal,i highly recommend the tour(we even got some orb pictures).

Mary Evans

✓
Verified Traveler
"you should definitely not miss this ghost tour it was so much fun"
Most people go to memphis to see graceland and all the elvis things to see in memphis, but you should definitely not miss this ghost tour it was so much fun i loved it and who know maybe you'll see elvis presley's ghost.... Omg!

Charles B. Sprinkle
Irvington, AL
✓
Verified Traveler
Frequently Asked Questions for Memphis Ghost Walking Tour:
Is there any walking involved?

There is approximately 1 mile of walking on this tour.

Approximately how long does it last?

It lasts approximately 2 hours.

What type of dress & footwear are recommended?

Wear comfortable clothes and walking shoes.

Where does it depart from?

Beale St & BB King Blvd at Alfred's

What sights will actually be visited?

Earnestine & Hazel's
Book Now!