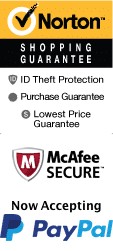 An Anniversary / Honeymoon Escape to Mackinac Island
Sweep your loved one off of their feet and embark upon a fun journey to Mackinac Island, one of the most romantic places in the country.
With this romantic endeavor, visitors will be able to experience Mackinac Island which provides a magical escape from every day life. This historic island is located on the beautiful Lake Huron, which provides stunning views. As well as great sightseeing opportunities, guests will be able to enjoy historic architecture, dining, shopping, and more.
>>MORE: Things to Do in Mackinac Island
Sightseeing
There are many places to see during your getaway to this island. As the entire island is registered as a National Historic Landmark, you can rest assured that the gorgeous architecture, lighthouses, and grand hotels are sure to impress. Go sightseeing on a fun carriage ride or take the ferry to see Whitefish Point Light Station. No matter how you spend your time on the island, you and your sweetheart can make lasting memories together.
>>MORE: Sightseeing Activities
About the Anniversary / Honeymoon Escape to Mackinac Island
Discover the true history of Mackinac Island with your loved one during your next big romantic getaway, with three nights of comfortable lodging and the Mackinac Island Carriage Tour.
About the Included Mackinac Island Carriage Tour
Mackinac Island is so unique as it does not allow motor vehicles on the island. To get around and see the best landmarks, the Mackinac Island Carriage Tour provides an awesome time. During your horse-drawn carriage ride, you will enjoy seeing some of the most interesting places in the area, including the Fort Mackinac Post Cemetery, Fort Holmes, Arch Rock, and Fort Mackinac.
About the Included Lodging
When you are done exploring, retreat back to your accommodations to spend the rest of your evenings in the peace and quiet that our exciting lodging has to offer. The lodging is all top-of-the-line here, and you'll find it warmly adorned to be your home away from home.
>>MORE: Lodging in Mackinac Island
Enjoy a fantastic adventure with your loved one with this Anniversary / Honeymoon Escape to Mackinac Island. It includes three nights of lodging and a Mackinac Island Carriage Tour.
Frequently Asked Questions:
---
---
---
Customize a package with this form: