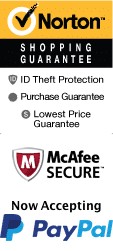 Outlet Malls in the Lancaster Area
Set amidst the picturesque backdrop of the Amish countryside, three world-class outlet malls in the Lancaster area beckon you to discover all over again what a shopping getaway should be. Whether you are window shopping or shopping until you drop, these fabulous outlet malls provide you with the perfect shopping experience with a wide range of great national chains and boutiques as well as fabulous dining options.
The VF Outlet: Rockvale Square sits just outside of Lancaster in nearby Reading and is a part of the VF Outlet Village. This shopping destination is known for high quality service at each of its stores, as well as great merchandise offered at discount outlet mall prices. The stores offer everything from clothing and accessories to home décor, electronics, and more. Some of the stores you will find here include Vanity Fair, JanSport, Vassarette, East Pak, Nautica, Healthtex, and Best Form.
The Tanger Outlet is located in the heart of Lancaster and provides you with a premier shopping experience. This gorgeous outlet mall boasts over sixty shops with name brand retailers. You can spend hours shopping for great bargains on apparel, home furnishings, specialty items, and more at such stores as Banana Republic, Guess Factory Outlet, Tommy Hilfiger Company Store, Polo Ralph Lauren, and dozens of others. This outlet mall also features several on-site dining options for quick snacks as well as sit-down meals.
The Rockvale Shopping Outlets is one of the largest shopping centers in the area. Sitting on 76 sprawling acres and featuring 120 outlet stores, six restaurants, a food court, a bank, and more, the Rockvale Shopping Outlets is a great choice for a fun day of shopping in the Lancaster area. You can shop for name brand merchandise at outlet store prices at such top stores as Jockey, Black and Decker, Bass Shoes, Carter's, Lane Bryant, Bulova Watches, and dozens of other fine shops.
With so many fabulous shopping destinations in the Lancaster area, you will have a great shopping experience on your next getaway to Amish Country. Make some time to relax and enjoy all that these fine outlet malls have to offer by spending a few hours or a few days shopping in the Lancaster area!