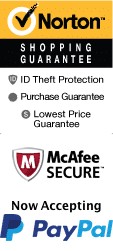 Enjoy A Day Trip To Baltimore
Baltimore is a beautiful and exciting city, filled with many fabulous activities and attractions. With just a one and a half hour drive south from Lancaster, you can enjoy an exciting day trip to Baltimore. Whether you've never been to Baltimore or you've already been to the area numerous times, your getaway to Lancaster gives you the perfect opportunity to spend some time in nearby Baltimore with a fun day trip.
Six Flags America Baltimore
Six Flags America Baltimore gives you a fun and exciting way to spend the day in Baltimore. For an exciting family experience or a memorable day for couples, you will love sharing new memories together with the many thrill rides, live shows, and more at Six Flags America Baltimore. Some of the most popular thrill rides here include the Batwing which reaches speeds of up to 50 miles per hour, the Superman: Ride of Steel which drops you 200 feet straight down, and the Joker's Jinx which is a jumble of high speed twists and turns including 4 upside down loops. If you're visiting the area during warmer months, bring your swimsuit along and enjoy the water rides, slides, and wave pool at the Six Flags America Water Park on-site.
Spirit of Baltimore Lunch and Dinner Cruises
For a more relaxing afternoon or evening in Baltimore, spend some time cruising along the city's waterways in style with the Spirit of Baltimore Lunch and Dinner Cruises. You can choose a 75-minute sightseeing cruise through Baltimore's Inner Harbor where you will enjoy narration as you pass by the National Aquarium, the USS Constellation, and Fells Point or enjoy a fabulous meal as your cruise the waterways with a two hour lunch cruise or three hour dinner cruise. Both the lunch and dinner cruises feature a buffet-style meal with delicious food options followed by live music and plenty of time to show off your moves on the dance floor.
Lorenzo's Timonium Dinner Theatre in Baltimore
Lorenzo's Timonium Dinner Theatre gives you a wonderful way to spend a night on the town in Baltimore. The theater is known for its high caliber productions, which have included Dial M For Murder, Footloose, Barefoot in the Park, All Shook Up, Miracle on 34th Street, and other great shows in the past. This family-owned entertainment venue prides itself on giving you an evening to remember and serves a delicious meal and cocktails while you enjoy the show. Dinner is served in an all-you-can-eat style buffet featuring a salad bar, dessert table, and full-service cash bar. The length of the show varies per production.