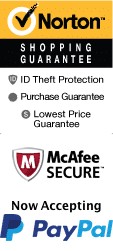 A History of Lancaster, PA
The area now known as Lancaster was settled in the early 1700s by the Europeans, and declared a "townstead" by the governor of Pennsylvania in 1730. Most of the land at this time was owned by Andrew Hamilton. His son James was deeded 500 acres of this land in 1733, and designed the layout of the city in a plan of straight streets and rectangular property lots, that included what we all know as a "town square," known in those days as a "center square."
Lancaster is the oldest inland city in the United States, and served as the capital city of Pennsylvania from 1799 until 1813, until it was replaced by Harrisburg. In 1709, the town was known as "Hickory Town;" Then after it was re-designed by James Hamilton, a prominent citizen named John Wright gave "Hickory Town" the name "Lancaster" after Lancaster, England where he used to live.
Lancaster is known as the "Red Rose City" because of its link to Lancaster, England. The city became a borough in 1742, a chartered city in 1818, and surrendered its ancient city charter and became a Third Class City under the laws of the Commonwealth of Pennsylvanian May 27, in 1924.
During the Revolutionary War, Lancaster was an important munitions center, the National Capital of the American Colonies on September 27, 1777 when the Continental Congress was fleeing British forces after their capture of Philadelphia.

Some famous Lancaster Residents and Natives and Firsts
James Buchanan- 15th President of the United States, lived in Lancaster, and was the only president from Pennsylvania.
Thaddeus Stevens- An abolitionist congressman, Lancaster resident, and member of the Pennsylvania Legislature.
Edward Hand- Physician, Colonial Army Officer, and Congressman.
Robert Fulton- Painter, engineer, statesman, inventor, and best known for his construction of the first proficient steamboat the "Clermont."
Pennsylvania Rifle-Developed in Lancaster by Martin Meylin, a swiss gunsmith. The rifle was misnamed "the Kentucky Rifle."
Conestoga Wagon-Lancaster produced this wagon, and it was the principal inland freight transport in American trade before railroads.
Lancaster is famous for its architectural heritage, and its strong commitment to its community. It is a city nationally recognized by being awarded the All-American City Award. The history of Lancaster is rich and well worth exploring!