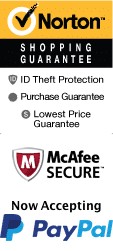 Grand Canyon Area Travel Information
As you catch your first glimpse of the buttes, mesas and valleys within the main gorge and gaze into the abyss, you'll understand why the Grand Canyon has long been referred to as one of the greatest wonders of the world. The beauty of this great chasm carved through the rocks of the Colorado Plateau is overwhelming. On the South Rim, summer temperatures range from the 80's during the day to the 40's during the night. The South Rim, open year-round, is one of the most-visited areas of the park, especially during the summer months. Many hikers and campers set out for the South Rim to trek the rocky terrain during that time.
The Grand Canyon is a colorful, steep-sided gorge, carved by the Colorado River, in northern Arizona. The park is one of the seven natural wonders of the world and is largely contained in the National Park - one of the first national parks in the United States. President Theodore Roosevelt was a major proponent of the area, visiting on numerous occasions to hunt mountain lions and enjoy the breathtaking scenery.
The area was created by the Colorado River cutting a channel over millions of years, is about 277 mile (446 km) long, ranges in width from 4 to 18 miles (6 to 29 kilometers) and attains a depth of more than a mile (1,600 m). Nearly 2000 million years of the Earth's history has been exposed as the Colorado River and its tributaries cut through layer after layer of sediment as the Colorado Plateaus have uplifted. We offer many vacation packages that include a variety of tours that are great options for any visitor to the area.
Park Info
Park Fees
Individuals - $10 for 7 days.
Vehicles - $20 for 7 days — Includes all passengers of the
vehicle. Annual Pass -- $40
Activitiesn: Aerial Tours, Fishing, Golfing, Hiking, Horseback Riding,
Hunting, Museums, Ranch Activities, Rappelling, Shopping,
Snowmobiling, Skiing, Guided Tours, Whitewater Rafting, and
Rock Climbing.
Annual Number of Visitors: 5 Million
South Rim, which has many more tourist facilities than the north side and, accordingly, tends to get overcrowded during the summer season and even some winter weekends.
The North Rim is a quieter and more remote place and preferred by people who wish for a more serene, less crowded experience.
While the South Rim is open 24 hours, 365 days a year, facilities on the north side close down from late October to mid-May

Weather and Climate:
Average daily temperature — January: 31?F, July: 67?F
Average annual rainfall — 16.4' of precipitation
Average annual snowfall — 97.1'
Safety Phone # and Major Hospitals:
Ambulance: 911; Police: 911; Fire: 911
Flagstaff Medical Center, 12 North Beaver Street, Flagstaff, AZ 86001 (about 61 miles); Telephone: 928-779-3366
Page Hospital, 501 North Navajo, Page, AZ 86040 (68 miles); Telephone: 928-645-2424
The Guidance Center, 2187 North Vickey Street, Flagstaff, AZ 86004 (about 73 miles); Telephone: 928-527-1899
Top Tourism Draws and Seasons:
IMAX Theatre
Helicopter and Air Tours
Mule Trips, South Rim Tourist Center
4X4 Tours
Trail Rides
North Rim Campground
West Rim Drive
East Rim Drive
Watchtower at Desert View
Railway
Music Festival (evenings)
Yavapai Observation Station, South Rim
Major Shopping Areas:
Tusayan Marketplace
Village, South Rim
Babbitt's General Store & Deli, near South Rim Visitor Center
Bright Angel History Room
Verkamp's, South Rim
The Hopi House
Williams, AZ: The Pueblo Indian Gallery, DeBerge Western Wear & Saddle Shop, Peak Confection Shop, The Route 66 Place, The Rustic Raspberry
Flagstaff, AZ: Flagstaff Art Barn Inc., Old Main Art Gallery, Old Town Gallery, West of the Moon Jewelry & Art, Animas Trading Company, Corral West Ranchwear Inc., Thredz, Flagstaff Mall
Major Dining Areas:
Restaurants on Highway 64:
Arizona Steakhouse at Bright Angel Lodge
Caf' Tusayan
El Tovar Restaurant
We Cook Pizza & Pasta
Famous Landmarks & Historic Places:
National Park
Bright Angel Trail and Bright Angel Point
El Tovar Hotel
Hopi House
Tusayan Ruins and Museum
Park Headquarters and Visitor Center
Kaibab National Forest, North Rim
North Kaibab Trail, North Rim
Jacob Lake, North Rim
Point Imperial, North Rim
Hualapai Hilltop
Hopi Point
Famous Natives and Residents:
Garcia Lopez de Cardenas — first European to lay eyes on the area. From Spain. (1540).
Author and backpacker Colin Fletcher — first man to walk the length of National Park entirely, chronicled in his bestselling memoir The Man Who Walked Through Time (1963).
President Theodore Roosevelt — frequent visitor on hunting expeditions.
Notable Moments in History:
10,000 years ago — Paleoindians
3-4,000 years ago — Desert Culture
900 years ago — Prehistoric Pueblo Peoples (Anasazi)
1540 — First Europeans (Captain Garcia Lopez de Cardenas) visits with Hopi guides
1826 — James Ohio Pattie, first American visits
1850s — Jacob Hamblin (a Mormon missionary) was sent by Brigham Young to locate easy river crossing sites. Building good relations with local Native Americans and white settlers, he discovered Lee's Ferry in 1858 and Pierce Ferry (later operated by, and named for , Harrison Pierce) - the only two sites suitable for ferry operation.
1857 — U.S. War Department asked Lieutenant Joseph Ives to lead an expedition to assess the feasibility of an up-river navigation from the Gulf of California. The 'Explorer' struck a rock and was abandoned. Ives led his party east - they were the first Europeans to travel the Diamond Creek drainage and traveled eastwards along the South Rim.
1869 — Major John Wesley Powell leads first successful expedition down the Colorado River. Powell referred to the sedimentary rock units exposed as 'leaves in a great story book.'
1871 — First photographs by Timothy O'Sullivan
1882 — Senator Benjamin Harrison introduces first bill to create National Park
1883 — Harrison introduces legislation again
1883 — John Hance, first settler, arrives
1886 — Again, Harrison unsuccessfully tries to create a national park
1893 — Now President Harrison creates Forest Reserve
1901 — Train service begins
1902 — The first auto, a Toledo Eight Horse, arrives
1902 — Ellsworth and Emery Kolb establish their photography business
1903 — President Theodore Roosevelt visits
1905 — The El Tovar Hotel opens for business
1906 — President Teddy Roosevelt creates Game Preserve
1908 — President Teddy Roosevelt creates National Monument
1910/11 — Senate Bills are introduced and fail to create a national park
1912 — Arizona receives statehood
1915 — Annual visitation reaches 106,000
1916 — National Park Service created
1917 — House and Senate Bills are introduced to create a national park
1918 — Both bills pass
1919 — President Woodrow Wilson signs the bill, February 26th
1919 — The National Park Services assumes control of the park
1919 — Annual visitation to the park drops to 44,000 due to World War I
1920 — Official dedication ceremonies occur, April 30th - May 2nd
1928 — The Kaibab suspension bridge is constructed across the Colorado River
1932 — National Monument is created
1956 — Annual visitation exceeds 1,000,000
1966 — Crystal Rapid, one of the toughest, is created by a flash flood down Crystal Creek drainage
1969 — Annual visitation exceed 2,000,000
1976 — Annual visitation exceeds 3,000,000
1991 — National Park Service begins drafting a new general management plan to guide future administration of the park
1991 — President George Bush visits to witness the signing of a landmark agreement to minimize air pollution coming from Navajo Generating Station
1992 — Annual visitation exceeds 4,000,000
1993 — Annual visitation misses 5 million by only 70,000
Interesting facts
75 species of mammals, 50 species of reptiles and amphibians, 25 species of fish, and over 300 species of birds exist. Among these are mule deer, desert bighorn, bobcats, coyotes, mountain lions, ringtails, beavers, gophers, reptiles and Arachnidssuch as spiders and scorpions. Species of endangered birds include the peregrine falcon and the bald eagle. Vegetation include cacti and drought-resistant shrubs.
Hiking below the rim, however, is quite another story, as summer temperatures near the Colorado River at the bottom may reach 120 degrees Fahrenheit.
Keep in mind that all hiking is strenuous, and it is imperative to carry plenty of water, food snacks, sunscreen and, vitally important in the summer, a shade hat. Also remember that the Back Country Office requires a permit for overnight travel below the rim ($20 USD per person).
Jacob Lake's hiking trails features a lot of largely unexplored wilderness, with trails where you're more likely to meet squirrels, deer, bears and mountain lions than humans.
It one of the seven natural wonders of the world.
The gorge is a mile and 1.6 kilometers deep and 18 miles, 29 kilometers wide in some places.
Nearly two billion years of the earth's history is revealed in layers of rock.
Population and Demographics:
Population (year 2000): 1,460
Males: 780 (53.4%), Females: 680 (46.6%)
Races
White Non-Hispanic (67.5%)
American Indian (20.7%)
Hispanic (10.2%)
Two or more races (2.9%)
Other race (1.8%)
Black (1.6%)
Filipino (0.5%)
Ancestries:
German (19.8%)
Irish (11.8%)
English (10.1%)
United States (5.9%)
Italian (3.9%)
Polish (3.6%)
Economy & Business:
The area's major industrial activities include forestry, mining, raising livestock, electricity production and mining.