Ghosts of Charleston Tour

Description
Ghosts of Charleston Tour Photos (1)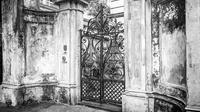 Take the Charleston Macabre Ghost Tour and you will know the true meaning of ghostly tragedies. During the tour, you will get to know the history of all degrees of mankind from the highest to the lowest station of a human being. You will find out the suffering of the slaves and free people. You will understand the mindset of the thieves and the murderers. You will understand the hierarchy of the Generals and Lords good or bad. Macabre will take you back in time with stories of haunted tales that will intrigue you and ghostly stories of paranormal act that chill you to the bone. This tour will lead you through the back allies and streets of Charleston's ghostly past. Here is more Information you will learn about the tour:
On the 1 hour and half Charleston ghost tour you will travel an eerie journey like no other
You will know what it feels like to be transported back in time
The tour guides are qualified and licensed with the City of Charleston
You will learn about actual events that occurred and hear about haunted stories that will chill you to the bone
Meet your guide in the central Downtown area and start haunted historic tour walk
You cannot enter graveyards during this tour
This is not recommended for children 6 years old or younger
It recommended that you wear comfortable shoes
Learn about the tragic history of Charleston where you will see a different side of the South's oldest city. Walk in the footsteps of slaves, thieves, generals, lords and hear about the tragic and cult-like events and stories that happened during that time.
Your tour begins in downtown Charleston at the corner of Cumberland and Concord, where you'll join with local storytellers for the 1.5-hour walking tour through Charleston's grisly past. Along with expansive harbor views, you'll visit several haunted sites that are scattered across downtown, and enter the Unitarian Church Graveyard site that's filled with tombstones and ghouls.

As your entertaining local guide recounts the tales of Charleston citizens who ended up here in this graveyard, be sure to keep an eye out for anything paranormal or spiritual, as many different sightings have occurred right here amidst the graves, and you never know what spirits might be lurking out in the moonlight!

Pickup & Return:
Tour Charleston Headquarters.
Departure Times: 7:30pm and 9:30pm

Includes:

Does not include:

Additional Information:
Confirmation will be received at time of booking
Children must be accompanied by an adult
Ghosts of Charleston Tour: 7:30pm Ghost Tour 19:30
7:30pm Ghosts of Charleston Tour
Ghosts of Charleston Tour: 9:30pm Ghost Tour 21:30
9:30pm Ghosts of Charleston Tour
Book Now!