From BBQ & burgers to Asian cuisine and fine dining — Branson's got it all.
If you've ever been to Branson, you know that there are plenty of restaurants to choose from when dinner time rolls around. And if you haven't been to Branson to see the rows of restaurants that line the strip — good luck choosing one.
When it comes to finding a good restaurant, it's always a good idea to talk to the locals: they know their city best. We compiled a helpful list of the 10 best Branson restaurants based on online reviews from sites like Yelp and TripAdvisor as well as comments on our Facebook page[1]. So check out the top picks and stop by next time you're in town.
If you are in the Ozarks, you will want to grab a bite to eat at these beloved eateries. From legendary restaurants to fanciful cuisine, these Branson restaurants are some of the greatest in the area, according to the locals. Be sure to fuel up for your Branson activities during your trip!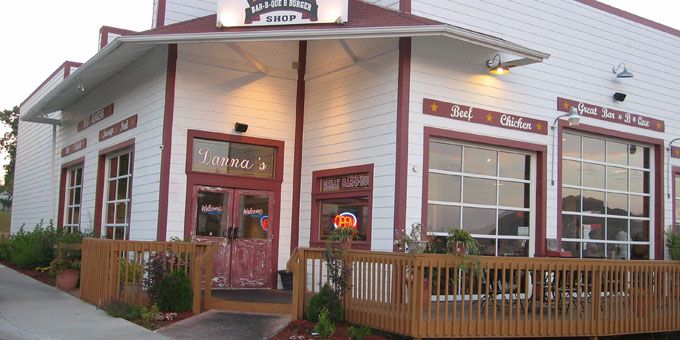 1. Danna's Bar-B-Que & Burger
963 MO-165, Branson
For some of the most succulent BBQ you've ever tasted, head to Danna's[2]. With locations in Branson, Branson West and Kirbyville, you'll never be too far from a savory lunch or dinner. This family-owned BBQ joint is frequented by visitors and residents alike and serves up some of the most mouthwatering smoked meats, burgers, and fall-off-the-bone ribs. The meat is marinated, topped with a secret rub, and then slow smoked for 12 to 14 hours over hickory wood until it's cooked to perfection and served in house or boxed up for carryout. The barbecue sauce for the chicken and ribs is hand crafted right there in the restaurant and you'll have a hard time resisting it once you give it a try. Although this place always seems to be packed with customers, the line moves quickly and there's always an open table waiting once you get your food.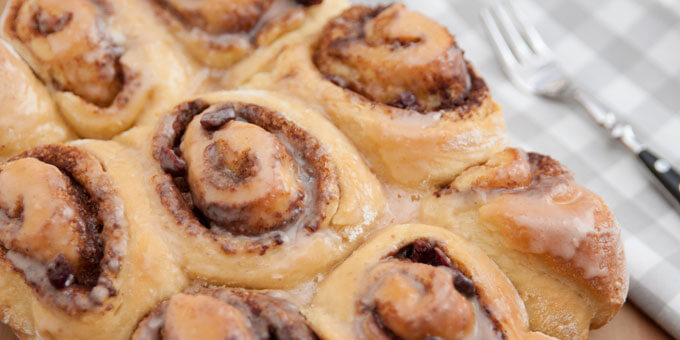 2. Grandma Ruth's
3000 Green Mountain Dr Suite 108, Branson
A secret family recipe, quality ingredients and friendly customer service makes Grandma Ruth's[3] one of those "must-try" places for new visitors. Ask anyone and you'll find out regulars just can't stay away from Grandma's ooey gooey cinnamon rolls. Choose from cinnamon, caramel, butter toffee, cherry, apple, chocolate hazelnut with cream cheese frosting and more for a truly delightful experience. Indoor seating is provided as well as live music on certain days and freshly brewed coffee is also served for the perfect compliment to your glazed treat. Branson is known for its down home friendly service and at Grandma Ruth's, you're likely to see Grandma herself kneading the dough into those heavenly cinnamon rolls. So don't hesitate to say hello; she loves to chat.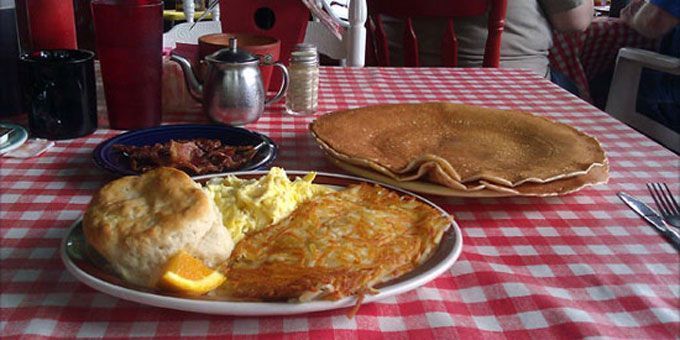 3. Billy Gail's Cafe
5291 State Highway 265, Branson
Big appetites will enjoy the famously large pancakes at Billy Gail's Cafe[4], a Branson-area staple in the breakfast food scene. This restaurant is only open from 7 a.m. to 2 p.m., but that seven hour window welcomes a generous swarm of customers each day. Biscuits smothered in thick gravy, stuffed french toast, savory omelettes and gigantic specialty pancakes are just a few of the scrumptious breakfast items served all day. Lunch entrees include club sandwiches, burgers, salads and homemade soups. A favorite of many, Billy Gail's offers homestyle cooking in a cozy, welcoming environment. Just a tip: try to get there early in the day if you don't want to wait for a table and make sure to bring cash. Credit cards are not accepted for payment.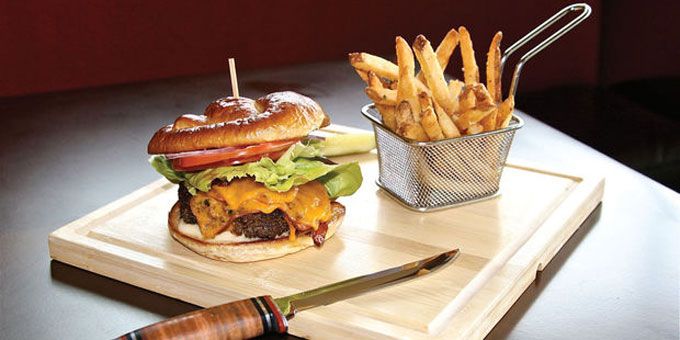 4. Level 2 Steakhouse
200 East Main St., Branson
For a fine dining experience in Branson, Level 2 Steakhouse[5] is surely a safe bet. Located downtown at the Hilton Branson Convention Center[6], this award-winning steakhouse is perfect for a romantic date night or a classy way to close out a day of shopping at the Branson Landing. Sink your teeth into a thick, tender steak and pair it with a glass of cabernet sauvignon for a full-flavored lunch or dinner, before topping it all off with a slice of Missouri Butter Cake. This signature dessert is topped with a sweet Bourbon caramel sauce, fresh berries, creamy vanilla ice cream, and whipped cream. You can also head to Level 2 Steakhouse in the morning, where you'll find a breakfast bar filled with delicious fare like eggs benedict, seasonal fresh fruit, applewood smoked bacon and waffles or pancakes, hot off the griddle.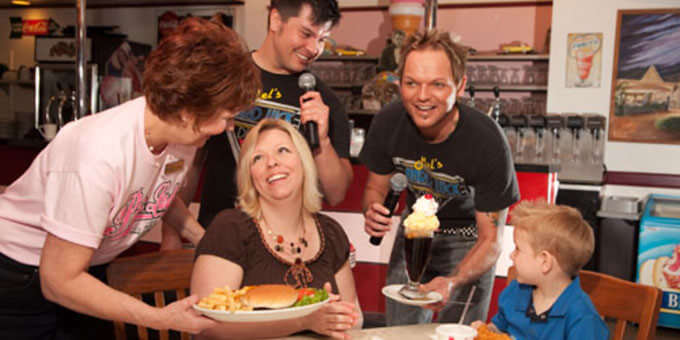 5. Mel's Hard Luck Diner
2800 W. Highway 76, Branson
With a convenient location right on the strip, Mel's Hard Luck Diner[7] is known for much more than just good food. This 1950s-themed diner serves up traditional American favorites like burgers, seafood, salad, wraps, sandwiches and milkshakes, all while featuring some very talented singing servers. Mel's Hard Luck Diner is one of those places you just have to experience for yourself, because only when your server starts serenading you with your favorite Dolly Parton song, will you fully understand how great this place is. Mel's Hard Luck Diner has in Branson for more than 20 years now and continually brings guests back with enticing entrees, a fun environment and incredible live entertainment.
6. Branson Cafe
120 W. Main St., Branson
This hidden gem can be found in Branson's historic downtown, surrounded by quaint shops and small theaters. The Branson Café[8] was established in 1910 and has been serving up delicious, homestyle meals for more than 100 years. Word of mouth is enough advertising for this modest eatery, a no frills kind of place with consistently satisfying service. Choose from comfort food like chicken fried steak, pot roast and meatloaf or breakfast favorites (served all day) like biscuits and gravy, omelettes, pancakes and hash browns. For those with a sweet tooth, the Branson Café also boasts fresh baked goods like pies and giant cinnamon rolls. Affordable prices and friendly service make this restaurant all the more likeable and its small town charm keeps both locals and out of towners coming back for more.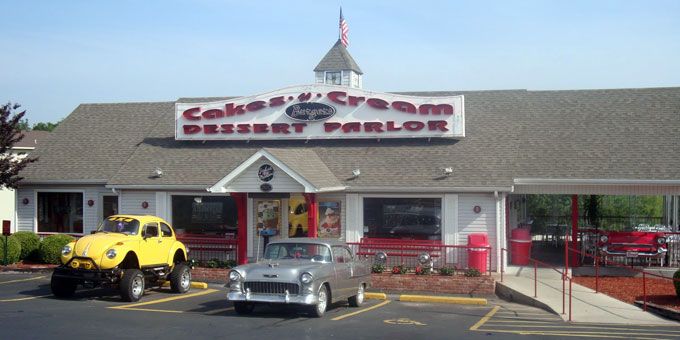 7. Cakes-n-Creams Diner & Dessert Parlor
2805 W. 76 Country Blvd., Branson
Nestled back right off the main strip, Cakes-n-Creams[9] is a one stop destination for mouthwatering burgers, sandwiches and pizza, as well as some of the most tempting treats like ice cream sundaes, milkshakes, funnel cakes, pies and cobblers. This 50s-themed diner and dessert parlor offers pretty much any kind of sweet dessert you could possibly imagine and they're all incredibly delicious. The bright, colorful decor is always welcoming, there's plenty of seating for large groups and the old school jukebox is just waiting for you to pick your favorite song. A favorite spot for tourists to stop after all the evening shows end, Cakes-n-Creams is a staple for Branson visitors.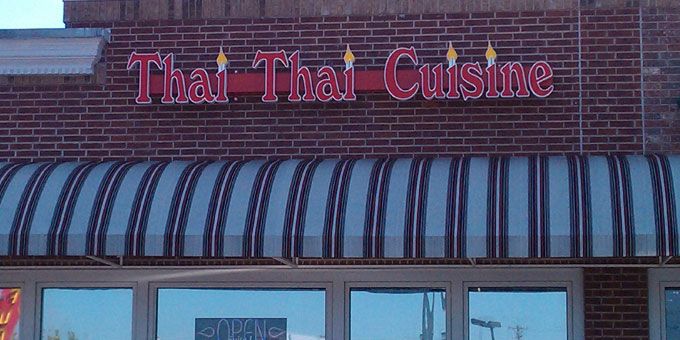 8. Thai Thai Cuisine
1615 W. Highway 76 Suite H-1, Branson
Thai Thai Cuisine[10] offers a delicious ethnic experience right here in the Ozarks. The menu features a variety of authentic Thai entrees like Pad Thai and Siam Noodles with stir-fried vegetables, rice, and meat choices like fish, chicken, pork, beef and tofu. Each menu item is seasoned with flavorful spices like curry, ginger and chili paste and even the dessert menu is diverse, with options like fried ice cream, fried banana and coconut ice cream. The interior decor of this restaurant completes the experience, with beautifully ornate sculptures and artwork, a rushing backlit waterfall and ornamented dishware. One of Branson's more exotic eateries, Thai Thai Cuisine ranks high on the list for hungry folks looking for something different.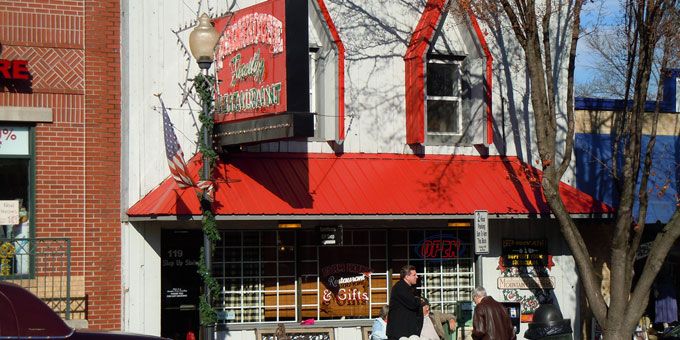 9. Farmhouse Restaurant
119 W. Main St., Branson
For savory, hearty meals that taste like they came straight out of grandma's kitchen, check out the Farmhouse Restaurant[11] in historic downtown Branson. This small town café boasts an intimate and welcoming atmosphere with friendly servers who make sure you enjoy your experience each and every time. Try the Farmhouse signature dishes: lightly breaded catfish, chicken fried chicken or homemade blackberry cobbler with traditional sides like red skin mashed potatoes, cinnamon apples, sweet potato fries, fried okra and much more. Breakfast here is served all day and the restaurant is within close proximity to the Branson Landing and all the boutiques and shops in the downtown area.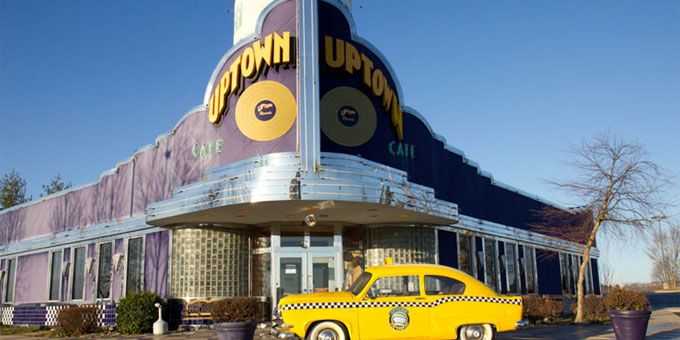 10. Jackie B. Goode's Uptown Cafe
285 MO-165, Branson
This 1950s style diner sports an old fashioned soda fountain, juicy steakburgers and live entertainment every night. Uptown Cafe[12] has an amazing breakfast buffet served every morning from 8 a.m. to 11 a.m. alongside mouthwatering American-style lunch and dinner entrees like glazed Hawaiian chicken, deep fried country fried steak and shrimp. Delicious appetizers like fried pickles, fried green beans and chicken nachos are the perfect accompaniment to entertainers like John Sager, Georgina, Mario and Susan Carman, all regulars at Uptown Cafe. One unique thing about this restaurant is the 1953 Henry J. Kaiser parked out front. It is one of just 120,000 ever produced and features a heart-shaped window in the back that is engineered to pop out if in a wreck.
So how many of your favorites made the list? Did we miss any that you think deserve a spot in the top ten? Comment below and let us know which ones you have or haven't tried!