YOUR PEACE OF MIND IS OUR TOP PRIORITY
Should you need to cancel at any time, you have up to 48 hours from your vacation start date to do so for a 100% future travel credit.
The more experiences you have, the less you will be afraid of the world around us.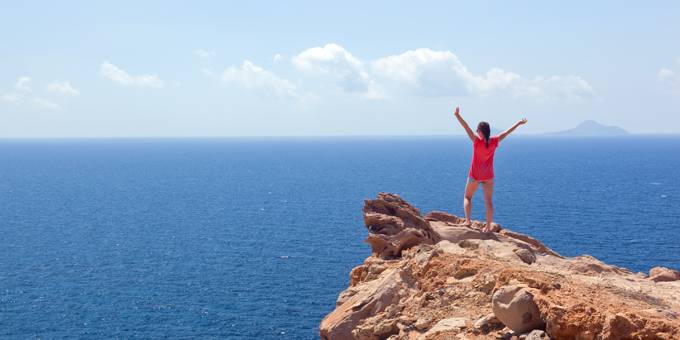 Ever since I was a little girl, the only thing I've ever imagined doing with my life is traveling the world and seeing everything worth seeing. I want to see the pyramids in Egypt, great sheep farms in the Australian Outback, the Great Wall of China, and the Sierra Nevada in California. People with accents tend to gravitate towards me, and my zest for adventure has never died. There is this global community idea that I thrive on, and my heart breaks at the thought of not having adventures.
I remember the first time I took a great adventure of my own. It was on a Greyhound bus during my Senior year in high school. I was 17 years old, young, impressionable, and thought I knew how the world operated. My dad had sent me a ticket to come visit him in Southern Florida and I hopped on that opportunity so quickly. Side note: It is a travesty if you've never taken the opportunity to ride the bus. Once you have ridden a Greyhound, your eyes are open to a whole new type of traveler. On that trip, I learned that people carried all their possessions in black plastic trash bags, some people do not have the opportunity to shower every day, some like to live in their own fantasy worlds that no one else can enter, some people are not kind to one another, and all the words to Master P's single, "Let me hear you say Uh…Nah Nah Nah Nah," from the girl who had cut marks on her arms.
That trip opened my eyes to people and made me realize that not only are we are all a little different, but that we don't need to be the same. I was absolutely terrified the majority of that trip to Florida, but was also in awe. The sights and sounds and smells and textures of life were on that bus. To this day, I remember those three days as the worst, but best, travel experiences of my life.
There was a spark that ignited within me on that arduous journey into the deep South. I realized that people were going to be themselves, whether you agree with them or not. Instead of judging those people who had a different story to tell, I attempted to embrace them and to learn their stories. It is a beautiful thing to be able to interact and speak with anyone, regardless of if they come from other cultures, ethnicities, ages, backgrounds, or classes. I no longer get upset if people do not agree with my thoughts or opinions. I also no longer try to convince anyone that I am correct and I learned to attempt to understand and walk in love towards others. Once you accept people for who they are, you'll find yourself more open and willing to entertain new ideas.
New people and new places have always made my heart sing. The Viking in me always comes out in the end, but sometimes I wonder what it takes for others to step outside of their 'people and places' comfort zone. How hard is it to give a smile to a stranger or take a road trip to an unfamiliar area of the world?
As the world becomes smaller and cultures intertwine, it is up to people individually to decide how they want to approach life. How do we, as a collective, love one another—faults and all? With all that is going on in the world, it's something think about and something to ponder.
With Peace,
Meredith