Kick off the summer with an exciting west coast road trip.
Motorcyclists everywhere are getting ready to break out their bikes for the warm, summer months, and I would be too, if I had a motorcycle.
There are so many fantastic biker routes all across the country, but the western coast of California has too many great ones of its own. So we did some research to narrow down the options and present you with nine of the most beautiful motorcycle routes to ride this summer. That way, you can make the most of your time and your gas money, and fill the summer with rides to remember.
Feel the wind rush in your hair and enjoy a fantastic time out on your bike with these scenic motorcycle routes! California is one of the most stunning states in the country, so strap on your helmet and get to cruisin'!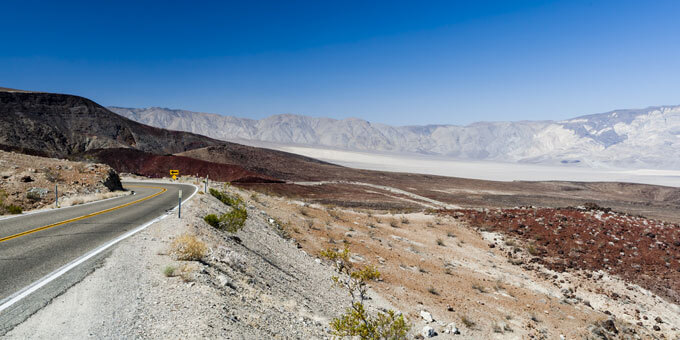 1. Dantes View Road (13 miles)
About 140 miles west of Las Vegas, Dante's View lookout offers some of the most breathtaking views of Death Valley and the drive there is just as magnificent. If you start your ride at Highway 190 and head southeast on Furnace Creek Road for about 7.5 miles, you'll come to Dantes View Road. There you'll continue straight for about 5.5 more miles of climbing, scenic road all the way up to the peak. Once you reach Dante's View at 5,476 feet high, you'll be able to see for miles across the southern Badwater Basin, Owlshead Mountains, Funeral Mountains, Furnace Creek, and even as far as Nevada's Mount Whitney on clear days.
Nearby lodging, activities, and food:
Death Valley National Park[1] is about 25 miles northeast of Dante's View and you can catch guided tours of the valley or Scotty's Castle[2], a historic vacation home in northern Death Valley. Don't forget that Death Valley is also one of the best places to stargaze, with some of the darkest nights! While you're in Death Valley, stop by Stovepipe Wells[3], a hotel, restaurant, and saloon that provides a comfortable night's stay, delicious eats, and cold brews.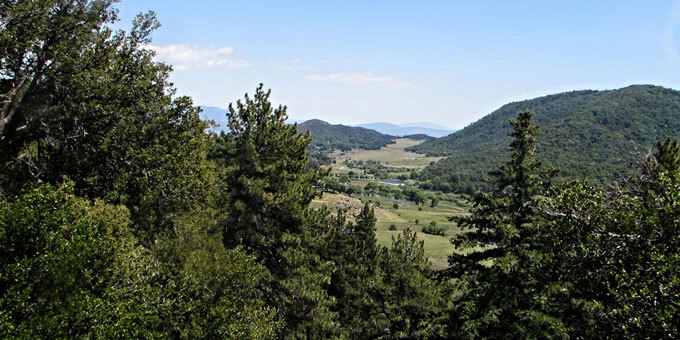 2. Palomar Mountain Loop (30 miles)
Exit Interstate 15 and follow Highway 76 east through Pauma Valley until you reach the sign that reads "Palomar Mountain Road," where you'll keep left. If you follow that route, you'll discover an especially diverse ride featuring winding stretches of asphalt road that carves its way through nearly 30 miles of rocky ledges, dense forests, and panoramic views of Palomar Mountain. Much of the loop takes you through the beautiful Palomar Mountain State Park, and the far east segment of the ride offers gorgeous views from Lake Henshaw Overlook, which peers out over more than 1,000 acres of water at the base of the mountain.
Nearby lodging, activities, and food:
Avid motorcyclists say stopping at Mother's Kitchen Restaurant[4] is absolutely necessary. You're bound to run into friendly groups of motorists making their way through the mountains here and the menu is chock-full of just about everything from comfort food to breakfast favorites. (Vegetarian options are available too!) If you're looking for something to do, the nearby Palomar Mountain State Park[5] is full of outdoor activities like fishing, picnicking, camping, and hiking. For a good night's rest, stop into the rustic Bailey's Palomar Resort[6] or spend the night at the luxurious Pala Casino Resort and Spa[7].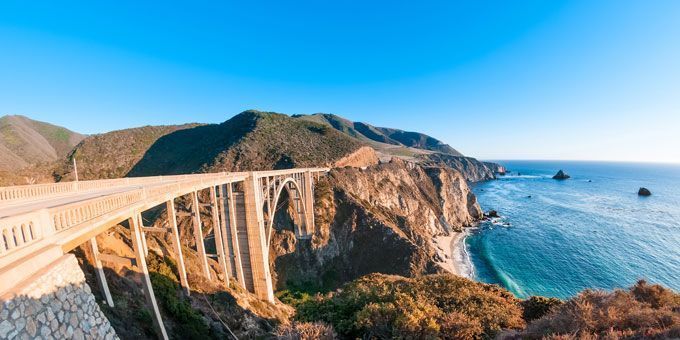 3. Pacific Coast Highway 1 (655 miles)
This roadway is one of America's most well-known, and for a good reason — it's beautiful! Whether you choose to drive the entire thing or just a portion of it, there are plenty of sights to see along the way. We suggest starting your trip in Santa Cruz[8], the gorgeous Bixby Creek Bridge, and the San Francisco, where you can begin with a drive across the beautiful Golden Gate Bridge. If you follow the hills, curves, and twists of Highway 1 all the way down the coast, you'll discover a route that's worth driving over and over again.
Nearby lodging, activities, and food:
Half Moon Bay[9], Santa Cruz[10], the gorgeous Bixby Creek Bridge, and the beaches of Ventura[11] are just some of the incredible spots you'll pass through on your Pacific Coast Highway ride. All are worth stopping by, and if you've got unlimited time, why not? When you get hungry, Flying Fish Bar & Grill[12] in Half Moon Bay is a fantastic option for lunch. Try the famous fish tacos or chow down on a fresh plate of oysters. If you're looking for an ideal overnight destination, Monterey, CA is 124 miles from San Francisco and offers an array of lodging options. Click here to see a list.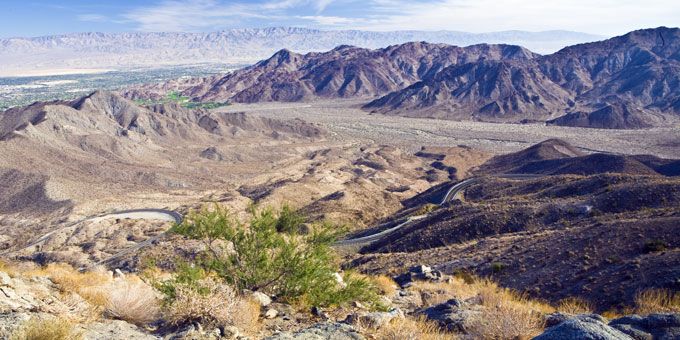 4. Highway 74 (50 miles)
If you drive east on Highway 74 from Hemet, CA to Indian Wells, CA, an easy and beautiful 50-mile cruise awaits you. You'll start your drive surrounded by the trees of the San Bernardino National Forest and gradually find yourself in the midst of the dry, sandy dunes of the Palm Desert, closer to Indian Wells. Riders enjoy the bouts of twists and turns with roads climbing the altitudes of the arid landscape.
Nearby lodging, activities, and food:
About halfway through your ride, you'll stumble upon Paradise Valley Cafe[13] on Highway 74: a biker-, hiker-, and dog-friendly eatery. Grab a delicious breakfast, lunch, or dinner here in the mountains before heading on to Indian Wells, where an abundance of fun activities and attractions await. The Cabot's Pueblo Museum[14] is a unique and historical Native American adventure and the Montezuma Valley Road[15] (13 miles)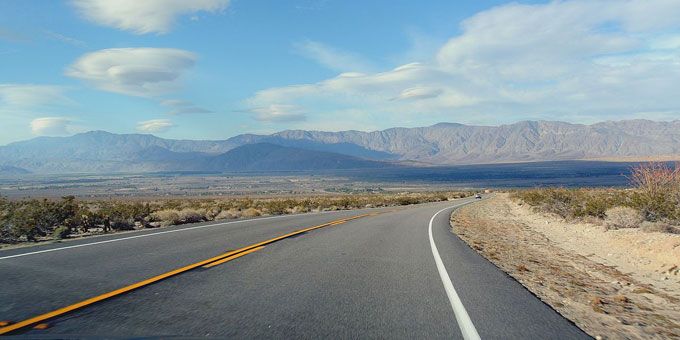 5. Montezuma Valley Road[16] (13 miles)
Just 75 miles northeast of San Diego, the Montezuma Valley Road remains a favorite biker spot. If you ride east from Ranchita to Borrego Springs, the sharp curves of the route will take you on an adventure through Montezuma Valley, which provides endless panoramic views from above the desert floor. Surrounded by a rocky landscape, you'll dip more than 3,000 feet down into the desert and maybe even get lucky enough to spot a Borrego bighorn sheep on the way.
Nearby lodging, activities, and food:
Carlee's Place[17] is a great, biker-friendly lunch destination, with juicy half-pound burgers calling your name. Once you make it to Borrego Springs, you can't miss the huge metal sculptures created by artist Ricardo Breceda[18]. There are more than 130 of them, including a 350-foot serpent, a gold prospector panning for gold with his horse, and a giant dinosaur that looks like it's running through the desert. If you're thinking of staying overnight, the Palm Canyon Hotel & RV Resort[19] is biker-friendly and offers clean and comfortable accommodations with a beautiful view.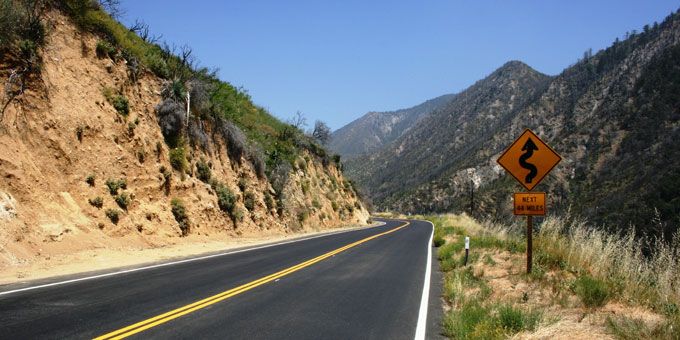 6. Angeles Crest Highway (60 miles)
The Angeles Crest Highway cuts all the way across the Angeles National Forest, which covers more than 700,000 acres of wilderness in the Los Angeles metropolitan area. The curvy mountain road winds through the jagged landscape and around mountain peaks and the scent of fresh pine fills the air, leaving nothing to be desired. This route is definitely an ideal one for adventure seekers with a few hours to spare.
Nearby lodging, activities, and food:
Driving the Angeles Crest Highway is the perfect opportunity to enjoy all that the city of Los Angeles and the Angeles National Forest[20] have to offer. All kinds of outdoor recreation is available in the park like water sports, horseback riding, hiking, and nature watching. If you'd like to grab a bite to eat before making your way into Los Angeles, stop by Grizzly Cafe[21] for homestyle cooking and a biker-friendly atmosphere. Once you make it to the city, spend some time scoping out the stars' homes with Starline Tours, enjoy the Aquarium of the Pacific, or make your way to Universal Studios for a day of fun. As for lodging options? Click here< for an entire list!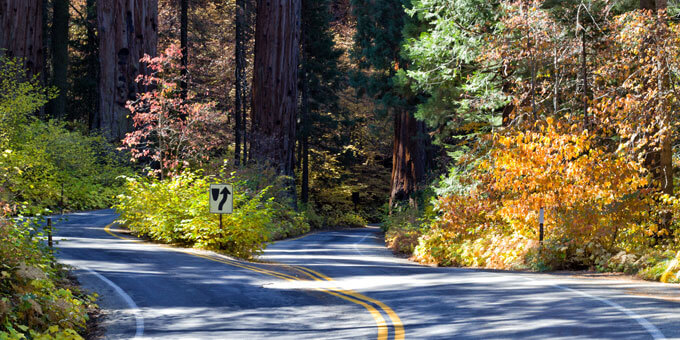 7. Woodlake into Sequoia National Forest (25 miles)
This gorgeous ride full of hairpin turns in unlike any other and will take you right to into Sequoia National Forest. Beautiful scenery from all sides surround this route as you start out making your way through some desert patches and into a more forested landscape. The exciting, winding road carves its way through giant Sequoia trees and plenty of scenic roadside stops are available along the way. Start your trip in Woodlake, CA, just 52 miles southeast of Fresno. From Woodlake, your ride is a straight shot up Highway 245 before it merges into Highway 180 in the national forest.
Nearby lodging, activities, and food:
Badger Mountain House[22] (previously known as Sister's Mountain House) is a biker-friendly restaurant and bar that offers good service, great food, and a friendly atmosphere in which to dine. You don't even have to venture off Highway 245 to find it! Once you make it to Sequoia National Forest[23], you'll have an abundance of fun activities at your fingertips. Crystal Cave tours, hiking trails, and great camping opportunities make it a great option for an overnight stay.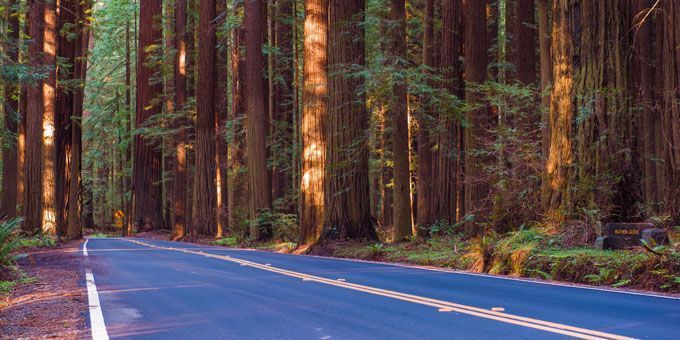 8. Redwood Ride (123 miles)
If you follow Highway 101 (Redwood Highway) west to Highway 1 from the town of Leggett, you'll soon find yourself riding along the beautiful Pacific coast, where breathtaking views of the ocean and public beach access points line the road. This gorgeous roadway leads to nothing but clear, open skies above the ocean. Once you turn onto Highway 20, you'll pass through Jackson State Forest and then curve back around to Highway 101 to complete the loop. The Redwood Ride got its namesake from the big, beautiful redwood trees that shade the 123-mile stretch of asphalt. This route has plenty of opportunities for detours, so plan on having several hours to spare to complete it.
Nearby lodging, activities, and food:
The Redwood Ride will take you through Fort Bragg[24], where you can pick up delicious, healthy California Cuisine at Café One[25] or enjoy a casual fine dining experience at Cucina Verona[26]. While you're there, visit one of the sea glass beaches[27], the Mendocino Coast and Botanical Gardens[28] or head to the Point Cabrillo Light Station State Historic Park[29], where a historic lighthouse and restored farmhouse still stand. Planning on staying overnight? Consider booking a stay at the beautiful seaside Beach House Inn[30].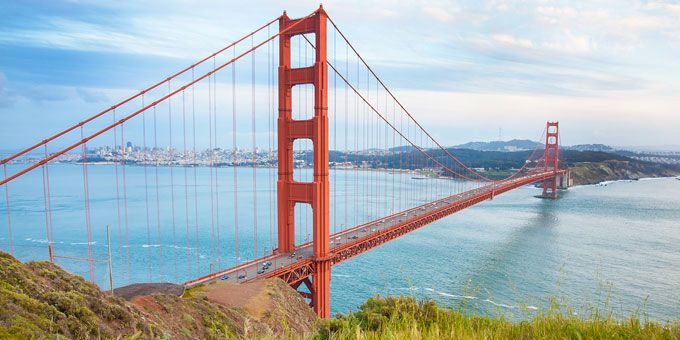 9. Conzelman Road (4 miles)
Conzelman Road passes through the Golden Gate National Recreation Area, a small slice of perfection just north of San Francisco. If you start your journey crossing the Golden Gate Bridge and take Conzelman Road west toward the coast, a winding four-mile, cliff-side stretch of asphalt will dazzle you with breathtaking coastal views. This short but sweet ride is the perfect way to spend 15 minutes, and you'll end up near the shore of Bonita Cove and Point Bonita Lighthouse.
Nearby lodging, activities, and food:
Since your entire ride will be through the Golden Gate National Recreation Area[31], you might as well take advantage of some of the recreation options. Horseback riding, biking, nature photography, and camping are just a few of the options. The Marine Mammal Center is also nearby, home to a variety of aquatic animals like California sea lions and elephant seals. Plus, admission is free! If you're looking for convenient lodging, Cavallo Point Lodge[32] near the Golden Gate Bridge offers a one-of-a-kind luxury hotel stay.
What's your favorite place to ride your motorcycle? Will you be out riding any of these roads this summer? Let us know if we missed any of your favorite routes! We want to hear from you!