YOUR PEACE OF MIND IS OUR TOP PRIORITY
Should you need to cancel at any time, you have up to 48 hours from your vacation start date to do so for a 100% future travel credit.
Food truck finds: the unusual, the ethnic, the best, and even the worst.
The food truck craze first began in Los Angeles, with the success of chef Roy Choi's Kogi BBQ[1] truck in 2008. His Korean barbecue blended with Mexican favorites was an instant hit. Roy's success encouraged other entrepreneurs and chefs to take advantage of the lower costs associated with opening a food truck instead of gathering enough capital to start a restaurant.
These food truck wares are a foodie's dream. Whether you are on the go or simply want to try one of these mobile eateries, these dishes are sure to impress - and leave you wondering how on earth they were cooked in a vehicle!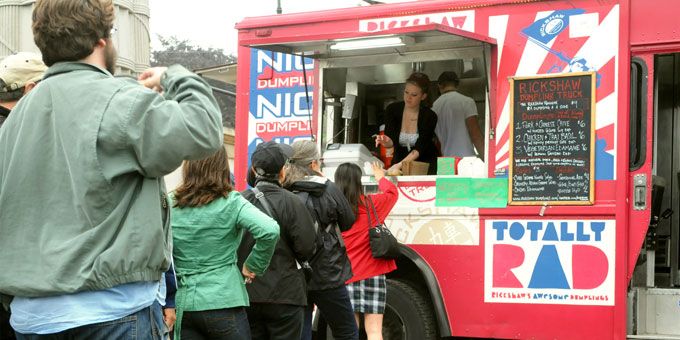 Seven years later and the food truck craze is real, with thousands of them all over the country. Most of America's biggest cities have at least 70 different food trucks, including San Francisco, New York City, Austin, Atlanta, and more.
We've hand-selected a few of these food trucks from America's top destinations that we think are worth mentioning, so next time you're headed to one of these locations you'll be able to navigate your way through the wanna-be's and find the hidden treasures of the food truck world. Bon appetit!
THE BEST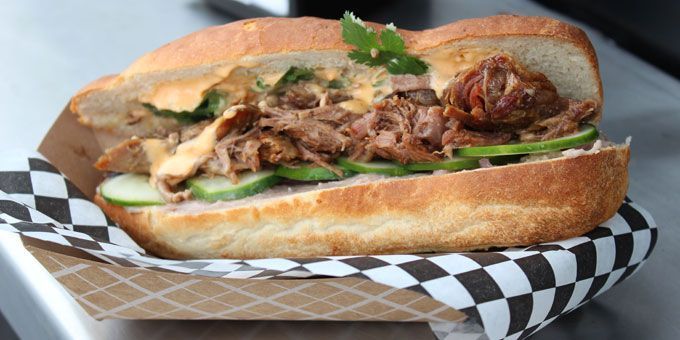 In Belgian, 'dinges' means 'whatchamacallit' or 'stuff,' and the Wafels & Dinges[2] food truck in New York City specializes in creating delicious authentic Belgian waffles. But these aren't just your ordinary breakfast waffles. Chow down on savory waffles, topped with mouthwatering favorites like pulled pork, bacon and chili. Or choose from the sweeter crowd pleasers paired with delectable treats like nutella, strawberries, belgian chocolate fudge, walnuts, and bananas.
Featured on the Food Network's The Great Food Truck Race, Korilla BBQ[3] in New York City brags "the best burritos in town" made with fresh ingredients and Korean flare. Guests can dine on a bowl or burrito and options include a choice of protein: spicy pork, chicken, tofu or bulgogi, which is marinated rib-eye steak. Choose from bacon kimchi fried rice or sticky rice, and top it with cheese, pico de gallo, four different varieties of kimchi, fresh veggies, and handmade sauces that range from mild and smoky to hot and spicy.
For authentic, Detroit-style square pizza, head to the VIA 313[4] food truck in Austin, TX. The wide array of fresh toppings and a light and airy crust makes for a satisfying and distinctive meal on the go. Try The Carnivore, topped with cheese, pepperoni, deli sliced ham, pinched, hot Italian sausage, and slices of bacon. Or splurge for one of the more offbeat options, like The Cadillac; a delicious bed of gorgonzola cheese, fig preserves, shaved prosciutto, shaved parmesan, and balsamic glaze. Gluten and dairy-free options are also available.
THE UNUSUAL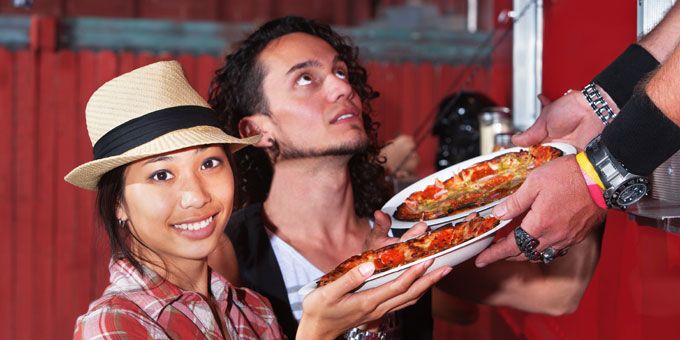 You'd think a grilled cheese would be pretty basic, but The Grilled Cheeserie Gourmet Grilled Cheese Truck[5] in Nashville throws that logic out the window. Create your own perfect grilled cheese sandwich, or enjoy one of the specialties like The B & B of Tennessee with buttermilk cheddar, Benton's bacon, and seasonal jam, hugged by two slices of multigrain bread. The Pimento Mac & Chee is also a distinct option, featuring homemade pimento cheese with local cheddar, macaroni, Benton's bacon bits, and sliced tomato, all slipped inside a casing of white bread.
The Cinnamon Snail[6] prides itself on providing customers with New York "street vegan" meals based on a seasonal menu of fresh ingredients. The menu includes a variety of breakfast options, salads, burgers, sandwiches, and an ever-changing assortment of pastries and sweets, baked fresh every day. The Lemongrass 5 Spice Seitan is one sandwich you can't pass up, even if you're not vegan. A grilled baguette topped with curried cashews, arugula, sichuan chili sauce, and wasabi mayonnaise makes for a deliciously unique (and healthy!) lunch.
The Rib Whip is special because it is the nation's only truck with a smoker onboard, according to the website. In the food truck world, that's a pretty big deal. And to customers, that means they get to chow down on delicious, gourmet smoked barbecue each time they stop by. With a menu featuring Texas-style brisket, tender pulled pork, smoked bread rolls, savory sauces, and cornbread galore, this San Francisco food truck has a lot to offer.
THE WORST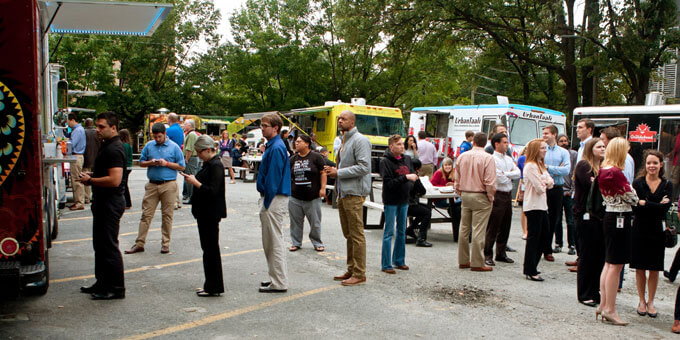 Alishan[7] offers Taiwanese cuisine in California's bay area which sounds delicious at first, but customers complain of long wait times, ridiculous prices, and not-so-tasty dishes. The small portions don't make for a very filling meal either, even if it was good, and $13 is a lot to pay for a dinky, unsatisfying meal. The lunch menu is very limited, with only four combo options and the breakfast menu consists of Taiwanese omelets and breakfast sandwiches.
When customers start saying the Pork Belly Death Fries are called that for another reason besides their spiciness, you have to know something's not right here. Rouxd Food Truck in Atlanta serves up cajun favorites like Pork Belly Po Boys, Cajun Curry Chicken Po Boys, Shrimp Po Boys, and cajun fries but customers say it's all dripping in grease. Some even complain of things not being cooked all the way through and prices that are way too high for what you get.
THE ETHNIC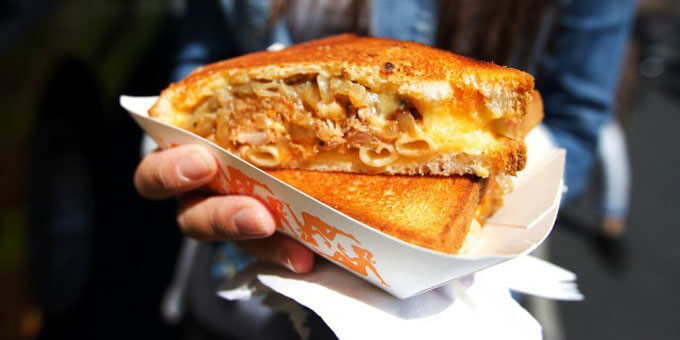 East Side King[8] in Austin, Texas is the perfect place to find fun food. Each of this company's three food trucks has a unique style and flair, serving up Asian-inspired cuisine that surpasses borders and cultures. The Kimchi Stew is just one such option, blending seared pork belly and cabbage kimchi stew plopped on a bed of liberty rice with negi onion.
Looking for some traditional Middle Eastern eats? Stop by the Liba Falafel Truck[9] in San Francisco, where you can pick up falafel balls (deep fried balls of ground chickpeas) a la carte or bite into a delicious falafel sandwich filled with three falafel balls and comes customizable with an assortment of fresh vegetables. Sweet potato fries, black bean soup with pumpkin seed granola, and pita chips are all popular sides here.
Authentic Salvadoran cuisine is calling your name with Solber Pupusas[10]' handmade grilled corn mesa patties filled with cheese, meat, veggies, or all of the above. This well-known New York food truck also serves up some mouthwatering tamale platters, featuring handmade traditional tamales, pickled cabbage, tomato sauce, sour cream, and jalapeños.
HONORABLE MENTION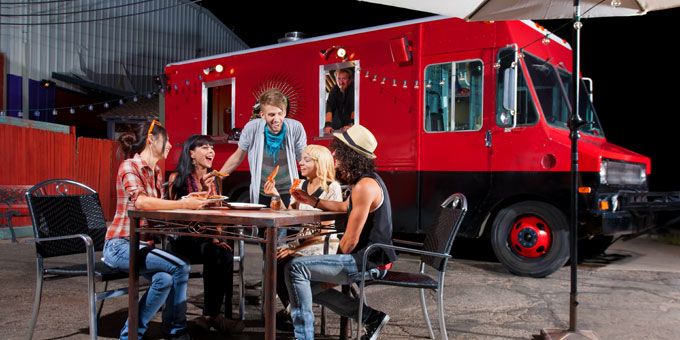 Unfortunately, this truck's cuisine isn't Michael Jackson themed, but it does serve delectable frozen treats which is almost just as good! King of Pops[11] in Atlanta is known for its delicious, all-natural frozen popsicles and the range of flavors is seriously admirable. Banana Puddin', Blackberry Ginger Lemonade, Blueberry Lemon Grass, Caramel Apple, Cereal Milk … I could go on and on. But two flavors that are just begging for a taste are the Arnold Palmer pops and the Chocolate Sea Salt pops — perfect for summertime.
Addicted to one of your favorites? Track it with one of these mobile apps: